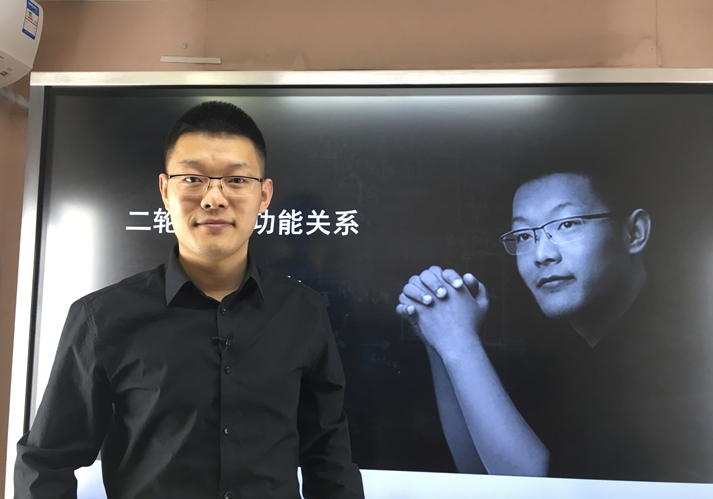 Liu Jie stands in front of the screen before shooting a video at home on May 3 (COURTESY OF LIU JIE)
More than 1 million yuan ($153,846)—this is what Liu Jie, a 29-year-old teacher, earned in a year by teaching physics online to middle- and high-school students.
The number, sharpened by explosive media exposure, has pushed online teaching, mostly regarded as a supplement to traditional education, into the limelight, and the industry now really seems to be taking shape.
"This income is quite astonishing," commented one netizen. "I knew that popular physics teachers for middle school and high school students can earn a lot, but I never thought it could be this much."
The career of teaching
Liu, who was born in 1987, enrolled at the prestigious Tsinghua University in 2006. But, when choosing engineering physics as his major, he didn't think much about his future career.
During his first college summer vacation, Liu and some classmates went to the Inner Mongolia Autonomous Region as volunteer teachers, an experience which Liu loved. "The process of teaching gives me a sense of achievement, which is a real enjoyment," Liu told Beijing Review.
After two consecutive summers of volunteer teaching, Liu joined China's largest provider for private educational services, the New Oriental Education & Technology Group, as a part-time teacher. Following graduation, he became a full-time teacher at the company.
The experience at New Oriental created a solid foundation for Liu's teaching career. "I worked nine hours a day and taught a different class every three hours," Liu told Beijing Review. "There were hundreds of students in one class. That means within one day, I could meet more than a thousand students, and this is far greater than a couple of hundred that a regular teacher can meet in a public school."
Liu said the intensive communication with such large numbers of students enabled him to understand students' learning needs, and he always adjusted his lessons accordingly.
At the end of 2014, Liu left New Oriental to launch his own business. "I knew online education would be a trend but had no idea how it would work," said Liu.
Nonetheless, he decided to explore the new area. He spent about 300,000 yuan ($46,153) on video production equipment and converted one of his rooms into a recording studio.
In the first six months, Liu spent all his savings traveling around China with a small team to promote his online lessons. As the college entrance exam papers differ across provinces, municipalities and autonomous regions, Liu needed to study the variety in detail and prepare appropriate content.
Finally, Liu's efforts paid off around mid-2015, when his online lessons experienced a surge in both viewers and buyers. Now, he has over 10,000 WeChat contacts, and the number continues to grow every day.
Even with the rocketing number of students, Liu's life is easier than before. "I've already made a series of lessons for different groups online, and they can just click and study," Liu said.
Every week he uploads five to eight hours of new lessons, which take half a week to compose.
"Many might think it to be very easy and quick money," Liu said. "It seems we just upload some teaching videos and wait for the money to roll in. But, we made great efforts to make this happen. Rome was not built in a day."
Even so, market pressure concerns Liu in a big way. Unlike many online teachers, who also work in public schools, the self-employed Liu is more sensitive to market dynamics.
"There are loads of teachers going online, and if I don't work hard and add new content constantly, I might soon be replaced," Liu said.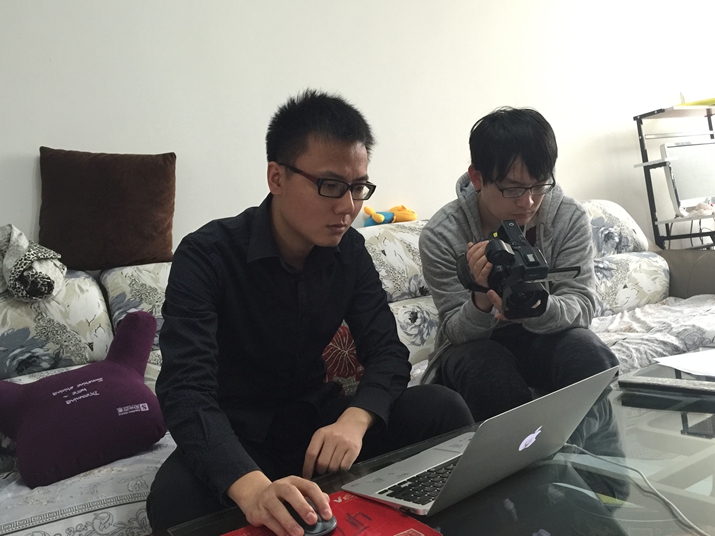 Cao Wei records his online courses at home (COURTESY OF CAO WEI)

The new concept
For 35-year-old Cao Wei, an online teaching star, online education is just taking off.
Cao, who teaches mathematics at a Beijing public middle school, registered as an online teacher in late 2014 at an online teaching platform, shortly before the boom in online learning got underway in the second half of 2015.
"Now, I can get a minimum of 30,000 yuan ($4,615) per month from the online platform, and I believe this number can only increase in the following months as summer vacation is approaching," Cao told Beijing Review.
Unlike Liu, who makes videos by himself, Cao hires somebody to handle this. "I want to focus more on the content, which is the most important part of online courses, not the video effects," Cao said.
On the platform where Cao registered, teachers upload introductory videos and free lesson clips, and the site publishes reviews by users who subscribe to the content.
Teachers earn star ratings, and the more positive feedback they receive, the higher their rating becomes. The platform also promotes its most popular teachers through advertising and media exposure.
"Our traditional concept of a teacher is someone who diligently devotes himself to cultivating students without caring about financial reward," Cao said. "Advertising is somehow unacceptable to some."
Liu echoed Cao. "After adding me to their WeChat contacts list, some parents blame me for charging money and self-advertising," Liu said. "In their minds, I should offer the classes for free."
For Cao, this attitude needs to change. "Online teaching is still a new thing, and even many of my coworkers don't take it seriously," Cao said. "They prefer to teach students face to face, and they regard that way of communication as more effective."
Liu agreed, but pointed out that since the best education resources are concentrated in top-tier cities like Beijing and Shanghai, "It is not easy for students in small cities and towns to take face-to-face courses, and online education is more convenient for them."
Liu revealed that 90 percent of his subscribers live in smaller cities and cited an example of one student whose physics score increased from less than 40 percent to over 90 percent after taking one series of Liu's classes.
"If I'm an unqualified teacher, but I flatter myself for market promotion, that is not proper. But, if I'm qualified enough and prove to be capable of helping many to get higher scores, so why should I hide myself?" Liu said.
"Advertising is important in making a teacher popular, but the most important factor is always the quality of the courses," said Chen Fengqiao, who teaches English online.
Having spent about five years as a middle school teacher, Chen left public sector education in 2007 to work at a private training school. Although she registered with an online teaching platform in late 2014, Chen has yet to focus strongly on delivering classes online.
"Online education will not replace traditional teaching, for sure, but it is a definite trend," she said.
As a mother, Chen's work schedule often conflicts with the time she spends with her child. "I think I'll pay more attention to this, as it can free me from my routine training schedule a lot," said Chen. "I'll work more on making videos for the online platform."
Superstar teacher Liu, meanwhile, is looking to take online education to another level. "I'm considering adopting robots and advanced virtual reality (VR) technology," Liu said. "Students wearing VR headsets will be able to see me right in front of them."
Copyedited by Chris Surtees
Comments to yuanyuan@bjreview.com