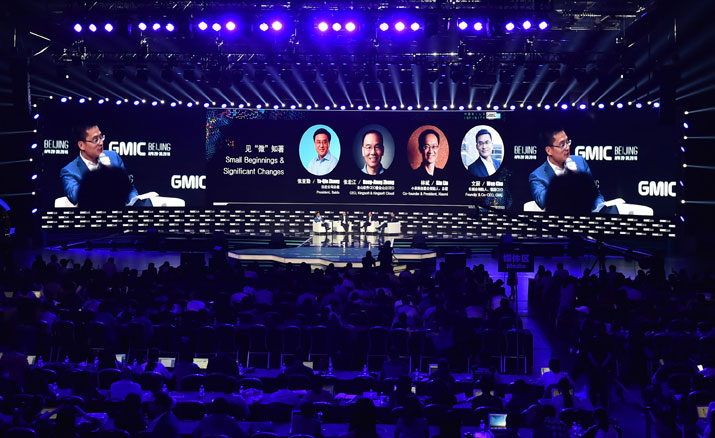 The Global Mobile Internet Conference is held at the China National Conference Center on April 28 (XINHUA)
At the Eighth Global Moblie Internet Conference (GMIC) held in Beijing from April 28 to May 2, famous Chinese pop rocker and songwriter Wang Feng displayed the headphones made by Fiil, his new audio equipment startup that is his latest industry crossover attempt.
It isn't his first switch. He learned to play the violin from the age of 5, attending the Central Conservatory of Music. However he swapped the instrument for rock n' roll when he reached 22, becoming both a composer and singer.
In 2013 and by the age of 42, Wang changed again, deciding to produce headphones in a display of his affection for music. He was encouraged by friends in the Internet industry.
According to a report published by the China Internet Network Information Center in January, there were 688 million Internet users in China by December 2015, of which 620 million (90.1 percent) were mobile users. More and more industries are benefiting from rapid online growth, and the greater integration between online and traditional businesses is bearing rich fruit.
Made in China
Fiil headphones have sold nearly 50,000 units since they were launched last October, both online and in stores.
Wang said more functions will be added to the headphones in future, including a radical concept enabling different background music for different genres of music played.
He added that it's a challenge to succeed in the online industry this time around. He dreams of competing with internationally renowned headphone brands, such as Beats and Sennheiser, and even overtaking them.
Also at the GMIC, during the sub-forum Internet Movie Summit, Hou Guangming, Chairman of the Beijing Film Academy Council and Director of the Institute of China Film Industry Development, was confident that the Chinese film industry would become a global film market leader through Internet integration.
At present, the proportion of online ticket to box-office sales in China is the highest in the world. During the first quarter of 2016, China's online ticket sales accounted for nearly 70 percent of the total, compared to less than 20 percent in the United States—underlining significant differences in the two markets.
Moreover, as audiences aged between 18 and 35, who have grown up in the Internet age, constitute an ever larger share of moviegoers, trends will shift even more toward the virtual world. Meanwhile, film investment by Internet companies, online crowdfunding and film adaptations of online literary works have fueled the domestic film economy.
"Internet plus film has greatly driven the development of the film industry," said Hou.
He pointed toward the invention and application of virtual reality (VR) and augmented reality (AR) technologies, which have given rise to VR movies and should bring great opportunities to the film industry.
Zhou Hongwei, CEO of tech company Pico, predicted at the Global VR Summit at the GMIC that the industry will grow rapidly over the next five years. By 2020 its value is projected to reach $100 billion worldwide.
Users can experience all kinds of things by wearing VR equipment, such as helmets or glasses. At the GMIC, there were long lines at VR booths as many customers were keen to experience such cutting-edge technology.
Zhou said there are presently more VR products for computers than mobile equipment and the former are usually of higher quality than the latter. However, with technological progress, mobile VR will gradually catch up. Founded last year, Zhou's company is focusing on such products.
In order to satisfy their customers, the quality of mobile VR products should be improved. For instance, the newly launched VR helmet Pico Neo developed by Zhou's company uses a high-definition screen to achieve better visual effects.
As well as the recreational worlds of video games and films, VR technology will also be applied to hospitals this year, specifically in cancer treatment, by helping surgeons carry out operations more accurately.
A VR industrial chain is taking shape: "From makers of chips, sensors, screens, to developers of video games, all kinds of industries are involved in the VR industry," said Zhou.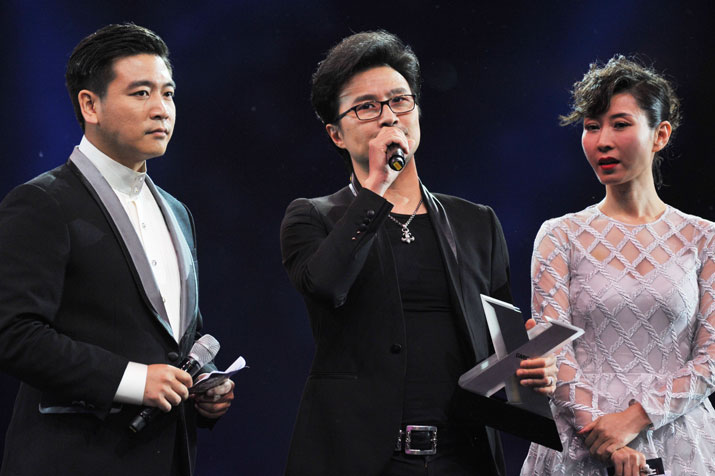 Wang Feng (center) receives the award for the most influential singer of the Internet age at a ceremony on April 28 (WEI YAO)
Global perspective
In addition to adopting hi-tech, globalization has also become the consensus of Internet companies.
At a round-table discussion during the conference, Cheng Wei, founder and CEO of Didi, a leading car-hailing company in China, announced that its app had been launched in the United States. "The Internet is global," he said.
"Didi wants to enable anyone around the world to use our app to call a taxi where they live, not just people in China," he added.
Cheng regards globalization as a bigger challenge than that posed by its competitor Uber. When his company announced its international strategy over a year ago, many thought it was too early to take such a step, considering the business had only a two-year history. However, Cheng said such apps were developing fast in Southeast Asian countries and India. If his company failed to seize the opportunity, it would lose the chance.
"It's not too early for Didi to seek globalization," Cheng proclaimed.
New-energy vehicles
Ren Yuxiang, Vice President of Tesla Asia-Pacific, said during the conference that a Tesla car is not simply a vehicle, but a mobile Internet terminal with four wheels. These extra-smart cars possess automatic driving functions: they are able to turn, park and brake themselves. Ever since Tesla launched in China, many car owners have professed that they could not live without these functions.
Ren said that as a company founded in the Silicon Valley in 2003, Tesla's objective is to promote the use of clean energy. It cannot fulfill its mission without China, which has the largest car market in the world.
"We are committed to promoting the development of the new-energy vehicle industry in China," he said.
In the last two years, Tesla has opened 17 stores in seven Chinese cities and has built more than 1,500 charging posts.
"China is the fastest growing market for Tesla products in the world and has become the second largest market for Tesla behind the United States," Ren added.
Going abroad
Li Hongwei, a partner of venture capital firm GGV Capital, based in the United States, said that the company has been focusing on online businesses in China and the United States since its inception in 2000. It has invested in firms such as Alibaba and Qunar.com, swelling to a current valuation of $3.8 billion.
"In the beginning, many questioned us, saying that Silicon Valley investors normally look for projects within a 3-km radius. However, we came all the way to China in 2000 to hunt for opportunities. Many thought it was too early for us to pursue globalization back then," said Li.
"However, had we looked for projects only within a limited range, we wouldn't have been able to attain high quality," he concluded.
"Today, Uber has come to China and Xiaomi is going global—the globalization trend is unstoppable. The question is how domestic companies can enter overseas markets and vice versa," Li said. The Internet can surely help businesses to solve this conundrum.
Copyedited by Dominic James Madar
Comments to zanjifang@bjreview.com