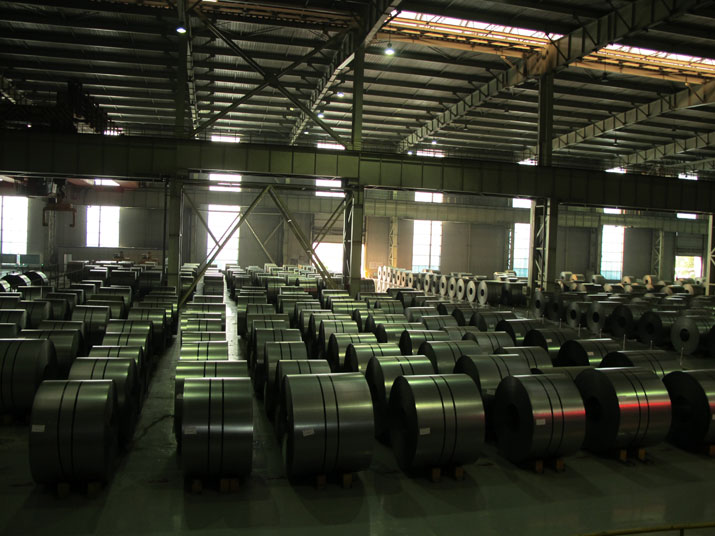 Hansteel's cold rolled steel products sit at one of its production sites in Handan, Hebei Province (MA LI)
North China's Hebei Province is notorious for its bad air quality. Seven cities in the province were among the 10 cities with the worst air quality in a list of 74 metros in China published by the Ministry of Environmental Protection in 2015. Therefore, the task of curbing smog in Hebei is a daunting one.
The province has set a goal to improve its air quality significantly during the 13th Five-Year Plan (2016-20) period. The provincial government has occupied itself with finding a way to strike a balance between economic growth and environmental protection and promoting green and environmentally friendly development.
It has also set out to realize energy conservation and emission reduction goals and is seeking to reduce pollution as it undergoes economic development.
Handan's transformation
Handan used to be dubbed the most polluted city in Hebei due to the fact that it is host to a large number of heavy industrial enterprises producing steel, coal and construction materials. The city ranked worst in reports of the most polluted cities in China from 2013 to 2015.
A primary source of pollution in Handan is the sulfur dioxide, smoke and dust emitted by the steel, coking, cement, electricity and construction material industries. These industries also represent the most important areas the city is focusing on in order to adjust and transform its conventional growth models.
Hansteel, a subsidiary of the Hesteel Group, has a history spanning over 50 years. It was a leading steel maker domestically back in the 1990s and was upheld as a national role model at the time. In recent years, the company has increased efforts to manufacturing processed products.
Li Yaoqiang, head of Hansteel's cold rolling factory, told Beijing Review that his factory's products are used in cars, home appliances, buildings, ships, spacecraft, machinery and the petrochemical industry. At present, 6 million tons of Hansteel's products have undergone industrial processing, accounting for half of the company's total output.
Cao Ziyu, Vice Mayor of Handan, said that Handan has prioritized cutting overcapacity in the process of transforming growth models and restructuring its economy. The city will cut iron capacity by 16.12 million tons and steel production capacity by 12.04 million tons by 2017. The number of steel companies in the city has been reduced from 35 in 2012 to 22.
In addition, 19 blast furnaces have been removed or shut down and iron capacity has been cut by 7.95 million tons. The city's steel production capacity has been reduced by 5.42 million tons. The number of cement companies has also dropped from 71 to 28.
Handan Shexian Jinyu Cement Co. Ltd. has also blazed new trails in energy conservation and emission reduction. According to Zhang Zhanmin, General Manager of the company, it has invested over 10 million yuan ($1.5 million) to upgrade its exhaust fans, saving 6.67 million kilowatt-hours of electricity every year. The company has revamped its kilns to reuse waste heat, saving nearly 2,000 tons of standard coal every year.
Zhang Jianwei, chief engineer of the company, told Beijing Review that after transforming the equipment, the amount of nitric oxide emitted has been reduced by 1,000 tons, and dust has been cut by 160 tons. A project which uses waste heat to generate electricity has effectively reduced emissions and can generate 6 million kilowatt-hours of electricity every year, saving the company over 10 million yuan ($1.5 million). Meanwhile, it has treated its waste water and uses it to water the plants in the factory yard, saving nearly 100,000 tons of water every year.
In order to realize economic restructuring and transformation, Handan has also been investing in the electric vehicle industry.
Vice Mayor Cao said that the Yinlong new-energy vehicle project has received an investment of 2.2 billion yuan ($339 million) and has a production capacity of 33,000 electric buses and sports utility vehicles per year. The city has already bought 200 electrical buses and built multiple charging posts since last May. In the meantime, contracts for 11,000 of these new-energy buses, worth over 20 billion yuan ($3 billion), have been signed.
The city's authorities believe that the production of these buses is likely to promote the development of relevant industries. "We will put emphasis on developing batteries and components for new-energy vehicles to enable these industries to become dominant ones in our city," said Cao.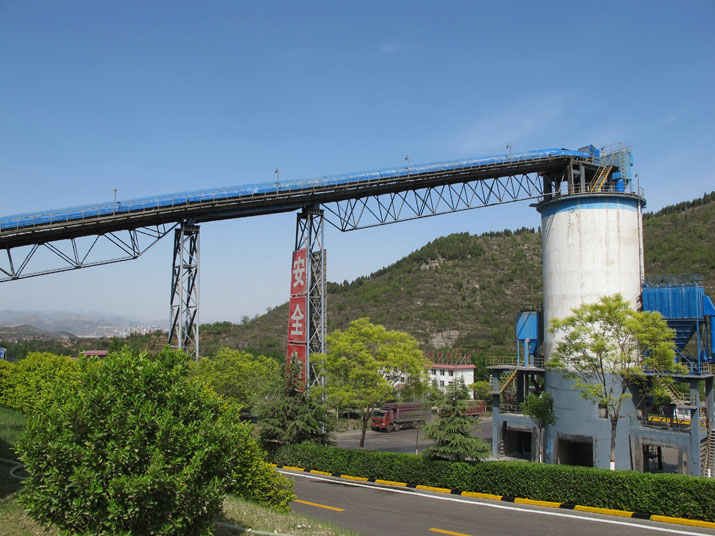 Handan Shexian Jinyu Cement Co. Ltd. (MA LI)
Province-wide efforts
The iron, steel and cement industries have long occupied a large proportion of the industrial structure of Hebei, resulting in overcapacity and heavy pollution.
During the 12th Five-Year Plan (2011-15) period, Hebei reduced iron capacity by 33.91 million tons, steel capacity by 41.06 million tons, cement capacity by 138.34 million tons, plate glass capacity by 72.025 million weight cases and coal consumption by 27 million tons, according to Song Limin, Deputy Director of the Hebei Provincial Development and Reform Commission.
In order to cut overcapacity further, Hebei has set goals to reduce iron and steel output by 60 million tons, cement output by 60 million tons, coal production by 40 million tons and plate glass by 30 million weight cases by 2017.
Hebei has seen a shift in its key industries. According to Song, in 2015, the value-added output of equipment manufacturing surpassed the steel industry for the first time, becoming the largest industry in the province. It is also trying to develop low-consumption and low-emission emerging industries as well as the service industry. Last year, the value-added output of its hi-tech industry improved by 13.2 percent year on year, accounting for 13.1 percent of the province's total. Also, the service industry's contribution to the local economy exceeded 50 percent for the first time.
Furthermore, the province has set out to build a low-carbon industrial structure in order to reduce greenhouse gas emissions.
"We advocate a low-carbon lifestyle and have worked to reduce energy consumption in production," said Song. During 2011-14, the amount of energy consumption per unit of GDP was reduced by 20.34 percent, saving 84 million tons of standard coal and reducing carbon dioxide emissions by 210 million tons.
Hebei has also developed its renewable energy industry. The province's installed capacity for wind power ranks third in China, and it ranks seventh in terms of solar power capacity. The first comprehensive renewable energy demonstration zone has been established in the city of Zhangjiakou.
Last year, Hebei's coal consumption was reduced by 21.97 million tons and carbon dioxide emissions dropped by 57 million tons against 2012, realizing a contraction in coal consumption for the first time.
Additionally, the province has carried out afforestation programs, having absorbed 73 million tons of carbon dioxide emissions by the end of 2015. From 2011 to 2014, the amount of carbon dioxide emissions per unit of GDP declined by 21 percent.
Copyedited by Bryan Michael Galvan
Comments to yushujun@bjreview.com