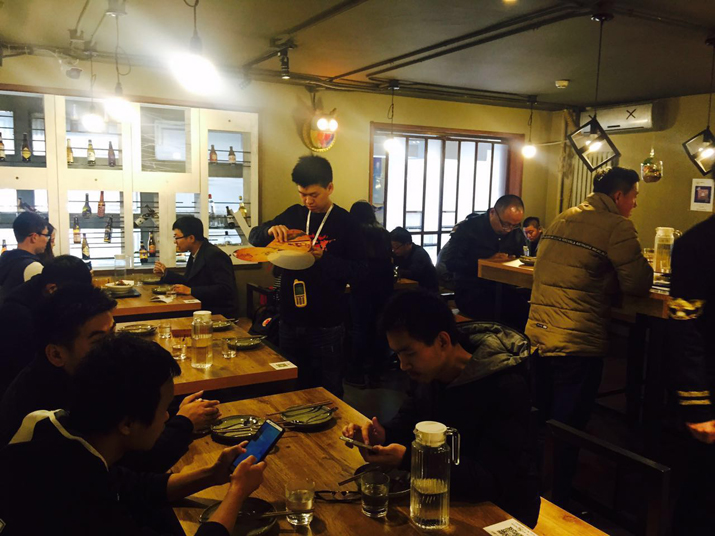 A waiter serves guests at the See You Again restaurant in Beijing in March (BY COURTESY OF SEE YOU AGAIN RESTAURANT)
College graduates across the country are once again on the hunt for jobs. Job seekers flocked to a job fair held at the China International Science and Technology Convention Center on February 20-21.
In the early hours of the morning, thousands of college students holding well-designed resumes rushed into the job fair center to seek employment opportunities.
According to the fair organizers, more than 160 companies and public institutions attended the event, recruiting for about 4,000 positions, most of which were related to the Internet.
While fairs are filled to the brim with job seekers, another type of employment opportunity is flourishing among graduates. In order to relieve pressure on the labor market, the Chinese Government announced a string of policies over the past year encouraging people to start up their own businesses.
In 2015, there was a 21.6-percent growth in the number of newly registered enterprises compared to the previous year, according to official statistics. That meant that on average 12,000 new companies were created each day.
Even so, according to figures from the Ministry of Human Resources and Social Security, more than 15 million people will enter the job-seeking market this year. Out of that number, 7.65 million are recent college graduates, leading many to wonder whether the market is capable of accommodating all prospective workers.
Starting up businesses
Ye Xiaoying, a student who will graduate from Beijing Forestry University this year, will join the job scramble, but is optimistic about her chances for employment. "I think finding a job is not always a problem," Ye claimed. In her eyes, starting up a business is also a kind of employment.
Ye now has a part-time job at a western-style restaurant in north Beijing named Hou Hui You Qi, which literally means See You Again. It was created and is operated by several college students from the China Agricultural University, Beijing Forestry University, Beijing Language and Cultural University, Beijing University of Science and Technology, China University of Geosciences and the China University of Mining and Technology. Many college students like Ye are working at the restaurant.
According to Ye, most of these students will graduate this year and plan to continue working here after graduation.
Ma Yao, one of the restaurant's founders, said that the restaurant was initially financed through crowdfunding. In fact, the 2 million yuan ($326,264) in start-up funds received all came from crowdfunding, and about 80 percent of it was contributed by college students.
"There must be new ideas for entrepreneurship so we chose college students as our fundraising targets. They are not only our partners but also potential customers, and their rating of our service will be the restaurant's best source of advertisement," Ma said.
"In the future, we may explore projects such as college tourism and music festivals," Ma added.
Today, Ye is working as a project promotion manager at the restaurant. She said that the job experience she attained during her time at school helped her get the position.
During her sophomore year, Ye spent her summer and winter holidays organizing college tourism projects and obtained rich experience in business management and publicity. "And then I heard about the See You Again restaurant project. I was obsessed with its innovative fundraising methods and decided to invest in it," she said. "The most excited thing is working with other students and sharing ideas with them."
Still, when Ye decided to take up the opportunity offered by the See You Again restaurant, her parents worried about her future. Ye had also received a promising opportunity to work as an intern at Baidu, Inc., one of the leading Internet-services companies. Joining Baidu would have been a more conventional career move.
However, she was eventually able to get her parents' support and subsequently pooled all her effort into managing the See You Again project thereafter. "I believe that we can only reach perfection in our work when we do work that we enjoy," Ye said.
Geng Yang, who graduated from the Chongqing University of Arts and Sciences last year, is also working at the restaurant. He said that he is working there though under pressure from his family.
During his time in college, Geng started a small business selling commodities, and was therefore able to earn some money and experience. Nonetheless, his parents urged him to find a stable job. Through a series of deliberations, his parents ultimately gave him a five-year timeline to try and succeed in running his own business.
"Starting up a business requires passion. We must do our best to try as much as possible when we are young," Geng said, adding that Chinese society should redefine the word "employment." "Working at companies and factories is defined as being employed, but doing business also counts as employment," he said.
Redefining success
Xiang Dong, Director of the Second Division of the Comprehensive Research Department of the State Council's Research Office, said, "Today, the service sector has taken up 50.5 percent of China's total GDP, so it's time for our society to expand the definition of employment."
"The policy of 'mass entrepreneurship and innovation' is a rare opportunity for the generation born after 1990 to start up their own businesses. It's lucky for us to live in such times," Geng said. "After years of ups and downs, today's business starters have obtained more lessons from their predecessors and are more active but rational."
From the beginning of this year, the 75 colleges and universities directly subordinated to the Ministry of Education have published employment-quality reports on their graduates during 2015. The reports showed that under the encouragement by the government, a considerable proportion of the graduates chose to start up their own businesses.
The policy of mass entrepreneurship and innovation was brought up by Premier Li Keqiang in September 2014. In 2015, the State Council issued a string of policies including financial assistance to encourage business startups, ushering in a sweeping nationwide boom in new businesses.
At a press conference in late February, Yin Weimin, Minister of Human Resources and Social Security, expressed his confidence in the stability of employment rates this year. "We will continue plans to promote the employment of college graduates and encourage more of them to start up their own businesses," Yin said.
Li Xiaolin, a member of the Chinese People's Political Consultative Conference (CPPCC) National Committee and President of the Beijing Linda Group, also supported entrepreneurship but gave his own suggestions.
"By starting up their own businesses, college students can realize their ideals and values. It's a good thing, not to mention that such actions can also help create more job opportunities," Li Xiaolin said. "Though, I must offer some warnings: prepare well and pay attention to improving the success rate of [start-up] businesses."
Li Xiaolin suggested that college students first get a job to accumulate experience and then start their own businesses. "That is the only way that can we improve success rates," he said.
In this year's government work report, Premier Li said that one of this year's main aims is to create 10 million jobs and to limit registered urban unemployment rates below 4.5 percent. In order to achieve such targets, the Central Government plans to further pursue a more proactive employment policy and encourage business startups in order to create more employment.
"We should keep a calm head in encouraging business startups. We should support capable entrepreneurs in all aspects," said Ding Jinhong, a CPPCC National Committee member and a professor with Shanghai-based East China Normal University." But for those without sufficient experience, we should give out warnings to them, and in time, help them obtain more knowledge and experience."
The author is a reporter with China Today magazine
Copyedited by Bryan Michael Galvan
Comments to zanjifang@bjreview.com