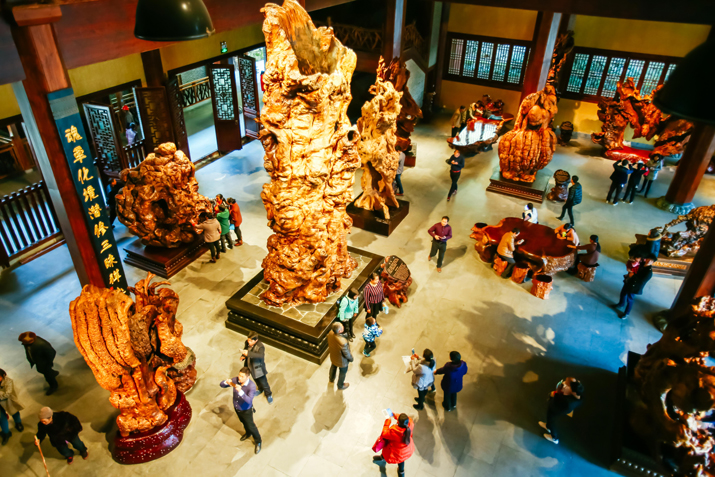 Tourists appreciate root carving works in Kaihua County, Zhejiang Province, a town specialized in root carving industry, on February 16 (XINHUA)
During this year's Valentine's Day, Zhang Rui, a 22-year-old woman living in Beijing, received a box of chocolates from a place that is akin to the whimsical setting of the movie Charlie and the Chocolate Factory . The place--known locally as the Chocolate Town--is located in Jiashan, east China's Zhejiang Province. "People say that it's like Hershey's Chocolate World, so I want to go there," Zhang said.
The Chocolate Town that Zhang longs to visit is one of the first batch of "specialty towns" in Zhejiang, which brought in 1.12 million visitors and produced over 20,000 tons of chocolate throughout 2015.
On January 29, Zhejiang's Provincial Government announced the list of the second batch of specialty towns, with 42 new additions. With the first batch of 37 such towns that were announced on June 4, 2015, the province is getting closer to its goal of building a total of 100 specialized towns within three years.
As an innovative model of economic development, these towns have become a new source of growth in the period of economic transformation that China is undergoing. The country is trying to shift the focus of its economy from industry-based to service- and consumption-oriented. These towns also provide useful information for additional reforms of the supply side.
But what are these so-called specialty towns? According to official accounts, such areas are neither administrative units, nor industrial parks, but platforms developed under the principles of innovation, coordination and common development, as well as being environmentally friendly. They're also open to the seven emerging industries of information economy, environmental protection, health, tourism, fashion, finance and high-end equipment manufacturing. These platforms all have multiple functions as areas for residence, industries, tourism and cultural life.
Weng Jianrong, Deputy Director of the Zhejiang Development and Reform Commission, said that Zhejiang's version of specialty towns draws its inspiration from famous towns, such as Davos in Switzerland, Greenwich as the hedge fund capital in the United States, and Provence in France.
"These small towns in Zhejiang have their own unique culture, well-preserved ecology and uniquely advantageous industries," Weng claimed. Apart from their specified industry positioning, these towns also function as tourist resorts.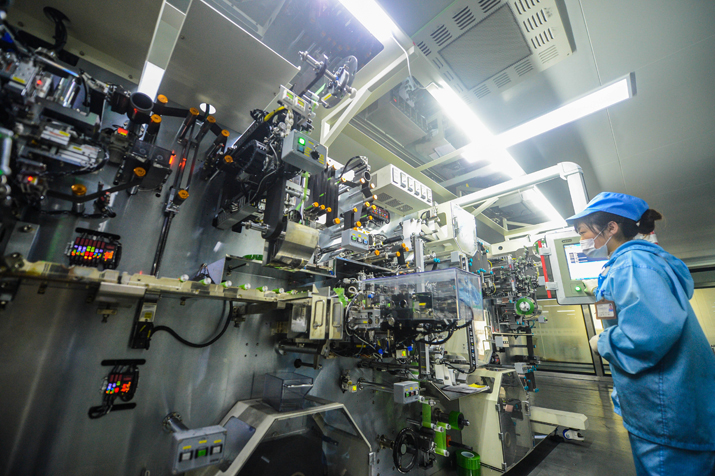 A worker attends to an assembly line in an lithium battery production workshop of Tianneng Group in Changxing County, Zhejiang Province, on March 2 (XINHUA)
Impetus for economic reform
The Hangzhou Bay New District is a national economic development zone located in Ningbo, Zhejiang Province. Automobile manufacturing is its pillar industry; auto companies such as Volkswagen and Geely Auto have set up production bases in the area. What's more, the district plans to turn itself into a seaside holiday town.
"Although the Hangzhou Bay New District is a motor city, there are still many resources for tourism. There is a national wetland park and hot springs in the region," said Zhou Chunqiao, an engineer with Zhejiang Rayttle Motors Co. Ltd. headquartered in the district. The enterprise started by making auto parts for big companies and began to develop new-energy vehicles in 2012.
"Establishing a specialty town for tourism might be an opportunity for our new-energy automotive industry, because the most suitable means of transportation in tourist areas is via electric cars, which are energy-saving and environmentally friendly. If many tourists come, our brand awareness will also grow," said Zhou in an interview with Beijing Review .
Zhou's boss Zhuo Jianli, Chairman of the company's Board of Directors, also found business opportunities in developing specialty towns. In January, their company signed a contract with a New-Energy Town in Changxing County. The company will invest 500 million yuan ($77 million) to build a new production base covering an area of 26.7 hectares, or approximately 65.8 acres, and is expected to produce 150,000 new-energy cars annually by 2018.
Zhuo told Beijing Review that there were three reasons for their company to invest in the New-Energy Town in Changxing: First, the county is engaged in developing the battery industry, having cultivated famous brands such as Tianneng and Chilwee, as well as other well-known companies. Batteries are an integral part of the electric auto industry, so creating facilities to support this is also important. Second, the local government has made policies supporting companies manufacturing pure electric vehicles, key auto components and parts, and setting up a special fund for them. Third, the county is planning to construct an innovation and demonstration area of pure electric vehicles, which is good news for new-energy auto companies.
Changxing County, also known as China's storage battery capital, has produced acid storage batteries for over 30 years. In the county's golden days of production, up to 170 factories and 10,000 workers were engaged in the industry, and its share of the national market reached 65 percent. As the county's pillar industry, acid storage battery production brought stable economic income. Environmental concerns forced the factories to seek industrial upgrades. Now Changxing is using its traditional advantage to develop high-end new-energy batteries and vehicles.
Among the second batch of specialty towns, the Aviation Town in Jiande is another example of economic restructuring. The Aviation Town is located in the small town of Shouchang, which has a history of more than 1,800 years. In the past, the production of cement and building materials was long regarded as the town's main industries. Given the current economic situation, Shouchang has started to develop a general aviation industry, trying to establish China's first aviation specialty town. This involves launching into private jets, agriculture aircraft, business aviation and tourism markets.
According to Jiang Huaping, one of Aviation Town's planning directors, the biggest advantage for Shouchang to develop this industry is the Qiandaohu General Airport--the first and only general airport in operation in Zhejiang Province.
General aviation refers to the use of civil aircraft in activities outside of public air transport, which covers a large range of operations, including agricultural aviation, light aircraft manufacturing and maintenance, flight clubs and training.
Jiang told Beijing Review that in the next three years, Shouchang will receive 5.6 billion yuan ($862 million) worth of investment for the development of its aviation industry. Currently, a total of 10 airline companies have already signed contracts with the town. The Aviation Town plans to build a theme park, import 50 classic aircraft, install flight simulators, wind tunnel facilities and set up flight clubs. In August 2015, Shouchang also hosted the National Air and Space Model Open Tournament, in which a large number of contestants were teenagers.
"Since we have recently been given approval to develop the aviation industry, everything is still under construction," said Jiang. "Everything depends on the actual development circumstances." He believes the town's future is secure, since the Central Government put forward the growth of general aviation in the country's 13th Five-Year Plan (2016-20).
"The second batch [of specialty towns] is just beginning," said He Xiaohua, Deputy Director of the Management Committee of the Health Town of Tonglu. As the only town of its kind to be named for health in the province, the town emphasizes the concept of traditional Chinese medicine and green food in addition to a health-preservation culture and tourism.
"This town's focus on health wasn't solely crafted by us, but rather, was built on top of an existing health service industry that had previously established itself here," He told Beijing Review. He also said that the town is considered the "hometown of longevity," so the health industry's growth was quite natural.
A spreading idea
The "industry + culture + tourism" model of development has already shown signs of success. According to statistics in 2015, the first batch of 37 specialty towns in Zhejiang attracted 3,207 enterprises, including 21 newly introduced Fortune 500 companies. It has also helped create 46,000 new jobs, started 431 new construction projects, and accomplished 48 billion yuan ($7.39 billion) in fixed assets investment. The annual investment of 27 towns reached 1 billion yuan ($158.73 million), and that of five towns reached 2 billion yuan ($317.46 million). In just one year, a total of 37 such towns contributed to 2.13 billion yuan ($328 million) in new tax revenues.
Liu He, Director of the Central Finance and Economy Leading Team Office, said that the development of specialty towns in Zhejiang showed potential for the province's economic restructuring and was a meaningful exploration in the "new normal" economic development period. "The development mode of these towns accords with the rule of a market economy, focusing on the formation of a comparative advantage and supply capacities to meet market demands," Liu said.
The author is an intern with Beijing Review
Copyedited by Bryan Michael Galvan
Comments to zanjifang@bjreview.com