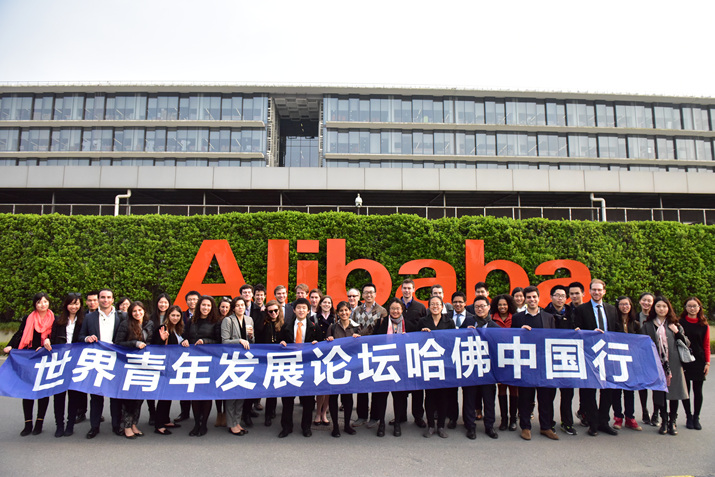 Harvard students take a group picture in front of Alibaba's headquarters in Hangzhou, Zhejiang Province, on March 14 (BY COURTESY OF WYDFORUM)
Modern metropolises and ancient capitals, the world's largest online shopping platform and a renowned poverty alleviation project, an independent organization and a series of government departments, beautiful spring scenes in the south and the haze in Beijing—the recent trip itinerary of a group of Harvard students presented a holistic picture of China that few expected.
"What I want to show them is the real China, both positive and negative," said Liu Xi, the founder of WYDForum, organizer of this tour. "This was my intention in organizing this trip, [without] hiding or exaggerating anything, just a true picture."
Here I am
A graduate of the Harvard Kennedy School (HKS) in 2015, Liu, 25, founded the WYDForum, a non-governmental organization (NGO) committed to increasing dialogue and promoting idea-sharing opportunities among young professionals from around the world. This was the first trip that the NGO organized.
"When I was studying at Harvard, I could feel that some students had stereotyped perceptions of China, which was formed mostly out of the incomplete or even distorted information about China," Liu told Beijing Review. "I want them to come and see with their own eyes."
Pitichoke Chulapamornsri, a second-year Thai student at HKS who joined the March 12-20 trip, said that while many Harvard students may have been to China before, "there are still some that have not. I really recommend them to come and visit as it is different from what they think it would be."
The 26 Harvard students, selected from 225 candidates, are from 14 countries. "The selection was very rigorous," Chulapamornsri told Beijing Review.
"I conducted several rounds of interviews with the candidates to make the selection and it was difficult," Liu said. "They need to be genuinely interested in China and have potential to participate in a genuine exchange of different cultures."
Liu explained that each student needed to pay $500 for the trip and the rest was covered by sponsors.
"It is a precious opportunity and we get access to some important government bureaus that we couldn't get as an independent tourist," said Chulapamornsri, who has been a longtime follower of China's development. In 2009, he came to China and studied international business and finance at Peking University. This time he came back to China to get an update on the current situation of the country.
The tour started in Shanghai, China's economic center, where they stayed for one day and visited the Free Trade Zone and China Executive Leadership Academy, a public institution funded by the Central Government in leadership training and development. Then they went to Hangzhou and Nanjing, both ancient capitals of China, and now the capital cities of Zhejiang and Jiangsu provinces in east China respectively. With one day in each city, they visited Alibaba Group Holding Ltd., the world's largest online B2B platform, and Sanpower Group, a leading enterprise in China's technology and modern service industries.
The last stop was Beijing, capital of China, where they spent four days visiting a series of government departments—including the Ministry of Foreign Affairs, the Information Office of the State Council, the People's Daily newspaper, an independent foundation and the commercial Baoshang Bank.
What impressed Chulapamornsri most was the Dream Town in Hangzhou, which is just a few kilometers away from Alibaba's headquarters. Opened in March 2015, it has attracted more than 4,000 people to work on business startups. "It is exciting to see the energy of startups there," Chulapamornsri said. "The government set up such a 'town' and offers free office space for the startups for three years. It is very impressive."
John Boghossian, a student from Harvard Business School, is also not new to China. Coming from Lebanon, he lived in China for two months in 2009 and three weeks in 2011. "After my first trip, I kept recommending my friends in the United States to come and visit," he told Beijing Review.
Baoshang Bank, which is an active participant in the poverty alleviation project of China, left an impression on Boghossian. Founded in 1998, the bank provides loans to micro-enterprises and has helped more than 1.6 million people start their businesses. Since 2012, this has been adopted in poverty reduction work in seven counties under the national poverty line.
"In Boyang County of south China's Jiangxi Province alone, Baoshang Bank has offered loans to 71 households, totaling 4.53 million yuan ($697,000)," said Li Zhenxi, President of Baoshang Bank, at the meeting with the visiting students.
Philipp Voswinkel, a German student at HKS, was also very impressed by the poverty alleviation project. "This is the most exciting part of this trip," Voswinkel told Beijing Review, saying that he was reflecting on "whether China's experience in this aspect can be transferred to other countries, for example, in Africa, which have different political systems."
"It is normal that people from different cultures have questions for each other, and that is why we need to enhance the communication," said Dong Guanpeng, Director of Academy of Media and Public Affairs at Communication University of China. The academy, dedicated to long-term international communication, helped arrange the tours to the State Council Information Office, the Ministry of Foreign Affairs and People's Daily.
At the Ministry of Foreign Affairs, the students actively raised questions to Lu Kang, one of the spokespeople for the Ministry, concerning China's relations with different countries and attitude toward international affairs. Lu answered 17 of their questions. Dong said he is hopeful that international questions such as those posed by the students can all enjoy "candid and efficient dialogue," adding that if that is the case, he believes "the world will enjoy a brighter future."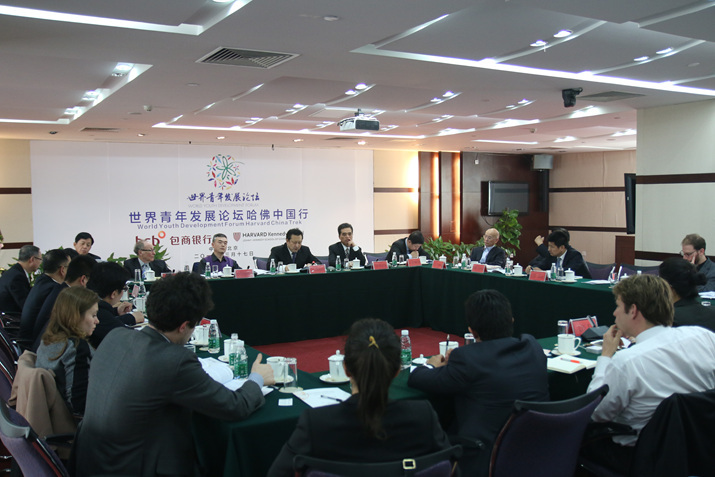 Harvard students meet with representatives of Baoshang Bank in Beijing on March 17 (BY COURTESY OF WYDFORUM)
The difference
For Anna Raginskaya, a second-year student at Harvard Business School, this was her first trip to China. "China is so much different than what I thought it would be," Raginskaya told Beijing Review. "It is so modern and not chaotic. The architecture in every city we visited is just spectacular," she observed.
Before business school, Raginskaya graduated from Harvard where she studied history and architecture. "The contemporary art in China is incredible," Raginskaya said when she visited 798, a modern art center that took over an area of abandoned factories in northeast Beijing. "The art is an expression of people and from that we can get a richer picture of the culture."
Boghossian is also a fan of Chinese art. "The long history and culture of China is really appealing to me," she said. "The Confucius values focusing on dedication to the family and caring for the elders are great. I used to regard China as a travel destination or language learning base, but now I would seriously consider moving to China and even starting my business here."
Steven Kelman, an HKS professor who joined the students on the trip, said that seven days seemed "too short" as they could only visit a limited amount of places, but he was encouraged by the impact it had. "The students were a bit shocked by the pollution in Beijing and had to wear masks," said Kelman. "This is a very direct exploration of the environmental situation; China is different than what they learnt from the media before."
The environmental issue was also prominent among the questions that Chulapamornsri brought with him to China. On the third night in Beijing, they met Du Shaozhong, former spokesman of the Beijing Environmental Protection Bureau, and asked him quite a few questions on this issue.
The Chinese Government does "understand the challenge that China is facing," Chulapamornsri said. "I really hope to see the prosperity of China because China's development can benefit the world."
"This is the first trip we organized after the foundation of the WYDForum," Liu said in conclusion. "We will arrange more such tours among different countries, both bringing overseas students into China and taking Chinese students abroad."
Copyedited by Mara Lee Durrell
Comments to yuanyuan@bjreview.com