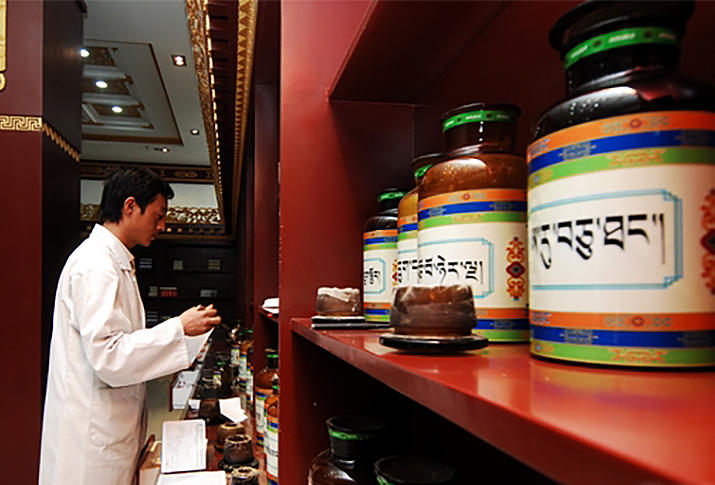 The Daohangte Village Clinic (COURTESY OF CHINA TIBET ONLINE)
The Daotanghe Village Clinic is a grass roots-level medical institution which serves about 10,000 residents in Hainan Tibetan Autonomous Prefecture, northwest China's Qinghai Province. Last October, the clinic received a grant which upgraded the bare-walled clinic into a beautiful Tibetan clinic with deep red tones and traditional Tibetan décor.
"Ethnic regions should develop ethnic medicines. Our farmers and herdsmen trust Tibetan medicine, whenever someone gets a cold, they'd ask if there was Tibetan medicine first," said the clinic's director Doula.
The clinic now offers more than 180 types of Tibetan medicine, with over a dozen remedies original to the clinic, said Doula. It also has some Tibetan medical equipment that offers patients therapies such as blood-letting, acupuncture, foot-bath, skin-scraping, and Tibetan massage. Around 4,000 patients visited the clinic annually.
According to data released by the Chinese and Tibetan Medicines Management Agency of the Qinghai Province Medical and Population Planning Committee, there are now 145 Chinese and Tibetan medical clinics as well as community health centers in Qinghai. They manage to promote 148 varieties of medical techniques.
Currently, all of the community health centers, 90.1 percent of the county medical clinics, and 75.2 percent of the village medical clinics are able to offer Chinese and Tibetan medical services.
Besides, 40 percent of the medical services offered at grass-roots level medical institutions are Chinese and Tibetan medicines.
Qinghai Province plans to set up 96 new Chinese and Tibetan medical clinics in 2016.
"Our grass-roots level medical institutions used to overlook ethnic medicines, especially with western medicine becoming popular. Now that we have policy and financial support, this area is growing again and will be significant," Doula said.
(China Tibet Online March 31, 2016)