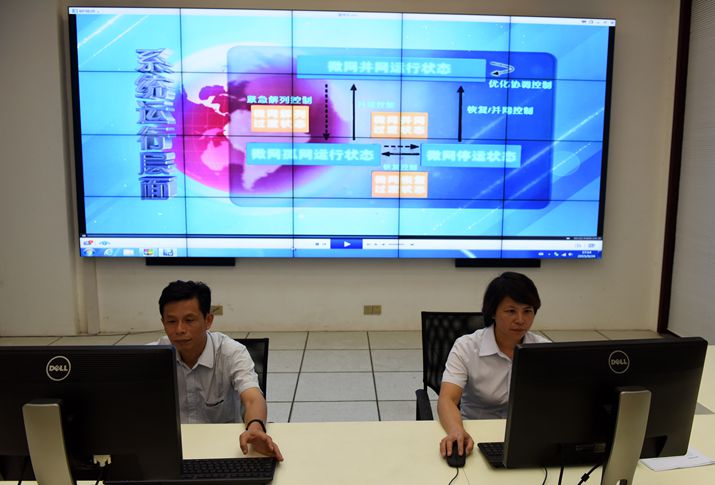 Staff members work in the intelligent microgrid master control room of Jiangxi Risun Solar Energy Co. on September 24, 2015. Intelligent microgrid and other energy-conserving technology is promoted in Xinyu, Jiangxi Province (XINHUA)
Never before has any other country in the world experienced such a large-scale and rapid urbanization drive as the one that is ongoing in China. Fueled by rapid economic growth, the country's urbanization rate soared from under 20 percent more than a decade ago to 52.6 percent in 2012—and to 56.1 percent at the end of 2015—which translates into an annual growth rate of more than 1.3 percent. The traditionally agricultural country has since taken on a new look.
Yet "aggressive" urbanization has also created many problems, such as a lack of variation in cities' look and feel, environmental degradation, and insufficient public services.
In March 2014, the Chinese Government released a National New-Type Urbanization Plan (2014-20), a blueprint to guide the country's urbanization process. The plan has set the goal to pursue people-oriented, environmentally friendly and sustainable urbanization.
The new-type urbanization has been piloted in a batch of Chinese cities. By the end of December 2015, a second batch of cities had started to pilot the program, with much more progress on the horizon.
Problems encountered
China's urbanization progressed much faster than that of developed countries. Yet extensive urbanization has brought a raft of issues to contend with.
At the early stage, the country's urbanization process was virtually a city-making campaign. During mass demolishment and construction for commercial purposes, many old streets rich in history, culture and ethnic characteristics were torn down, replaced by paved roads, lawns, plazas and skyscrapers.
These hastily built cities, regardless of their size as well as geographical and cultural features, sought to look "international." Many cities flocked to construct landmark buildings, and some even copied famous ones such as the Tiananmen Rostrum in Beijing, Arch of Triumph in Paris, and the White House in Washington, D.C.
As a result, many Chinese cities looked neither unique nor beautiful. Moreover, the large number of high energy-consuming buildings led to a serious waste of resources and a rise in pollution levels.
During the GDP-oriented urbanization process, not enough attention was paid to the construction of such facilities as hospitals, schools, parks, garbage dumps and underground pipelines. As a consequence, some cities were "modern" but uninhabitable. Many megacities suffer from heavy pollution, traffic congestion and shortages of water and electricity, as well as educational and medical resources. Meanwhile, many small- and medium-cities are plagued with poor management and public services.
One consistent and serious problem encountered in the urbanization process is that a large number of rural surplus laborers have not been absorbed by cities. Although China's number of permanent urban residents account for more than 50 percent of the total population, residents with city household registration make up less than 40 percent.
Under the hukou system, the Chinese system that assigns access to public services based on household registration, which is often difficult to change, many migrant workers and their children do not have adequate access to urban medical and education resources. Consequently, many of these workers have left their children in their village of origin. Official statistics show that as of 2015, there were more than 60 million "left-behind" children in rural areas, which creates a whole other host of complex social issues.
To make matters worse, today, large cities that are already overcrowded are unable to accommodate more people, whereas small- and medium-cities lacking strong industries are unable to generate enough stable jobs to maintain the influx of migrants. Some new cities that aren't backed by strong industries end up more like ghost towns.
New-type urbanization
China's export-dependent economy was seriously affected by the 2008 global financial crisis. Thereafter, the Chinese Government began to shift its focus from encouraging exports to stimulating domestic demand.
The new-type urbanization is expected to be an effective force boosting China's twin goals of domestic consumption for economic needs, and sustainable development for the future.
In the early urbanization process, lakes were filled up to reclaim land, trees were chopped down to create lawns, and historical buildings were bulldozed to construct new ones. Under the new model, such practices will be stopped. Rather, a city's history and culture will be respected, and its unique natural landscape and local characteristics will be retained.
Moreover, cities will not only be made to be beautiful but also more habitable. Parks, hospitals and schools will be built in residential areas to make people's lives more convenient and reduce transportation time. Drainable pipelines will be improved to prevent waterlogging and proper garbage collection and disposal facilities will be put in place.
Cities will also be encouraged to pursue low-carbon and green development. For instance, buildings should adopt natural ventilation and lighting systems.
Under the new-type urbanization, China attaches importance to drawing relevant experience from developed countries. For instance, in 2013, China and France signed an agreement on urban sustainable development. In 2014, to mark the 50th anniversary of the establishment of their diplomatic ties, the two countries' leaders signed a medium- to long-term plan for the development of bilateral relations, which included cooperation in better urban planning.
French cities can also offer best practices.
The north French city of Lille's traditional pillar industries such as textile, metallurgy and quarrying went bust after being hit hard during globalization. The city, tapping on its architecture and other cultural heritages, then vigorously developed cultural industries to become new anchors for regional prosperity.
Reims, a city in northeast France, used to be a mining center. After the local industry faded, it became the site of a branch of the esteemed Louvre Museum. Now, about 500,000 people visit the branch museum every year, which creates new economic opportunities for the city.
Developing tertiary industries such as cultural and tourism industries and nurturing small and medium-sized enterprises are viable ways for Chinese cities to attract and accommodate rural residents migrating to cities. While providing jobs for migrant workers, cities should also give their new residents access to urban social insurance and public services.
The author is a researcher with the Institute of European Studies under the Chinese Academy of Social Sciences
Major Urbanization Goals and Tasks in 2016
People-centered urbanization will be advanced. This means granting urban residency to around 100 million people with rural household registration living in urban areas and other permanent urban residents, completing the rebuilding of both rundown areas and "villages" in cities involving about 100 million people, and enabling around 100 million rural residents to live in local towns and cities in the central and western regions.
By 2020, permanent urban residents should account for 60 percent of China's population, and 45 percent of Chinese people should be registered as permanent urban residents.
Three major steps will be taken regarding urbanization:
—Move faster to see that urban residency is granted to more people with rural household registration living in urban areas.
Permanent urban residents without urban residency should be issued residence cards, thus enabling them to enjoy, as provided for by law, the right to access education, employment, medical care, and other basic public services.
The development of small towns and small and medium-sized cities in the central and western regions will be promoted to help more rural migrant workers find employment or start businesses in urban areas closer to home so that they do not have to choose between earning money and taking care of their families.
—Promote the development of government-subsidized housing in urban areas and the steady and healthy development of the real estate market.
A total of 6 million housing units will be rebuilt in rundown urban areas and more people displaced by the rebuilding of such areas will receive monetary housing compensation rather than housing.
The tax and credit policies for supporting justified personal housing consumption will be improved, and cities will take policies appropriate to their local conditions to ease the real estate industry's problem of excess inventory.
A housing system will be put in place, which encourages both renting and purchasing. Eligible non-registered urban residents will be allowed to apply for public rental housing.
—Redouble efforts to improve urban planning, development, and management.
(Source: Government Work Report)
Copyedited by Mara Lee Durrell
Comments to zanjifang@bjreview.com