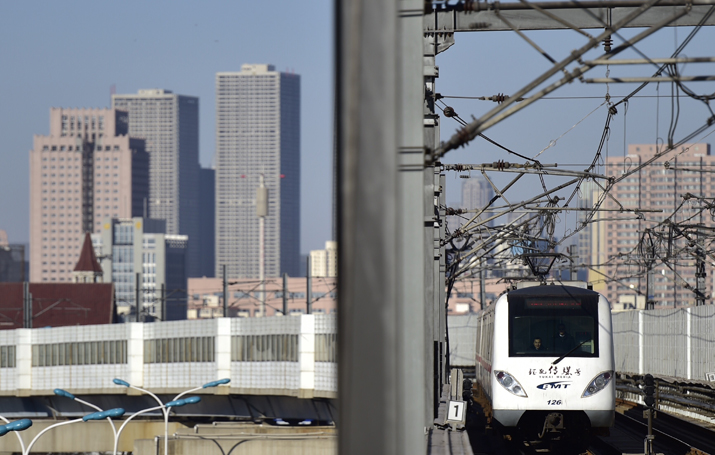 Part of the light rail from downtown Tianjin to the Binhai New Area that was suspended after the August 12 blasts restores to operation in the end of 2015 (XINHUA)
Five months after the State Council began its investigation into the warehouse explosions that rocked Tianjin, the team has released its findings on February 5, concluding that the disaster was caused by an ignition of hazardous materials that were improperly and illegally stored at the site.
The warehouse owner--Tianjin Ruihai International Logistics--had illegally built a freight yard of hazardous materials, conducted illegal operations, stored hazardous materials illicitly and had inept safety management standards, according to the report.
Two explosions in a warehouse ripped through residences in Tianjin's Binhai New Area on August 12, 2015, killing 165 people, including 99 firefighters. Another eight people are still missing. The explosions damaged 3,014 buildings, 12,428 cars and 7,533 containers, resulting in 6.87 billion yuan ($1.12 billion) in economic losses.
Severe punishment
Consisting of prosecutors from the Supreme People's Procuratorate (SPP) and the local procuratorate of Tianjin Municipality, the investigatory team found the accident exposed corruption, mismanagement and slack government supervision surrounding the warehouse where the explosions occurred.
The investigation into the explosions suggests that 74 officials will be subject to the Party disciplinary procedures and local discipline inspection commissions will admonish 48.
Twenty-five of them, include two departmental-level officials and seven at the vice departmental level, will face prosecution for their roles in the deadly explosions, the SPP announced on February 5.
They are suspected of dereliction of duty, abuse of power and bribery.
Public security departments and procuratorates previously put 49 people under coercive measures in line with the law. Indeed, in early September last year, Premier Li Keqiang urged harsh punishment for those responsible for the deadly blasts during a meeting attended by officials in charge of the investigation.
Investigators found that Ruihai Logistics violated rules and regulations for storing and transporting dangerous chemical substances, including 800 tons of ammonium nitrate.
Du Lanping, head of the investigation team's technical group, said that storing such a large amount of chemicals is illegal because of the high risks involved. He believes that the ammonium nitrate was the culprit of the tragedy.
The investigators recommend that Ruihai Logistics' licenses be revoked and company executives be banned from any other executive posts in the sector.
In addition, investigators found Ruihai Logistics had operated for two years before getting a license from the government in June of last year.
Li Wanchun, head of the investigation team's management group, said that the port's supervisor, the Tianjin Transportation Commission, did not conduct safety checks in line with the law and had lapses in its inspections.
"We also found that some people in the city's Planning Bureau and Land Department allegedly helped the company to illegally get the planning permits and made fake certificates in safety and environmental assessments," Li told CCTV.
In wake of the incident, the Supreme People's Court (SPC) and the SPP issued a judicial interpretation in December last year, specifying criteria for conviction and scenarios where harsher or lighter punishments should apply.
If state employees illegally invest in or hold stocks in enterprises that endanger production safety, or if corruption or bribe-taking are found directly linked with safety accidents, they should be given harsh penalties, the interpretation said. They may also be subject to punishment for embezzlement or taking bribes, according to specific convictions.
Many devastating accidents have been linked to official corruption or dereliction of duty, Shen Liang with the SPC told Xinhua News Agency. Therefore, apart from punishing those directly responsible for accidents, judicial organs should dole out equally harsh punishments to any corrupt offenders involved.
Other cases where harsher penalties may apply include operating without viable safety permits or evading or blocking safety inspections, according to the interpretation.
It also clarified the criteria for conviction and punishment for the first time, saying that any accident involving one death or three severe injuries and above, or a direct economic loss of 1 million yuan ($163,132) and higher, can be regarded as a crime of endangering production safety. Moreover, the judicial interpretation states that "hidden stock holders"--often state employees or enterprise managers who hold stock in other people's names--will also be held accountable.
If those responsible for the accidents obstruct rescue efforts, hide or abandon victims, they can be convicted of intentional homicide or intentional injury, the interpretation said.
Safety first
"The accident reflected loopholes in production safety in Tianjin. We must remember the lesson and try our best to improve efficiency in guaranteeing safety in our future work," Tianjin Mayor Huang Xingguo said during this year's local people's congress meeting on January 24.
The Tianjin tragedy is not an isolated accident. A fatal stampede at a crowded square in Shanghai's Bund area on New Year's Eve last year killed 36 revelers who were celebrating.
In December 2015, a large pile of construction waste collapsed in Shenzhen in south China's Guangdong Province, killing at least 58 people.
Investigations into the three incidents found that a lack of public security awareness and the neglect of safety oversight on the part of local officials were to blame.
In Shanghai, 11 officials were punished, with four removed from their posts. In Tianjin, 123 people, including five officials at a ministerial level, were identified responsible for the warehouse explosions.
In the aftermath of the tragedies, experts and leaders have called for an overhaul of loophole closures in city management to ensure people's safety.
"The tragedies compel us to ask: Why we did not recognize the safety hazards beforehand?" said Teng Wuxiao, an associate professor at the School of Social Development and Public Policy at Shanghai-based Fudan University.
"Compared with the ability to deal with the aftermath, we are still lacking risk assessment and disaster prevention," he told Xinhua.
Zhong Kaibin, an associate professor with the Emergency Management Training Center at the Beijing-based Chinese Academy of Governance, agreed, saying that Chinese cities should improve their safety pre-warning mechanisms and carry out systematic risk assessments.
In early January, President Xi Jinping called for measures to stem the frequent occurrence of accidents arising from production safety risks in the country at a meeting of the Political Bureau of the Communist Party of China (CPC) Central Committee.
"These blood lessons have warned us that public safety should never be taken lightly and responsibilities for production safety must be spelled out and fulfilled," Xi said.
He stressed that human factors are always behind production accidents, citing negligence, a lack of safety checks, inadequate laws and regulations, slack law enforcement, ineffective supervision and incompetent emergency responses.
The president said that industries prone to major accidents should adopt a classification-based risk management system and pay equal attention to risk prevention, correction and emergency rescues to reduce casualties and property losses.
Xi cited urban construction projects, outdated houses, glass walls, waste sites, mines, gas pipes, underground tunnels, dangerous chemicals, firecrackers, traffic and mass celebration activities as key things to look out for.
Tianjin's response
Following the State Council's report into the Tianjin explosions, the Tianjin Municipal Government released a directive requiring companies producing, storing or using dangerous chemicals to complete a reclassification and safety assessment of their major sources of danger and report the information to local authorities by the end of March.
The directive also ordered the companies' own security systems be integrated into government platforms by the same deadline. The companies should have contingency plans and conduct at least two drills a year, according to the directive.
Meanwhile, 85 enterprises working with hazardous chemicals in Binhai New Area will be closed or relocated, according to the Work Safety Bureau of Binhai New Area.
Shan Yuhou, head of the bureau, told Xinhua in an interview on February 14 that his bureau has checked 583 chemical firms. Among the 85 enterprises found with safety problems, nine have been corrected, 10 have worked out relocation plans and the remaining 66 have signed a restructure deal with the government.
Following the blasts, Tianjin began moving chemical plants to the Nangang Industrial Zone, about 30 km from the explosion site and 10 km from the nearest residential area.
No chemical projects will be approved in Tianjin outside the Nangang Industrial Zone, Shan said.
With a designed area of 200 square km, the Nangang Industrial Zone in Binhai New Area aims to become a world-class multi-functional zone featuring a heavy chemical industrial base and port.
In addition, Shan's bureau is also drawing a geographic information map of the chemicals used in the area, in addition to integrating the Internet, data mining and cloud computing techniques into daily monitoring and emergency command.
A digital risk map surveys 309 enterprises and will be expanded to 379 by the end of this year, according to Shan.
Copyedited by Jordyn Dahl
Comments to yinpumin@bjreview.com