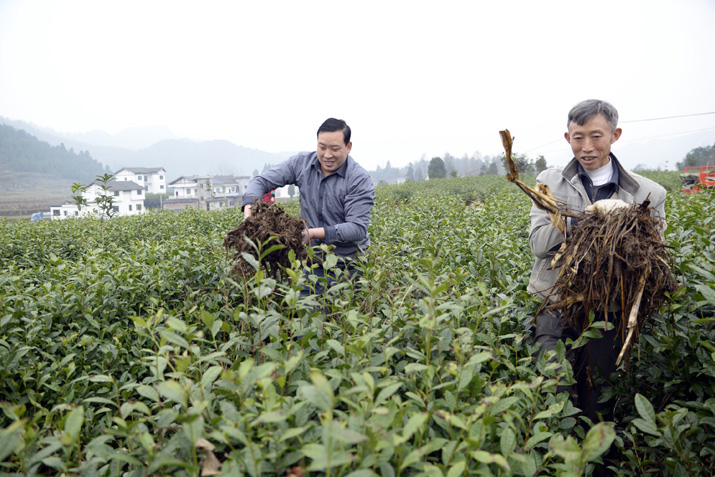 Farmers in Zunyi, Guizhou Province, apply natural fertilizer in an organic tea garden on January 3 (XINHUA)
China hopes to reform its agriculture sector this year to increase food produce quality, reduce the grain oversupply and help rural populations living in poverty achieve prosperity.
The plan was laid out at the end of December of last year when Chinese leaders held a central rural work conference to review how the agriculture industry performed in 2015 and map out goals for the 13th Five-Year Plan (2016-20) period.
The primary goals to be reached are to secure the supply of major farm produce, transform agricultural development and expand public culture services and the social security system that covers both urban and rural regions.
Central leadership plans on reaching these goals through supply-side structural reform of agriculture, which stresses a focus on quality and efficiency in agricultural production. The country should optimize the agricultural structure and promote large-scale production to improve quality and competitiveness, Premier Li Keqiang wrote in an address to the conference.
Li said China should accelerate construction of rural infrastructure, improve facilities and services in villages and urban areas favored by rural migrants and promote coordinated urban and rural development.
The meeting concluded that food security should be the bottom line of reforms, while self-sufficiency in grain needs to be guaranteed while price mechanisms, purchasing and storage policies of major agriculture products should also be improved. The policies will work toward boosting farmers' incomes, and targeting poverty alleviation.
The country will step up grain processing to cut stock; promote large-scale production, curb overuse of pesticides and fertilizers and introduce social services to slash costs; reinforce rural infrastructure and boost shortly-supplied farm produce to overcome weak links, said the statement released after the conference.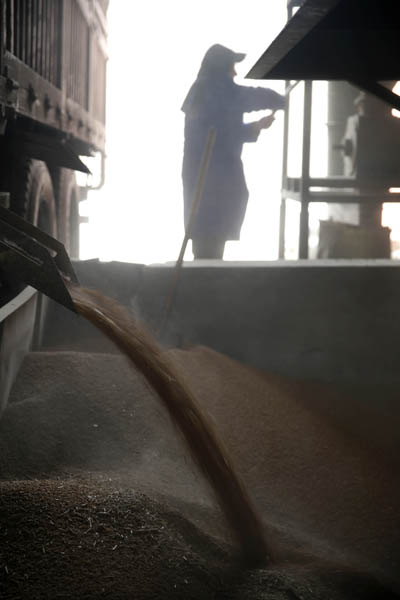 A worker in a flourmill in Pingdingshan, Henan Province, puts high-quality wheat purchased from local farmers in storage on January 17 (XINHUA)
A reform on supply side
China is pushing forward supply-side reforms in agriculture to speed up its agricultural modernization, which has lagged far behind the country's other sectors. The reform's main aim is to reduce inventories and production costs, according to a statement released shortly after the December meeting.
Supply-side reform is the latest buzzword used by Chinese leaders and economists as the country moves to address issues typically associated with supply, such as excess capacity and housing, and zombie state-owned enterprises (SOEs) with poor profitability.
China's economy grew at an unprecedented pace over the past three decades, fueled by capital investment, exports and consumption, which are usually regarded as being on the demand side. But these growth drivers have been losing steam due to soaring local government debt and a sharp drop in global demand.
The Central Government is trying to stimulate the economy and business expansion by cutting taxes and encouraging entrepreneurship and innovation, while also phasing out excess capacity. If successful, the measures are expected to increase the number of high-quality goods and services available in the market, lower prices and boost consumption.
"By initiating supply-side reforms in agriculture, policy makers hit at the crux of modern agricultural development," said Cheng Guoqiang, a research fellow with the Development Research Center of the State Council, China's cabinet.
China no longer has a food shortage after years of good harvests. Total grain output increased 2.4 percent year-on-year to 621.44 million tons in 2015, the 12th straight year of growth, according to data provided by the National Bureau of Statistics. But despite all that, structural problems in the sector remain, such as food prices falling while production costs rising, Cheng said.
Inventories are piling up: China is estimated to have billions of tons of grain in its inventory; corn inventory alone reached 400 million tons.
"Low-quality agricultural products are over-supplied, and there is an obvious shortage in the supply of safe high-quality products," Cheng said, adding that the key to making the newest reforms successful is to change the emphasis from quantity to quality and put more pressure on increasing agricultural production efficiency to meet market demands.
Yuan Jinzhou, a farmer in Shangqiu, central China's Henan Province, is one of the farmers who suffers from falling grain prices.
He told Beijing Review that his 15 mu (1 hectare) of farmland mostly produces wheat and corn. He has seen record harvest in recent years now that he is using chemical fertilizer and pesticides to farm his land.
"It's a good thing that I'm harvesting more grain, but the harvests didn't bring in any extra income because wheat and corn prices have dropped dramatically in the past two years," Yuan said.
While the fertilizer and pesticides have increased his harvest, Yuan said they also reduce the wheat and corn quality, further exacerbating the low prices.
One of the supply-side reform's main objectives is to improve the quality of agricultural produce, said Zheng Fengtian, Vice Dean of the School of Agricultural Economics and Rural Development at the Beijing-based Renmin University of China.
"In the past, we always sought quantity in agricultural produce, which led to today's surplus inventory of low-quality grains and high pollution of the farmland. Today, consumers have become more concerned about the safety and quality of food. This requires the government and today's farmers to put more emphasis on providing safe and high-quality agricultural products," Zheng told China National Radio. "Against the background of cheaper global food prices and surplus food production in China, it is time to save land for the future."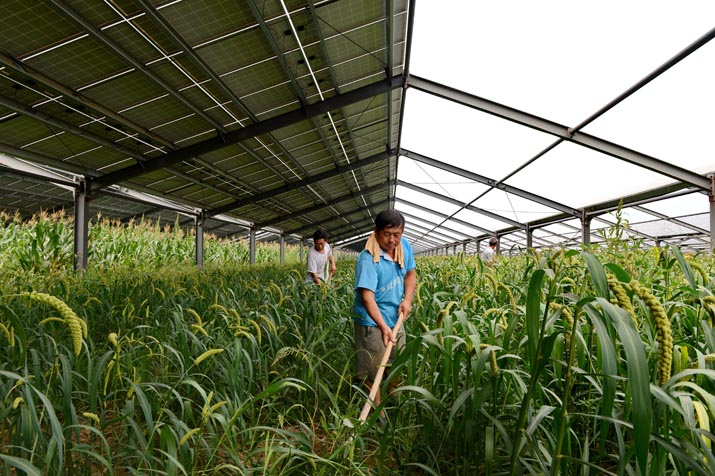 Farmers in Julu County, Hebei Province, work in a new-type greenhouse that can generate electricity in August 2015 (XINHUA)
A path to faster development
The reform also includes protections to increase China's food security, according to the government statement. The government will secure the staple food supply, protect farmland and maintain production capacity, it said.
The government intends to offer preferential policies to large-scale grain farms and ensure farmers benefit from agricultural development. It will also improve the price formation mechanism and government purchasing measures for important farm produce, according to the statement.
Farmer Yuan hopes the measures will be carried out so he can expand his farm's operation. He has his eye on a large-scale farm with more than 5,000 mu (350 hectares) of land in a neighboring village.
Yao Jingyuan, a researcher with the Counselors' Office of the State Council, believes that mechanization is "an issue that cannot be avoided" in seeking quality and efficiency.
"High-level mechanization and scale operation are the two indispensable parts in realizing the structural reform in agriculture. Only with large-scale farms can large machines be put into use," Yao said.
Li Guoxiang, a researcher with the Rural Development Institute of the Chinese Academy of Social Sciences, believes the large-scale farms can better display leading roles in the structural reform to agriculture.
"Operators of large-scale farms are more sensitive to the market changes and more ready to do technological innovations," Li said, adding that the government should provide policy support, including fiscal aid, to encourage the large-scale operations and their innovations.
In the statement, the government pledged to make rural areas and agriculture a priority for government fiscal support.
The government also plans to channel more money into rural areas and encourage private investment in agriculture projects, according to the statement. The goal is to lift the remaining 70 million people out of poverty by 2020.
There have been calls to further tap into the potential in the countryside and promote an integrated development of the agricultural, industrial and service sectors, to increase farmers' incomes, the statement said.
China will speed up integrative development of primary, secondary and tertiary industries in rural regions to increase farmer income and modernize agriculture, according to a guideline released after a State Council executive meeting presided over by Premier Li on December 23 of last year.
Various types of industrial cooperation will be supported, including farm products processing, products storage and logistics. Emerging sectors that integrate agriculture with Internet, tourism and health care will be promoted, such as rural e-commerce.
College graduates are encouraged to return to the countryside to start family farms. Support will be given to leading enterprises to invest in or participate in operating rural businesses, and farmers and enterprises should share the earnings, the statement said.
Finally, financial support from the Central Government will focus more on projects that integrate various rural industries, and more favorable policies will be provided to rural businesses.
"Agriculture is the foundation for other sectors to further develop. There is an urgent need to give more fiscal support to solve today's problems in agricultural and rural development and promote agricultural modernization," said Ye Xingqing, another research fellow with the State Council's Development Research Center.
Copyedited by Jordyn Dahl
Comments to yinpumin@bjreview.com