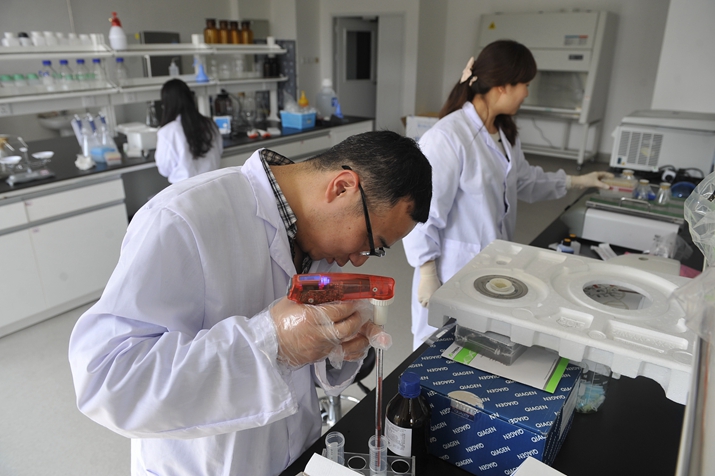 Researchers work in a lab in Taigu Life Science Park in Gu'an County of Hebei Province, on April 10, 2015. The park is an innovation base for postdocs (XINHUA)
Thirty years ago, Chen Hesheng, now an academician with the Chinese Academy of Sciences (CAS), inadvertently became the first postdoctor in China.
When Chen graduated from the United States' Massachusetts Institute of Technology (MIT) with a PhD in Physics in May 1984, Nobel Laureate Tsung-Dao Lee was in the midst of advocating for a postdoc system in China. In March 1983 and again in May 1984, Lee wrote to China's top leaders suggesting the system be set up in the country.
At that time, Chinese students who went overseas to pursue doctoral degrees, just as China was implementing the reform and opening-up policies in the late 1970s, had either just graduated or were about to graduate. Meanwhile, researchers in China were not well paid and the personnel system in China at that time restricted the flow of talented people. How to attract and channel the best and brightest graduates back to China was a question the Central Government had yet to answer.
On May 21, 1984, Deng Xiaoping, China's then leader, met Lee to listen to his suggestions. At the meeting, Lee briefed Deng about the postdoc system in the West, saying that it gives doctoral graduates an opportunity to demonstrate their independent research abilities so that employers can select top-notch candidates. At the same time, young researchers get a chance to learn more about employers.
Lee advised that postdoctoral research stations should be established to facilitate talent flow and competition, with guaranteed funds for research as well as benefits such as jobs for their spouses and rent-free apartments. In 1985, the State Council, China's cabinet, approved the government-funded research stations, which marked the official inauguration of the postdoc system in the country. Selected participants were then provided two-year research opportunities and generous benefits.
Chen returned to Beijing from MIT in November 1985 to become a postdoc at the Institute of High Energy Physics under the CAS. In 1998, he was appointed to serve as the head of the facility.
Return on investment
Chinese Premier Li Keqiang said that in the past three decades, the postdoc system has played a unique role in the social and economic development of the country, while meeting representatives of young postdocs in the country on November 30, 2015.
"China needs top-notch talented persons and that the current system pays special attention to attracting outstanding people who have the potential and determination to conduct pioneering research," said Li.
He stressed that to realize modernization and become a more developed country, China needs to constantly engage in innovation. He urged researchers to connect their research closely with the real social and economic situation and to increase the quantity and quality of basic research.
Since the system's inauguration, more than 6,000 research stations have been set up across China, and an accumulative total of more than 140,000 postdocs have conducted research in 13 disciplines, according to statistics cited by People's Daily .
The paper said that as of 2014, 52 academicians with the CAS or Chinese Academy of Engineering had postdoctoral experience, while incomplete statistics show that from 2009 to 2013, researchers with that experience had won 470 national science and technology awards. It stated that in 2013, people with such experience accounted for 53 percent of the winners of the State Technology Invention Award, 30 percent of the winners of the National Scientific and Technological Progress Award and 45 percent of the National Natural Science Award.
According to People's Daily , incomplete statistics show that from 2009 to 2013, postdocs obtained 64,912 patents for invention, and 17,597 patents for utility models, showing that young researchers can be a strong force for innovation. The paper said that one of the scientists received as many as 62 patents.
They are not only a talent pool for universities and research institutes, but also for businesses as well. The first Sino postdoc enterprise research station was piloted in 1994 in the Shanghai-based Baosteel Group. Now, many companies and banks have set up such stations.
On November 2 last year, the first made-in-China C919 big passenger airplane rolled off the assembly line. Postdocs working in the Commercial Aircraft Corporation of China (CACC) had contributed to the research and development of the plane, which will make its maiden flight in 2016.
"We attach importance to tailoring the postdoc program to our needs so that younger researchers have the opportunity to directly participate in national key science and technology projects," said Tang Yanhua, Deputy Director of the human resources department of the CACC.
But only about 10 percent of postdoc research stations are set up in enterprises, said Li, while meeting young researchers. He stressed that the system should attract more active participation from business and convert research results into productivity more rapidly.
Changing job market
While many people with postdoctoral experience have made remarkable achievements, some university professors complain that in recent years it has been more difficult to recruit high-caliber candidates.
During the 2015 annual session of the Chinese People's Political Consultative Conference, China's political advisory body, Zhong Zhangdui, a professor with Beijing Jiaotong University, mentioned the difficulty of recruiting talent in a proposal on enhancing postdocs' innovation ability.
Li Liang, a university professor, told China Science News that a major problem with the current system is that it cannot give postdocs' a secure future.
Thirty years ago when the system was launched, the academic job market was not as tight as it is today, so people had little difficulty in finding a decent job. Now, doctoral graduates returning from overseas study and domestically educated doctoral graduates are both large in number, which renders fierce competition for research jobs.
As long as doctoral candidates have good job offers, none would like to risk two years in a postdoc station and then look for a job two years later, Li Liang said. A survey of doctoral candidates showed that 40 percent chose to work in universities after graduation, 10 percent wanted to work in research institutes, and fewer than 3 percent opted to continue research after graduation, reported China Science News.
To Xi Nanhua, an academician with the CAS who had postdoctoral research experience, the strongest appeal of such a program is that it offers a "tranquil haven" for research, where participants can explore their field free from outside pressure and disturbance. Achievements made during the two-year period are expected to make postdocs more competitive in the academic job market.
Currently, China is working to boost mass entrepreneurship and innovation. The Central Government is reviewing and reforming the postdoc system to ensure its compatibility with the innovation drive.
On December 3 last year, the State Council released its draft reform measures. The reform aims to solve major bottlenecks in the system, enhance the quality of postdocs and update the management system to make it more suitable for talented young scientists.
The document stated that by 2020 key universities and research institutes should significantly increase the share of researchers with postdoctoral experience among newly recruited faculty and researchers, while important national science and technology projects should also enlarge the share of young researchers in the project teams. There are also plans to increase the number of postdocs with doctoral degrees from abroad, including foreigners.
To spur entrepreneurship and innovation, the reform plan also encourages postdocs' employers to create research and innovation teams embracing them, and increase their participation in international exchanges.
In addition, the Central Government raised the annual stipend for each accepted applicant from 50,000 yuan ($7,720) to 80,000 yuan ($12,352), starting from August 1, 2015. Local governments and organizations with relevant research stations can also match the funding according to their conditions and build apartments for postdocs. The Central Government also stated that it welcomes social investment into the system.
Copyedited by Mara Lee Durrell
Comments to wanghairong@bjreview.com