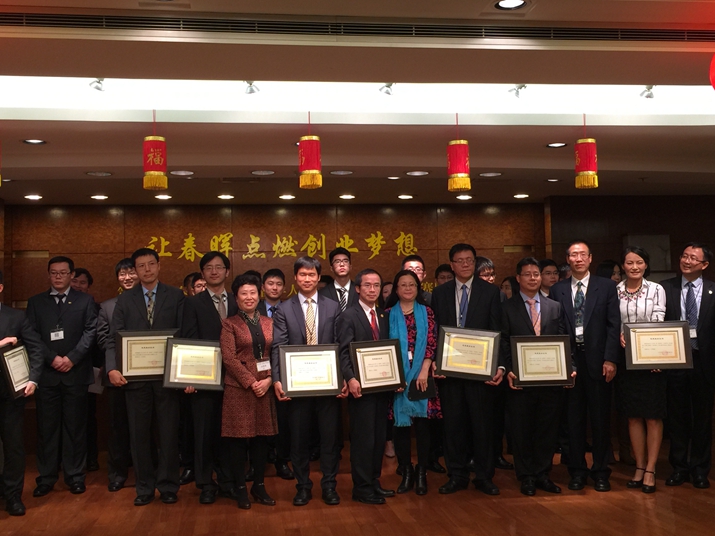 The winners of the New York division of the 2015 Chunhui Cup entrepreneurship competition pose for a group photo in New York City on October 23 (DING YING)
Chen Zhixing plans to revolutionize the new-energy industry with his steam-powered generator. The aspiring entrepreneur has been living in New York City since 2009 but now wants to bring his invention back to China and start a company in Beijing.
Chen and his teammates presented the generator at this year's Chunhui Cup entrepreneurship competition held in late October at the Chinese Consulate General in New York City. The annual event was founded in 2006 to encourage Chinese students living overseas to return to the mainland and start their own companies there. Chen was one of about 300 contestants selected as finalists from the New York division of the competition, which includes New England, Ohio and Pennsylvania. Representatives from more than 40 companies in China discussed startup plans with the students.
"We expect our invention will cause a reform to the usage of new energy on a worldwide range. It will be the new generation of energy in the future," Chen told Beijing Review.
Chen, who was born in Beijing in the late 1980s, has a doctorate degree from Columbia University. Now, he thinks he can finally move back home with the help of a representative from Peking University Science Park that he met at the Chunhui competition.
The science park is a good place for promising projects to find investors thanks to the government support it receives, along with laboratory and scientific research access to Peking University, according to Feng Jianxin, Vice President of the park.
More than 200 companies are headquartered at the science park, about half of which were established by Peking and Tsinghua university graduates who also studied overseas, Feng said.
"Investors prefer project-starters with an overseas background because they are usually talented people representing hi-tech levels and international vision," he said. "Moreover, returned overseas students are more familiar with the emerging Internet Plus industry."
China's Internet Plus initiative aims to integrate mobile Internet, cloud computing, big data and the Internet of Things with modern manufacturing and promote the development of e-commerce, industrial networks and Internet banking.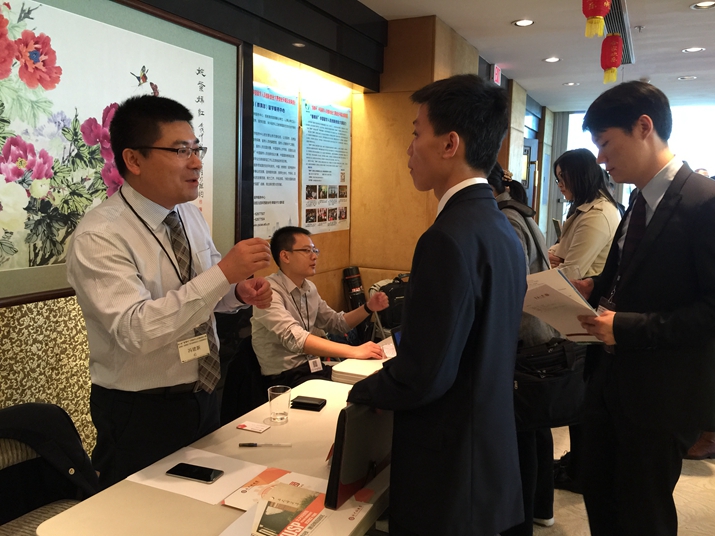 Chen Zhixing (right) inquires a representative of Peking University Science Park about starting a business at the project-matching and high-level talent exchange fair hosted by the Chinese Consulate General in New York City on October 23 (DING YING)
The number of Chinese students studying abroad has increased every year, with about 460,000 studying overseas in 2014, according to the Ministry of Education. This year, it instituted policies that help overseas students start their own business in China and special funds have been set up to sponsor innovative projects.
The Chunhui competition strives to get those students to come back to China to become entrepreneurs rather than stay overseas. More than 1,700 projects have been selected as finalists in the 10 years that the competition has been running.
"Hundreds of projects [among the 1,700]have been successfully implemented in China and have had a positive effect," said Xu Yongji, Counselor for Education of the Chinese Consulate General in New York City. In 2014, some 260 projects entered the competition.
The New York division of the competition has been particularly successful. It attracted 108 applicants with 73 going on to the finals this year, making it the most successful division in the world, according to Cheng Lei, acting Consul General of the Chinese Consulate General in New York City.
Many local governments in China see the competition as an opportunity to target projects with high business valuations. They have created startup capital, preferential tax policies--along with housing and child education programs--to recruit talented overseas Chinese individuals at the competition.
"For my project, the Chunhui Cup is like a golden name card--it packaged my project, improved it and made it stand out from the competition," said Wu Jian, whose business plan for RNASyn Innovative Biotech Co. won first prize in the New York division this year. He added that the competition also gives applicants an opportunity to meet with investors face-to-face and helps them integrate and implement the project domestically.
He's not the only one who has seen the benefits. Lin Manhua was a finalist last year. Now her new materials company is establishing an office at a science park in Suzhou, east China's Jiangsu Province.
"I am very appreciative for the support that the government has offered to me," Lin told Beijing Review. "I have been living here (in the United States) for over 30 years, and I almost forgot how to write standard Chinese documents. The staff at the consulate helped me finish all of my application documents last year."
Lin said that she chose to move the company to Suzhou after going on a business survey trip organized by the competition after the final round.
"My job is doing research at university. Without such a tour of the field and related policy introduction of the local government, I would have [had] no idea how to establish a company," she said. However, Lin also stressed that it is not easy to start a business. "The competition is a good platform, but we should make our own decisions when developing our companies," she said.
(Reporting from New York City )
About Chunhui Cup Competition
The Chunhui Cup is a competition for Chinese students living overseas that started in 2006. It is held annually and is aimed at boosting entrepreneurship among overseas Chinese students and pave the way for them to establish hi-tech enterprises when they return to China.
The competition covers eight fields--electronic information; biomedicine; culture, creativity and modern services; energy and efficiency; optical manufacturing; new materials, resources and the environment; and agricultural science and technology.
Entries are reviewed by a panel of innovation parks, science and technology universities, business experts and venture capital firms.
The finalists get advice on their business finances and help in putting their project proposals into practice in China. The competition's organizer, the Chinese Service Center for Scholarly Exchange, displays the list of finalists on its website so interested companies can contact them and discuss cooperation or sponsorship.
(Source: Chinese Ministry of Education and Ministry of Science and Technology )
Copyedited by Jordyn Dahl
Comments to dingying@bjreview.com