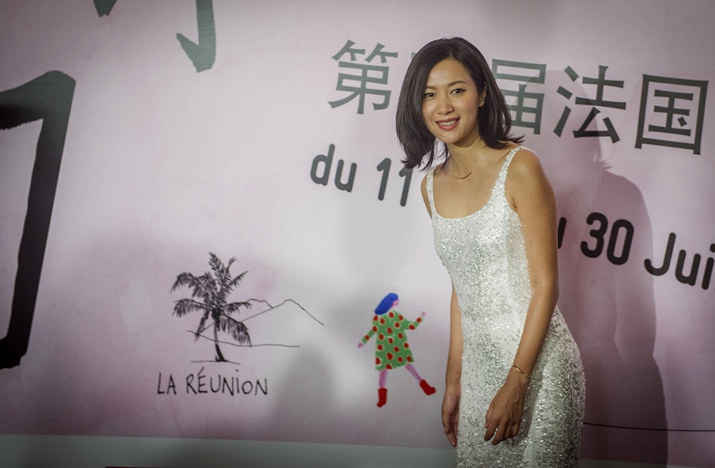 Xu Jinglei attends a Chinese film festival in Paris, France, on May 11. The 41-year-old actress and director said that she had her eggs frozen in the United States two years ago as a backup plan should she ever want a family (XINHUA)
As single women rush headlong toward their 40s, many are faced with an ultimatum. With their fertility clocks winding down and prospects of giving birth on the wane, it's a time for tough choices. And while "Mr. Right" may appear in their lives later, the knowledge that the patter of little feet could only be a dream has pushed some in this age group to seek other alternatives.
Actress and director Xu Jinglei, 41, said that she had her eggs frozen in the United States two years ago as a backup plan should she ever want a family.
It seemed like an enlightening move to Chinese women who have the same concerns, until they were reminded by a report on China Central Television (CCTV), the state-run TV station, that single women are not allowed to freeze their eggs in China.
The topic soon went viral. A CCTV post on the regulation was forwarded by 100,000 microbloggers and received 30,000 comments in the first two days after its release, with critics not holding back.
In China, the right to have a baby has always been bound up with the idea of marriage, but the idea is increasingly challenged as society embraces cultural and social diversity.
Increasing demand
Egg freezing, according to a regulation released by China's National Health and Family Planning Commission in 2013, is only accessible under two conditions: when a married woman or her husband suffers from fertility difficulties and before a cancer patient undergoes radiation therapy. In other cases, if any, the applicant is required to provide a marriage certificate. In other words, a single woman is not qualified.
As a result, although the egg-freezing technique was introduced to China decades ago, the practice has been limited to a very small group. According to Li Rong, a doctor at Peking University Third Hospital in Beijing, the reproduction center she works for has carried out less than 100 egg-freezing procedures. But, she admitted, inquiries for the technique have been increasing, mainly from single women above 35 years old.
Government statistics show that more women in China are choosing to delay marriage. In Shanghai, for example, the average age when women get married increased from 26.43 in 2006 to 28.14 years old in 2014, according to the Shanghai Civil Affairs Bureau.
"The phenomenon of late marriage emerges at the same time as the sense of independence arises among the new generation of women who earn higher incomes and hold more senior positions in the career market," said Chen Yan, a professor at Shanghai-based Fudan University. Chen added that the increased access to education resources and participation in social affairs has also changed women's role in society with the unmarried rate higher among well-educated women.
The 30-year-old doctorial candidate Cheng Linlin is preparing to get her degree next year. Like most well-educated women in China, her plan is to secure a good job first, then find a husband and have a baby. "But let's face it. You have to be very lucky to be able to get all those done within five years. Otherwise, you have to make a choice," she said. "Freezing eggs might not be the perfect solution, but it will be such a support for women who want to build a serious career to know they have that option."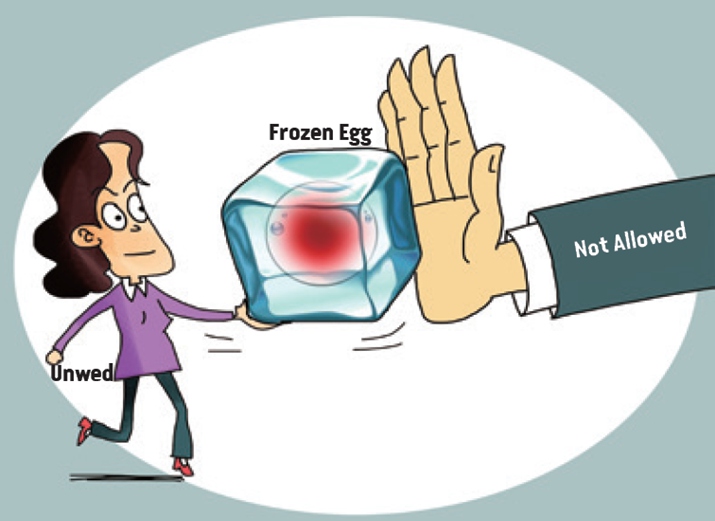 (CFP)
Out of wedlock
Apart from the choice to freeze eggs as an option, giving birth out of wedlock holds many other challenges. When Wu Xia and her boyfriend Shen Bolun ended their relationship, she was four months pregnant. Remaining friends, the two decided to raise the baby together. This June, Wu gave birth, but she soon realized that the first challenge of motherhood was a penalty from the government.
The assessment under the name of a "social compensation fee," according to government regulations, will be imposed on the parents in the first year after they give birth to a baby born out of wedlock. In Wu's case, it was around 44,000 yuan ($6,900).
In July, Wu and her ex-boyfriend launched a project on crowd-funding website Dreamore.com, asking people to donate up to 10 yuan ($1.58) to help them pay the penalty. The move immediately created a sensation, but the project was removed from the website 16 hours later.
Shen explained that what they want to raise is not money, but public awareness of the difficulty confronting the parents of children born out of wedlock.
On China's biggest online community Tieba.baidu.com, a forum under the name of Unwed Mom has 1.31 million posts and over 40,000 members. Most of the posts tell sad stories.
Xiao Yun is one of those. Her boyfriend left during her pregnancy. Now she has to raise the child alone. Her family members are ashamed of her and refused to offer any support, and the company she works for has begun to recruit a replacement to fill her position. Xiao believes everything will be alright when the baby is old enough to go to kindergarten, so she can get a new job. "But I'm so scared now when thinking about how I can survive the first one or two years after giving birth."
China's Marriage Law states that children born out of wedlock shall enjoy the same rights as children born in wedlock. No one may harm or discriminate against them. But in reality, unwed mothers are not eligible for paid maternity leave or medical costs incurred while giving birth. Moreover, if the father cannot prove his relationship with the baby, the residential registration for the baby will also be a problem.
Huang Xihua, a deputy to the National People's Congress suggested scrapping the social compensation fee imposed on children born out of wedlock, and many social organizations are appealing for equal benefits for unwed mothers.
But for most women in this situation, the more difficult part is the pressure from social opinion. In an online survey on www.qq.com, one of China's biggest Internet portal websites, up to 36 percent still believe that social values will be affected if the residential registration opens up to children born out of wedlock.
"I hope society can have a more tolerant attitude toward diversified lifestyle and individual choices," said Shen.
Copyedited by Denis Green
Comments to yanwei@bjreview.com