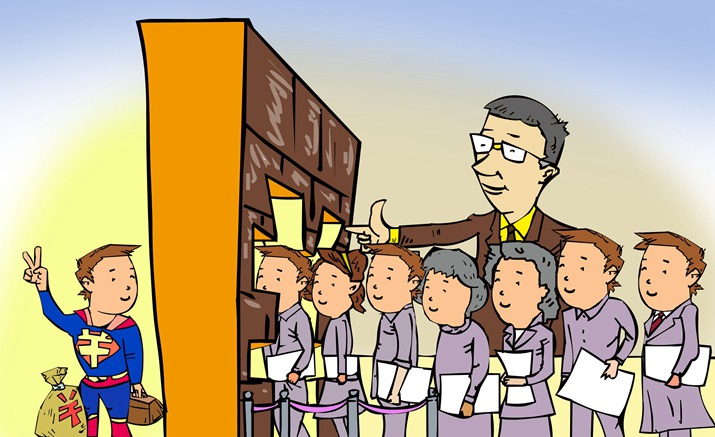 (LI SHIGONG)
The education authorities in south China's Guangdong Province have decided to introduce finance into the curriculum in primary and middle schools in the provincial capital Guangzhou. This is the first time of its kind in the Chinese elementary education system. The finance course will cover basic financial knowledge, stock market investment and financial management.
This idea has sparked discussion among the public. Some believe it's necessary for students to get to know financial knowledge at an early stage, saying that students will learn to manage and properly use their money. Also, investment techniques in the stock market will be helpful when schoolchildren grow up. Thus, offering a finance course in primary and middle schools is an unavoidable trend. However, others argue that the elementary stage is too early a period for students to learn financial management and stock market operation. They are still financially and intellectually incapable of grasping concepts like stock market investment, stock exchanges, futures transactions, and so on.
Helpful
Lin Chunhao (www.rednet.cn): For quite a long time, finance education in China has been at a relatively low level. The majority investors have not received systematic finance education. As a result, many Chinese stock market investors, particularly individual small-time investors, know next-to-nothing about finance and totally depend on chance. The embarrassing result is that they lose much more often than win. Against this backdrop, the pilot finance education program in primary and middle schools in Guangzhou will lay a solid financial foundation for students. The course will help nurture rational financial management habits among students. In this sense, Guangdong's decision to push forward finance education is laudable.
The popularization of financial knowledge will speed up innovation in the financial market. When members of the public are better equipped with financial knowledge, their demand for financial products and services will surely rise, which will prompt the financial market to develop more products. In the long run, what Guangzhou's schools do will mean a lot to the prosperity of the local financial market.
Huo Zekai (Guangzhou Daily): The faster the economy develops, the more important financial management is. Take home purchases for example. Older generations like to pay in a lump sum, as they think life is too tough under debt. They don't like the idea of paying back an amount every month­--plus interest--to the bank. However, by doing so, they have neglected a very important fact: Housing prices change over time. Nowadays, housing prices in large cities have risen so high that many wage earners can't afford to buy a home. Some people regret that they did not do so earlier when apartments were still affordable. This consequence can somewhat be attributed to their lack of basic financial management knowledge.
Therefore, gaining knowledge on financial management is becoming increasingly important in modern society. It's a basic life skill rather than something you can turn a blind eye to. It is urgent that we begin educating young students on financial matters.
Chen Fang (Xinmin Evening News): When it comes to finance, people usually focus on investment and money making. Knowing how to spend one's money is also a part of it. In China, most children are not familiar with financial concepts. During the Spring Festival, for example, how to best put their "lucky money," monetary gifts given to them by adults, to use is a popular topic of discussion, implying a need to begin financially educating young students. Such an idea is not alien to Western countries. The British, for instance, require schools to educate children in financial management at a young age, even requiring youngsters to complete compulsory courses on the topic.
In China, college students' daily expenses have garnered discussion. Some students' excess spending is shocking. Partly, this is because they have rich families, but this is also a reflection of their poor financial nous. Nowadays, a lot of young people spend every penny of their monthly wages without depositing anything into savings. Isn't this a result of their poor capacity for financial management? Educating students on the proper use of money and giving them some financial knowledge will help them make better use of their allowance and plan for their lives when they mature.
Unnecessary
Pi Haizhou (finance.21cn.com): Primary and middle school students should be informed of basic financial knowledge, such as what money is, the function of money and how to properly use money. A correct understanding of money will help foster positive consumption concepts and habits. However, investment topics are too heavy for such young minds. Besides, they may not have an opportunity to practice. If children are sent to the bank to deposit money, their parents and bank staff may feel uneasy.
It's all right for students in middle schools to gain financial knowledge, but it's too risky for them to go to the stock market. Also, it will squeeze their already limited study time. Their study will be seriously affected if they are distracted by financial issues.
To become a rational investor, one must know how to make a basic analysis of the stock market and gain a sense of the macroeconomic situation, domestically and internationally. These are difficult topics--how can you expect middle school students to cope with the stock market? A stock market investor must be capable of independently bearing risks, as speculation in this market is a risky practice. There is no necessity to encourage young students to get involved in this speculative activity.
Yan Nong (Yanzhao Metropolis Daily): Elementary education should be based on students' interests. It's quite doubtful that children with no stable income will show interest in making money, especially making money off of investments. Even if they become interested in this topic, is it really right to nurture the concept of making money by speculation among young students? They don't have a good enough grasp of the concept of risk.
Some people argue that a management major should not be opened at the undergraduate level, as students at the university age are not suited to study this discipline without the relevant experience or background knowledge. Most young college students struggle to manage their personal affairs, so how can they be expected to manage business affairs in enterprises? Similarly, primary and middle school students don't have stable incomes and most of them can't even formulate a decent plan for how to spend their pocket money. The arrangement of courses in primary schools must respect the rule of education, instead of remaining open to social trends and whimsy.
Liang Jiangtao (www.jxnews.com.cn): We have to admit that offering finance courses in primary and middle schools is an idea with good underlying intentions. However, the need for financial management--unlike environmental protection and health education--is not so urgent that it must begin in primary schools.
More importantly, we should consult young students--do they desire yet another course? This is an issue of choice, not one that should be decided for them by local education authorities. Primary and middle school students already struggle under immense pressure to succeed in their studies. They also attend auxiliary classes in their spare time. We don't want to overtax these children.
However, the finance course could be made an elective, like football, piano, etc. Let students themselves decide whether to take it or not. Those who are really interested in finance and the stock market may well grow up to become the next Warren Buffett, while others may become elites in areas in which they truly show interest. Making the course an elective will satisfy all involved.
Copyedited by Kylee Mclntyre