Hello and welcome to the 1st issue of Beijing Review.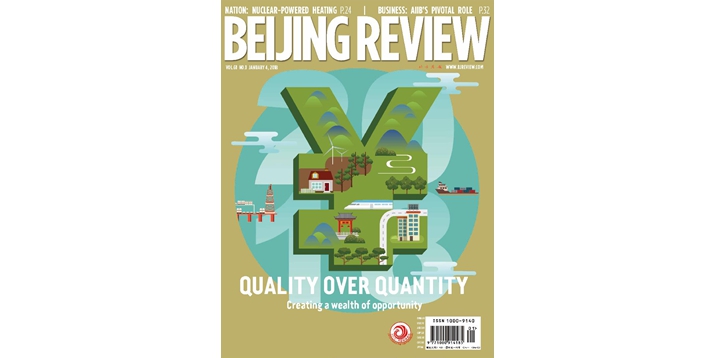 Photo by Wang Yajuan
COVER STORY
Striving for Quality is about the shift in China's economy to quality growth. The recent annual economic meeting announced a new phase, from high-speed growth to high-quality development. The blueprint for 2018 includes more innovation, more secure financial systems, an open and green economy, more affordable housing and improved standards of living.
Nation
Clean Heating is about a clean and green nuclear heating system produced in Beijing. The China Institute of Atomic Energy conducted a successful test of the new energy heating system in three of its buildings by harnessing heat produced by a small swimming pool-type low-temperature nuclear reactor. It has very little waste, almost no emissions and low costs and could help eradicate China's smog while easing its growing energy crisis.
Expat's Eye
A World of Difference is about discarding the foreign misconception of China as a homogenous society of identical culture by the discovery of ancient, deep-rooted diversity and cultural variety from west to east that is tied together by consistency and tradition in a wider Chinese civilization. As the author, who is a Briton living in Beijing, says, "It is diversity that makes China unique, but it is unity that makes it strong."
Copyedited by Pamela Tobey
Comments to linan@bjreview.com