Hello and welcome to the 43rd issue of Beijing Review.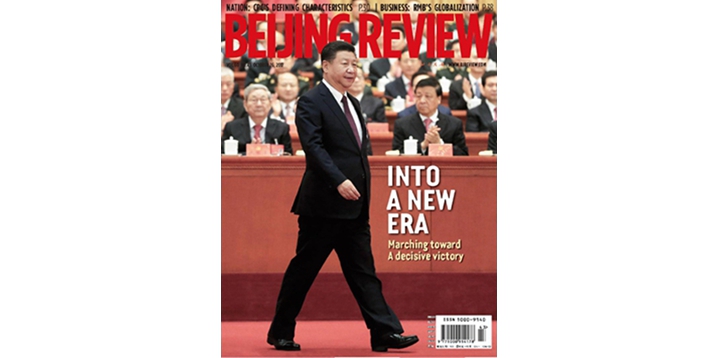 Photo by Wang Yajuan
COVER STORY
Setting the Course is about President Xi Jinping's report delivered at the opening session of the 19th National Congress of the Communist Party of China (CPC). Xi noted in the report that socialism with Chinese characteristics has entered a new era. And realizing the great dream of the rejuvenation of the Chinese nation is the CPC's historical mission in the new era.
COVER STORY
Perspective on Achievements is about the 19th CPC National Congress and views of China's achievements since 2012 by four ambassadors to China. They praise China's economic success and it becoming an important partner in international relations, as well the flexibility of governance and strong leadership.
BUSINESS
Welcome Changes Underway is about the continued internationalization of the yuan after its inclusion into the International Monetary Fund's Special Drawing Rights currency basket. Offshore yuan usage is growing, especially in countries along the Belt and Road, and overseas investors are looking for channels to invest in the mainland, all of which adds to progress in international markets.
Copyedited by Pamela Tobey
Comments to linan@bjreview.com