Hello and welcome to the combined 40th and 41st issue of Beijing Review.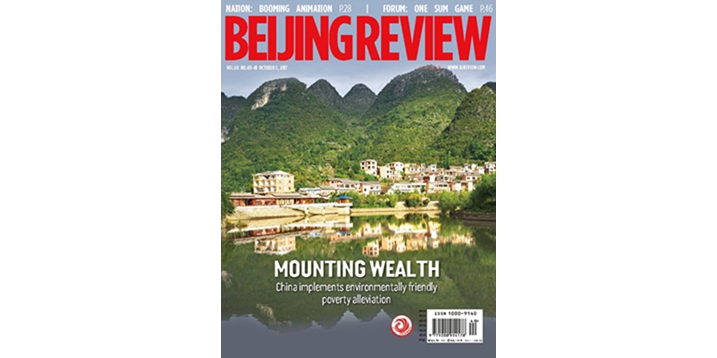 Photo by Wang Yajuan
COVER STORY
From poverty to prosperity is about a village that has gone from poverty to prosperity, making it a model for China's poverty alleviation efforts. Tangyue Village, in Guizhou Province, has a long history back to the Ming Dynasty, but has struggled to survive until recently. A major flood in 2014 brought economic reforms for local farmers which have lifted most of the villagers out of poverty.
NATION
Animated in China is about the booming market for Chinese-made animated movies. Films such as Dahufa, Monkey King: Hero is Back and Big Fish & Begonia, have been released to box office success, and more animated movies are in the works.
BUSINESS
Into the South Asia Subcontinent is about Chinese investments in Indian startups. As India's largest trade partner since 2014, China has gone from supplying goods to investing in new technology-based startups in sectors including e-commerce, mobile, pharmaceuticals, energy and transportation.
Copyedited by Pamela Tobey
Comments to linan@bjreview.com