Hello and welcome to the 31st issues of Beijing Review.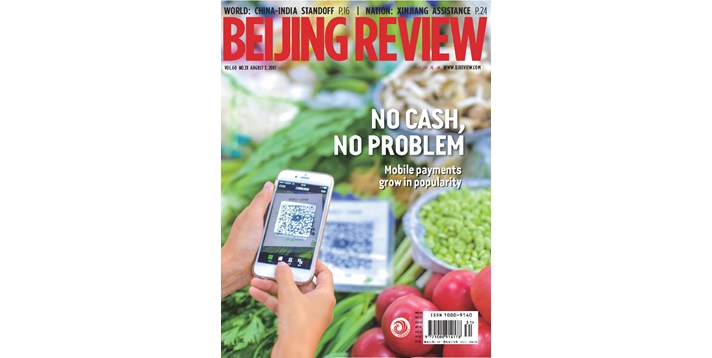 Photo by Wei Yao
COVER STORY
Dawn of Cashless Societies is about China's mobile payment services going global. Chinese citizens have leap-frogged from cash to mobile payments, skipping over credit cards widely used in Western countries. Around 84 percent of Chinese use mobile payments and Chinese tourists are spending increasing amounts every year during their travels abroad. Alibaba's Alipay is now being offered in the United States, Australia and Europe as well as Asia and supports 19 foreign currencies. Chinese companies are working with local partners to deal with the different economic and cultural environments in these new markets.
NATION
Go West is a piece about a national pairing assistance program begun in 1997 that connects other regions with Xinjiang to build new infrastructure and boost local development, including education and healthcare. Most of the money and projects between 2011 and 2015 went to livelihood improvement, which brought stable jobs, new schools and better housing conditions to 5 million people.
CULTURE
A Whole New Ball Game! features a story about a new movie, My Other Home, that tells the story of American NBA player Stephon Marbury coming to China to play basketball and his sacrifices, hard work, persistence and team spirit. Director Yang Zi was touched by the story of the Beijing Ducks great and wrote the screenplay. Since Marbury has the experience of living in and loving China, he turned out to be best choice for the movie's lead role, playing himself, and showing how a group of men pursued their dreams.
Copyedited by Pamela Tobey