Hello and welcome to the 2nd issues of Beijing Review.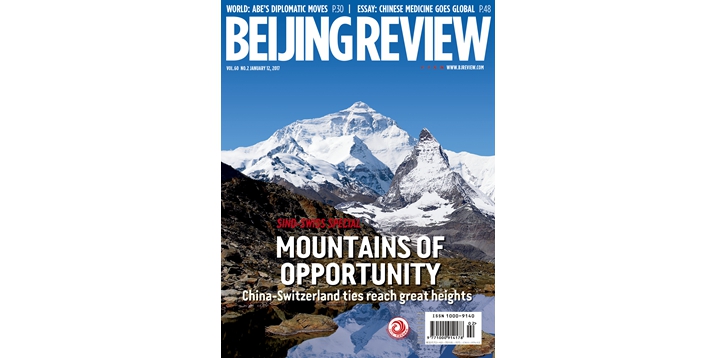 Cover design by Cui Xiaodong
COVER STORY
Staying Close features our theme this week—Sino-Swiss relations. Switzerland, which has a reputation in Europe for neutrality, was one of the first Western countries to establish diplomatic relations and deep economic ties with the People's Republic of China. The Swiss town of Davos is also famous for hosting the World Economic Forum.
WORLD
Restoring Faith in Globalization is an article on globalization. By many accounts 2016 was a poor year for global integration, as underlined by Brexit and Trump's election victory. As isolationist sentiment grows in the West, China's importance in global affairs grows.
CULTURE
Journey to the East is on a British artist who studied ancient papermaking techniques in China, becoming inspired by Eastern art. She's found love in China and set up a studio in Shenyang.
Copyedited by Dominic James Madar