Hello and welcome to the 19th issue of Beijing Review.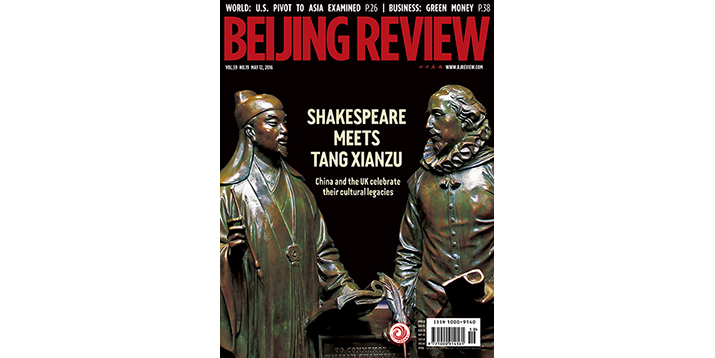 Cover design by Cui Xiaodong
COVER STORY
A Dramatic Exchange celebrates the quadricentennial of renowned playwrights Tang Xianzu and William Shakespeare's passing. Shakespeare is often considered to be the world's most famous and influential playwright, still capable of captivating contemporary audiences from London to Beijing.
WORLD
A Pivotal Moment focuses on the USA's pivot to the Asia-Pacific region. What are the causes and consequences of this shift in American focus? And who are the winners and losers?
BUSINESS
Fueling Healthier Development looks at the important emergence of green finance in China's pursuit of sustainable growth. The writer analyses the potential and the dilemmas facing this exciting new industry.
Copyedited by Dominic James Madar
Comments to chenran@bjreview.com