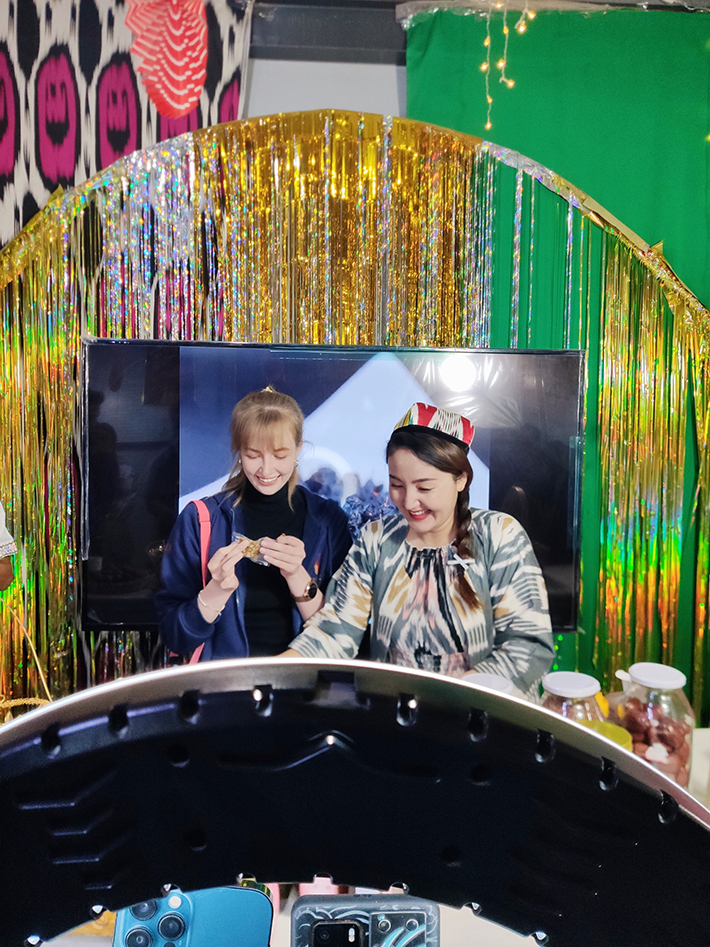 Alexandra Pozhidaeva experiments with livestreaming to promote and sell local products at a village in the city of Hotan in Xinjiang Uygur Autonomous Region on 2 October 2021
Alexandra Pozhidaeva firmly follows the principle of "seeing is believing." The 23-year-old Russian journalist, who recently graduated from the School of Journalism and Communication at Peking University, borrowed this fundamental principle from Chinese President Xi Jinping. In 2021, while still pursuing her master's degree, she joined 44 other international students to write a congratulatory letter to Xi on the occasion of the centenary of the Communist Party of China (CPC).
In response, President Xi, in a touching letter, urged the students to discover the real China, travelling through the various regions of this huge country. He also encouraged them to share their perceptions with the international community, in the hope that they will contribute positively to strengthening people-to-people exchanges. Inspired by this call, the young Russian decided to follow his suggestions.
Uncovering the real Xinjiang
In October 2021, Pozhidaeva travelled to China's Xinjiang Uygur Autonomous Region with her classmates as part of a research trip organised by her university. For six days, they visited four cities, including Urumqi and Kashgar. The reality she witnessed on the ground profoundly changed her understanding of this region. "What I saw was an inclusive, open and developed Xinjiang. I was particularly moved by the images of ethnic harmony in the ancient city of Kashgar and children playing in the streets without any fear," she told ChinAfrica. "We were also able to notice modern schools and hospitals in remote villages. That was really impressive."
In Shihezi, she noticed a high degree of mechanisation in cotton picking. In Hotan, she even had the opportunity to experiment with livestreaming to promote and sell local products. The adoption of this innovative technology has provided the villagers with a stable source of income.
As usual, Pozhidaeva quickly shared her experience on Twitter, posting photos and videos of local food, traditional dances, and living conditions. These travel stories immediately caught the attention of Internet users. But much to her surprise, the social media giant suspended her account a week later, accusing her of spreading fake news about Xinjiang. After several complaints went unanswered, she created another account, which was also permanently blocked. "Maybe this is what the West calls 'freedom of expression,'" joked Pozhidaeva, deeply disappointed by this situation.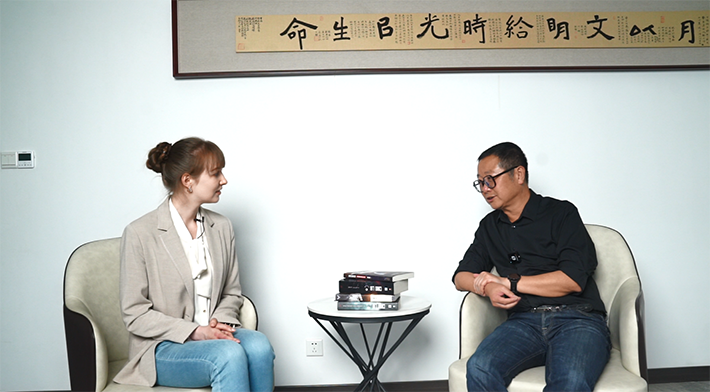 Alexandra Pozhidaeva talks to famous science fiction writer Liu Cixin in Yangquan, Shanxi Province, on 20 June
Chinese voice
After obtaining her master's degree in July 2022 from Peking University, Pozhidaeva joined the Centre for Europe and Asia of the China International Communications Group (CICG) as an anchor and journalist. Even before starting her studies in China, she had already become familiar with one of the group's periodicals, The China, distributed in Moscow, Russia. She was therefore pleased to find a platform to use her journalism and communication skills to introduce China to the rest of the world.
This ambition was further ignited when she received, a month later, another epistolary response from President Xi on the occasion of the 70th anniversary of the founding of CICG's Foreign Languages Press. In his correspondence, Xi encouraged the foreign experts of the group to contribute to the mission of telling China's stories, so as to enable the world to better understand the country's development trajectory.
Together with her colleagues, she launched a short video programme bearing her name, in which she brought Russian audience to discover the many aspects of Chinese society. She has covered several major events, such as the Beijing 2022 Olympic and Paralympic Winter Games, the 2022 China International Fair for Trade in Services, and the annual sessions of the National People's Congress and the National Committee of the Chinese People's Political Consultative Conference.
She was particularly delighted to have the chance to interview some delegates to the 20th National Congress of the CPC. These meetings allowed her to better understand different professions, such as train driver, bus driver, firefighter and, above all, the role of the secretary of a CPC committee at the local level, a function that has no equivalent in Russia. "I would like to see a similar position in my country, dedicated to serving the people wholeheartedly," Pozhidaeva told ChinAfrica.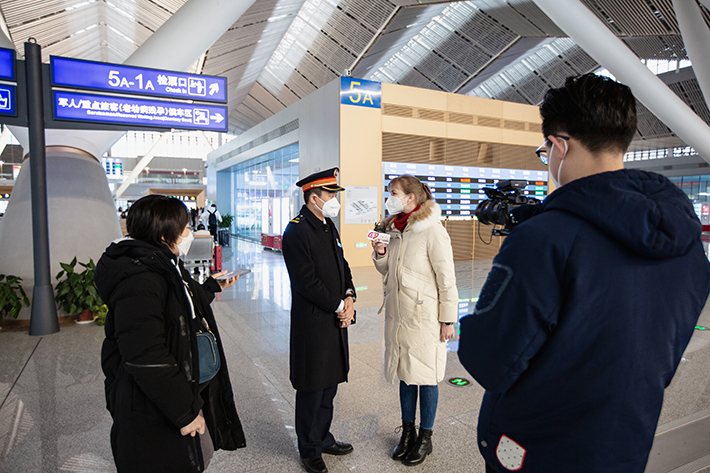 Alexandra Pozhidaeva interviews the chief of Beijing Chaoyang Railway Station in Beijing on 12 January
A cultural bridge
During his first state visit as president in March 2013, President Xi first advanced the idea of building a community of shared future for humanity at the Moscow State Institute of International Relations in Russia. This vision of an interconnected world left a deep impression on Pozhidaeva. A year later, when she was in her second year of high school, she enrolled in evening classes in the Confucius Institute at Novosibirsk State University to learn Chinese. A summer experience in Dalian, Liaoning Province, organised by the institute, confirmed her desire to study in China. In 2016, thanks to a scholarship obtained as a winner of the Chinese Bridge Competition, Pozhidaeva began her bachelor's studies in Chinese language and literature at Southeast University in Nanjing, Jiangsu Province.
At first, she faced language and cultural barriers, but soon discovered many similarities between Russian and Chinese societies. "As Confucius says, it is a great pleasure to have friends from afar and to welcome them into your home. This philosophy reflects the hospitality of the Chinese people," she said.
Pozhidaeva spends her free time reading masterpieces of classical literature, such as Dream of the Red Chamber and Romance of the Three Kingdoms. For her, it is an effective way to better understand Chinese civilisation. The young Russian is also passionate about Chinese cuisine and has a good knowledge of it. "China is a large country with a vast territory and abundant resources, allowing travel enthusiasts to experience the rich culture behind its many specialties," she said.
With the growing popularity of Chinese culture in Russia, especially among the younger generations, more and more Russian students are learning Chinese as early as in primary school.
In 2019, Russia for the first time included Chinese language tests in its unified national examination - the University Entrance Examination.
In this context, Pozhidaeva aspires to play a greater role in strengthening mutual understanding between peoples. "I hope my professional development can be well integrated with the cultural exchanges between our two nations."