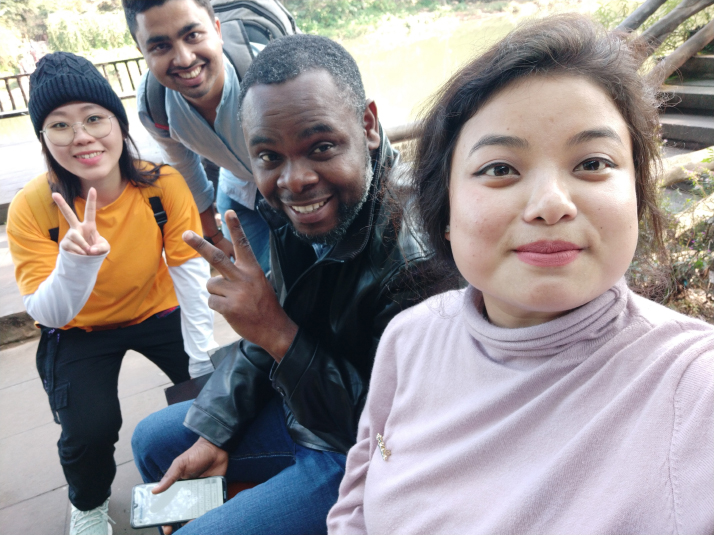 Nisha Kunwar (right) and her schoolmates take a selfie in an ancient town in Chengdu, capital of Sichuan Province, in December 2019 (COURTESY PHOTO)
My life has been a constant journey of discovery, a journey through and discovery of knowledge, experiences, different cultures, fresh tastes and new people.
As a child born in a remote village in Nepal, I often wondered if there was a world beyond those gigantic hills that enveloped my village. Life beyond the luscious green forests, was it different from mine? Did people out there speak the same language I spoke? Did they celebrate festivals the way I did? Did they have two loving grandparents like I had? I would pester my grandmother at night to tell me about the world outside. Just like me, she, too, was in the dark when it came to this wonderful, hidden world.
My learning and discovery started from a small Nepalese town called Hetauda. Here, I discovered that I could adapt and that I had a hunger for education. This hunger led me to attend one of the most prestigious convent schools in Nepal, St. Mary's High School, then Kathmandu University, then the University of Electronic Science and Technology of China (UESTC) in Chengdu, capital of Sichuan Province in southwest China, to pursue a master's degree, and finally to Shenzhen University in the south to pursue a Ph.D.
My personal discovery of China officially started around 7:30 p.m. on August 30, 2019, when I arrived at Chengdu Shuangliu International Airport. UESTC provided me with opportunities stretching well beyond the classroom, from learning standard Chinese to participating in different cultural tours and programs.
One of the most memorable trips for me was the one organized by the UESTC's Center for West African Studies. We visited the hometown of Chinese statesman Deng Xiaoping and on that trip, I somehow connected with him. The trip helped me understand my parents back home, who were revolutionists during Nepal's Maoist Revolution (1996-2006), which saw countrywide fighting between the Nepalese royal government and the Communist Party of Nepal (Maoist). Being a hongerdai, literally "the second red generation"—how children of former prominent revolutionary leaders are often referred to in China, I found this trip somehow was like revisiting my parents' beliefs and admiring their sacrifices and determination for my motherland.
In Chengdu, I discovered the world that I'd often wondered about when I was little. I discovered that people didn't speak my language, but did smile and cry like I do; I discovered that they eat what I eat, but use two sticks instead of their hands; and I discovered that they celebrate festivals the way I do, by returning to their hometowns, getting together with loved ones, and sharing happiness, food and stories.
Being a big foodie, I discovered that China is as serious about its food culture as I am. From fried fish to spicy noodles, all of it makes the heart flutter.
I discovered that China wasn't just another country. It was an experience, a feeling and a world on its own. I discovered how wrong it had been for me to have stereotypes about people and cultures and how each human being has something beautiful to offer if given the opportunity. For example, in 2019, when I got lost after leaving the Happy Valley amusement park in Chengdu, a Chinese man stayed by my side for one hour to help me order a taxi on the Chinese ride-hailing app Didi Chuxing, and help me safely get back to my dorm at UESTC.
In China I learned, unlearned and relearned many things. I learned to appreciate its food culture, people and warmth. I learned that in order to understand a culture, you need to not only visit places but meet the people. The journey is a discovery in itself.
The author is a Nepalese Ph.D. student at Shenzhen University
Copyedited by Elsbeth van Paridon
Comments to luyan@cicgamericas.com