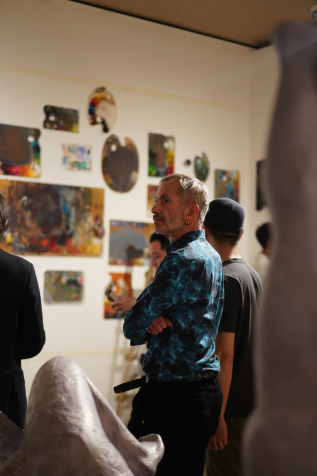 Heinz-Norbert Jocks prepares for the 2023 Graduate Exhibition of the Oil Painting Department of the Central Academy of Fine Arts in Beijing on April 30 (DAI YINA)
I visited China for the first time 1.5 years before the 2008 Beijing Olympic Summer Games at the invitation of Deng Guoyuan, an eminent painter and then professor at the Tianjin Academy of Fine Arts. He officially invited me to Tianjin for a teaching position. Since then, I have traveled to the country every year, sometimes three or even four times a year, and the more often I'm here, the less foreign I feel.
The country has changed enormously, of course. During my first visits, I noticed this turbo speed of change in how quickly the cities were changing architecturally. It goes without saying that this speed of remodeling leaves traces in the development of art because art can be described as a reflection of life. The fact that the remarkably interesting School of Experimental and Sci-Tech Arts was established at the Central Academy of Fine Arts (CAFA) in Beijing a few years ago also has to do with social changes.
It was both my own and CAFA's wish, and that of the Oil Painting Department specifically, that I teach a painting class. I do so with great pleasure: Painting has always fascinated me. And painting will live on as long as humankind inhabits Earth. Plus, if one can read the artistic languages such as painting, sculpture, installation, photography, etc., of another country, one can learn more about his or her culture and society.
When Professor Liu Shangying asked me if I would like to help him curate the 2023 Graduate Exhibition of CAFA's Oil Painting Department in advisory capacity, I was very pleased because I was curious to find out more about current happenings in China's contemporary art scene.
The most surprising thing for me was how broad the spectrum of themes was. It ranged from birth to questions of identity of all kinds to death. With terms like loneliness, love, belonging and unbelonging, it could not be grasped on its own. I was also amazed and delighted to see the enormous interest in traditional and contemporary Chinese literature. I also learned about how COVID-19 had changed the way China's younger generations think and see the world. Their works, for me, sketched an overall portrait of this generation with different perspectives and subjectivities.
I first became familiar with China's contemporary art through visits to a myriad of studios of artists such as Deng and Liu Xiaodong, whose first retrospective in Europe I curated a few years ago in Düsseldorf, my hometown, in two museums simultaneously under the title Slow Homecoming (after the eponymous novel by author Peter Handke). I did my own research, studied many catalogues, visited galleries and museums—and I still visit many studios to this day. I prefer the studio to the museum because this space is livelier and because it better conveys the working processes.
In contrast to China, where visual artists are very well-versed in Western art, their colleagues in Europe in general and Germany in particular know next to nothing about contemporary and traditional art in China. They know very few names, if any. And this discrepancy is reflected in art production. Many Western artists operate within the narrow framework of Western art.
The common denominator is that all artists on our planet make use of the same media and techniques, and that these are used equally by all of them. I, for one, am always drawn to the studios of both Western and Chinese artists. However, the number of studios I visit in China is higher than in Europe. The "foreign" has fascinated me since early childhood, when I desperately wanted to be friends with a Japanese classmate, and then we became friends.
The author is a German author, art critic and curator
Copyedited by Elsbeth van Paridon
Comments to luyan@cicgamericas.com