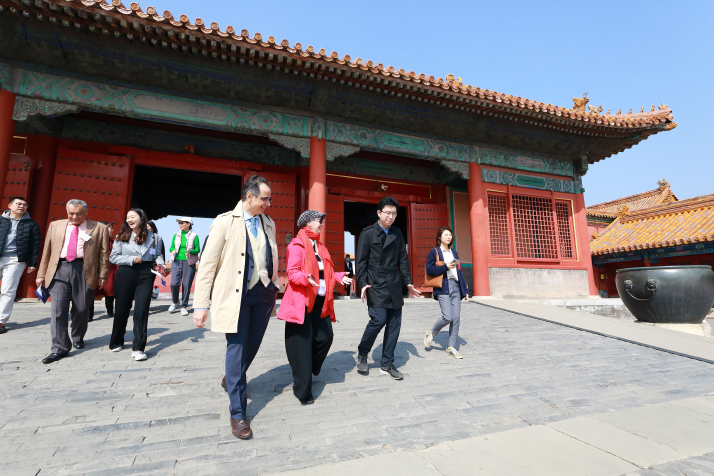 Overseas members of the inaugural CICG Orchid Awards Expert Committee visit the Palace Museum, China's imperial palace from 1420 to 1911, in Beijing on April 25 (COURTESY PHOTO)
Once upon a time, ancient Chinese philosopher and educator Confucius (551-479 B.C.) used the fragrance of orchids, light yet lingering, to express the sublimity, humility and nobility of character for which he believed everyone should strive. This formed the basis of his moral teachings. Confucius is said to have been a great admirer of orchids—and he wasn't alone.
Orchids have been cultivated in China for over 2,000 years. Originally growing in deep mountain valleys, Chinese orchids were gradually moved from wilderness into courtyards through centuries of cultivation. In traditional Chinese culture, the orchid, with its bilateral symmetry and highly modified petal patterns, represents good taste and beauty. Throughout the millennia, the flower's motifs have frequently popped up in artworks of all shapes and forms—from porcelain production to ink painting.
The orchid is an icon of China that lives on in contemporary culture—in art and literature, and now in awards.
Common denominators
The Orchid Awards, established by China International Communications Group (CICG) in 2022, aim to reward foreigners or worldwide institutions actively engaged in international cultural exchange and committed to promoting dialogue and cooperation. They fall into three prize categories: the Lifetime Honorary Prize, the Outstanding Achievement Prize and the Friendship Envoy Prize. CICG organized an expert committee to select the winners. These judges share the common features of being active in cultural sectors, engaging in cultural exchange and having demonstrated a high level of international influence.
And so it came to be that from April 24 to 28, members of the inaugural Orchid Awards Expert Committee from nine countries, including China, Spain, Italy and the United States, gathered in Beijing to fine-comb their way through the submissions from more than 300 individuals and organizations from some 80 countries, including the U.S., Japan, Germany, the United Kingdom, France, Italy, Russia, Australia and South Africa.
Du Zhanyuan, CICG President, extended a warm welcome to the judges at the group's headquarters in Beijing, stating that "in the current complex and challenging international situation, cultural exchange and mutual learning among civilizations are more important than ever to eliminate barriers."
Award business aside, the panelists had time to get a whiff of Beijing's traditional culture, including a tour of the hottest spots along the capital's Central Axis.
This axis is 7.8 km long, starting in the south of the city from the Yongding Gate, running across the Zhengyang Gate, Tiananmen Square, the Palace Museum, also known as the Forbidden City, and Jingshan Hill, and ending with the Drum Tower and Bell Tower in the north. In sum, most of Beijing's quintessential gems are still standing strong along this long city stem.
During the awards' final selection meeting on April 27, the members exchanged ideas on China's Global Civilizations Initiative. Said initiative, announced by Chinese President Xi Jinping in a keynote speech he delivered at the opening ceremony of the Communist Party of China in Dialogue With World Political Parties High-Level Meeting on March 15, intends to defend diversity and use culture as an opportunity for dialogue and deliberation.
"Our task is to find the greatest common denominator among different cultures, promote mutual understanding and allow more people to learn about and get involved in the Global Civilizations Initiative," María Rosa Cervera Sardá, a professor of Architecture at Alcala University in Spain, noted at the meeting.
James Heimowitz, President of the China Institute in New York City, the oldest nonprofit organization in America solely dedicated to advancing a deeper understanding of China, said that dialogues at the government level are "indispensable, but communication and interaction among peoples of different countries are even more important."
The encouraging and promotion of in-depth communications and mutual understanding among peoples of different countries to eliminate estrangement and ignorance are essential, according to Heimowitz.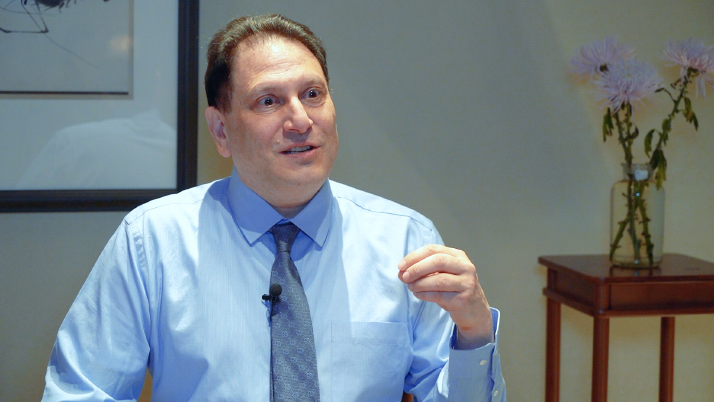 James Heimowitz, President of the China Institute in New York and a member of the China International Communications Group (CICG) Orchid Awards Expert Committee, during an interview with Beijing Review in Beijing on April 26 (YIN KANG)
Buddhism to budding artists
The historical and contemporary cultural exchanges between China and other countries have played a crucial role in enhancing connectivity across the world. Through these exchanges, China has shared its rich history, diverse traditions and unique culture with other nations while also learning from them. One of the most significant examples here is the Silk Road. The ancient trade routes facilitated the exchange of goods and ideas between the great civilizations of China and Rome. For example, silk went westward, and wools, gold and silver went east. China also received Buddhism (from India) via the Silk Road.
As China continues its rise on the global stage in modern times, it has placed significant emphasis on promoting its cultural diplomacy efforts to strengthen its soft power and improve international relations. Chinese cultural festivals have been held worldwide to showcase traditional Chinese music, dance, art and cuisine.
Under Heimowitz's watchful eye, New York's China Institute, for one, regularly organizes events that provide an opportunity for people in the Big Apple to learn more about Chinese culture while promoting cross-cultural exchange. These occasions vary from classical Chinese poetry readings set to contemporary chamber music to lectures on how Confucian thought is still very much alive in contemporary Chinese society—no fewer than 700 people signed up for the latter. During their little repartee on the sidelines of the Orchid Awards' final selection meeting, Heimowitz also divulged to this Beijing Review author that the institute has plans to set up a full-fledged culinary center, offering visitors a real taste of China. As everybody's a self-declared foodie nowadays, this is a surefire way of getting people's attention—and giving them a China taster. The cuisine concentration is also bound to speak to people of all ages.
Youth culture, in particular, can act as a powerful bridge in breaking down societal barriers. With its emphasis on inclusivity, creativity and self-expression, youth culture provides a space for young people to connect across boundaries of race, class, gender and sexuality. Through music, fashion, social media and other cultural forms, young people can find common ground and build relationships based on shared interests and values.
Let's tune in to a musical sample here, namely, New York-based record label slash artist incubator 88rising. This Asian rap collective changing the music industry since 2015 has brought a lot of young talent from East Asia into the Western spotlight. Just think Chinese hip-hop group Higher Brothers, who joined 88rising in 2016. In their songs, they combine standard Chinese, their native Sichuanese dialect—most of them hail from Chengdu, capital of Sichuan Province and the birthplace of Chinese hip-hop—and English and often pay tribute to their culture. Young American and European hip-hop fans were bopping to their tracks Made in China and WeChat (China's ubiquitous superapp) a few years ago, and they've gone on to become iconic in the scene. This is just one example that highlights how youth culture can serve as a bridge between different cultures, creating opportunities for young people to learn from one another and build lasting connections that transcend borders.
"An orchid in a deep forest sends out its fragrance even if no one is around to appreciate it," Confucius is said to have once said. But a little cultural appreciation, hold the appropriation, would be nice.
(Print Edition Title: Cultural Notes)
Copyedited by G.P. Wilson
Comments to elsbeth@cicgamericas.com