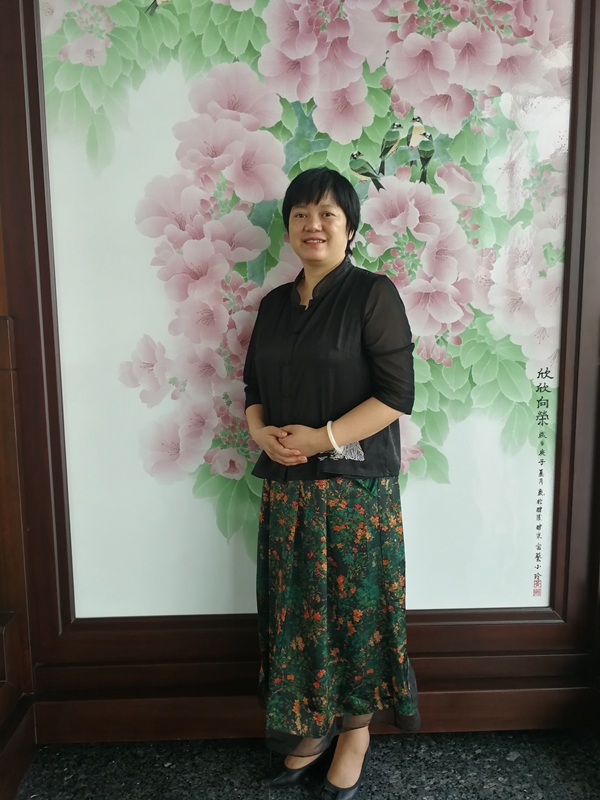 Huang Xiaoling in front of one of her creations (GE LIJUN)
Every morning at dawn, Huang Xiaoling, 53, fully concentrates on designing three sketches for her porcelain works. She is an expert in polychrome porcelain, an art that is part of China's intangible cultural heritage. She enjoys creating porcelain works, which allows her to maintain her innovative spirit. In her eyes, the porcelain from her hometown, Liling in Hunan Province, is magnificent, even though it is not as famous as that from Jingdezhen in Jiangxi Province and Yixing in Jiangsu Province. In fact, the porcelain industry plays an important role here. It is said that four out of 10 porcelain objects in the world come from Liling.
Huang juggles several roles: she is an artist, entrepreneur and teacher. Her mission is not limited just to the continuation of polychrome porcelain; she is also actively promoting this art.
Unfailing courage
From childhood, Huang enjoyed visiting the porcelain factory where her father worked. She loved to draw designs, especially flowers and birds. By the age of 12, she was able to design small porcelain objects from scratch. She regularly rubbed shoulders with the great masters of the factory who passed on the key techniques to her.
As an adult, she worked full time in a factory like her father, until she suddenly found herself in a bind. The township enterprise reform of the 1990s led to the closure of the production site due to bankruptcy. Then came the reform of the state-owned enterprises and she was once again out of work. But she didn't give up and followed her teacher to Shanghai to try her luck. The trip opened up new perspectives for her as she discovered the high demand for porcelain in the megalopolis. With her head full of inspiring new ideas, she eventually returned to her hometown to found the Liquanyao porcelain company in 2000 with former colleagues.
Although there were glorious years for Liling in porcelain-making in the early period of the People's Republic of China (PRC) when the city provided high-end porcelain products for the Great Hall of the People in Beijing, the porcelain sector in the city was at a standstill later on. The demand for polychrome porcelain was low and the local art remained unknown for a long time. "That's what prompted me to come out of the shadows and start my own business." She told ChinAfrica. And it was a success, far exceeding her expectations.
Her strength undoubtedly lies in her mastery of craft techniques. The adventure began with a simple workshop where she managed her business by teaching herself all the steps of the production process. In 2003, she won a silver medal at a competition in Beijing, a turning point not only for herself but also for Liling porcelain. The porcelain products became known to the general public. From that moment on, orders began to pour in. At the same time, the market in Liling began to develop and the local government invited thousands of former factory employees who had become migrant workers back to their hometown to resume their original profession.
The 2008 Beijing Summer Olympics also provided a boost to her business. In 2006, 10 porcelain companies in Liling, including Huang's own one, took an order for 8,000 pieces, boosting Liling's economy. In May 2008, the order was delivered as scheduled, marking a new chapter in local history. Research and training schools were established and the local government strengthened support policies.
"To be successful, you have to be able to adapt to the changing times," Huang said. Currently, in addition to high-end creations, she also designs ordinary, less expensive items, such as cups and plates. "I would like to make our porcelain available to as many people as possible," she said. Her daughter also helps out and makes sure that the small porcelain items are well promoted on online platforms. In September, the online sales of Huang's company reached 100,000 yuan ($15,650) and offline sales were 200,000 yuan ($31,300).
To pay tribute to the creator, some of her masterpieces are even kept in the Great Hall of the People and in Chinese and foreign museums.
The porcelain valley in Liling (COURTESY)
A promising sector
Porcelain-making in Liling dates back to the Han Dynasty (202 B.C.- AD 220). It developed significantly at the end of the Qing Dynasty (1636-1912), when polychrome porcelain (green, blue, black, brown and agate red) was introduced in 1908. A porcelain vase won gold at the Panama Pacific World's Fair in 1915, making it known worldwide. Unfortunately, the wars of the first half of the 20the century cut short this success. It was after the foundation of the PRC in 1949 that production was revived. The sector continued to develop to an industrial level and other types of ceramics, such as stoneware, appeared.
At present, there are more than 4,000 types of ceramic products in five categories: household items, ceramic electrical insulators, decorative porcelain, technical ceramics and ceramics with a more resistant composition. Liling has about 700 specialized companies, employing over 200,000 people. The number of enterprises with annual revenues of 20 million yuan ($3 million) or more is 162, forming a sizeable industrial cluster.
The production of porcelain for domestic use is the third-largest in China, and the production of ceramic electrical components accounts for 43.3 percent nationally and 30 percent globally. The products are exported to more than 150 countries. A porcelain valley was built in the city in 2014, which has even become a tourist attraction in this area.
More than 20 great masters of polychrome porcelain are active in Liling. Among them, Huang is committed to passing on this craft, which is characterized by beauty, elegance and refinement. She also teaches part-time at the Liling Porcelain Institute of Hunan University of Technology. "Though it doesn't make us millionaires, working in the porcelain industry allows us to have a comfortable life while preserving the skills and culture of our ancestors," Huang told ChinAfrica.
Comments to glj@chinafrica.cn