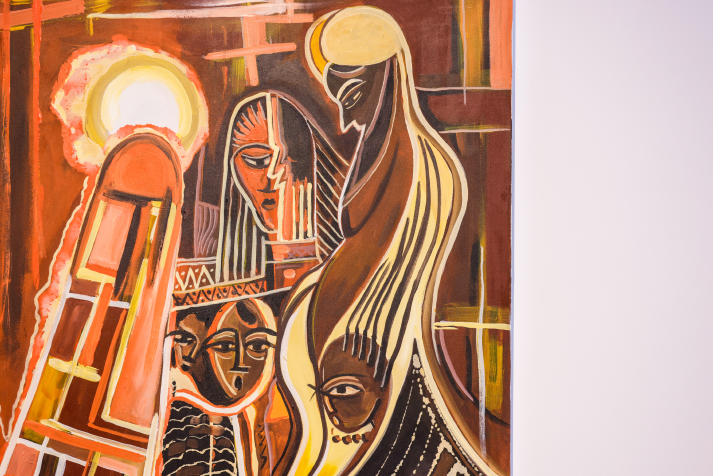 Faith, acrylic on canvas, 120*100 cm
(COURTESY PHOTO)
Art is an indispensable element of cross-cultural exchange. This is proven by the programs of Beijing Africa Week (BAW), an annual event featuring a series of cultural activities celebrating Africa in the Chinese capital. In its second edition in 2019, the exhibition Art Afrik - Sir, Where Is This Place? featured a selection of works by 14 contemporary African artists. This year, the public had the chance to discover the world of the famous Eritrean artist Woldu Afewerki, through 36 of his paintings exhibited from June 3 to August 31 at the Wan Kai Space in the Beijing Cultural Innovation Park in Fengtai District.
A narrative touch
Woldu Afewerki's art is characterized by an emotional, traditional and narrative style as evidenced by one of his Byzantine works Faith. In this painting of splendor, the artist depicts the construction of the historic monument of Belew Kelew in Matara by the then inhabitants in honor of their brave ancestors who created the Kingdom of Aksum. At the top of the monument are representations of the immortal sun and moon, signs of the ancient religion of Matara.
In addition to celebrating the human journey from time immemorial, Woldu Afewerki devotes a large portion of his paintings to illustrate his homeland of Eritrea in its present state. An avid walker, he has covered thousands of miles of the Eritrean landscape, forging a deep relationship with the nature in its supremacy.
"Woldu Afewerki's work is captivating," said Miatta Momoh, Co-Founder of Kente & Silk, a social enterprise aiming to change the status quo of Africa-China relations and organizer of the BAW. "He is a great storyteller and helps build intrigue about his subject matter - the landscapes, lives, culture, and characters illustrated are beautifully sharing new nuanced perspectives from his worldview."
It was this admiration that prompted Kente & Silk to work with the artist's family to allow viewers to enter his artistic world.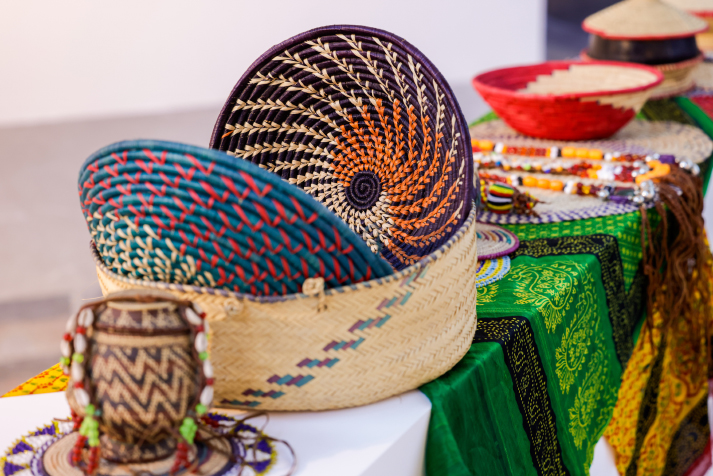 Eritrean handicrafts and cultural artifacts
(COURTESY PHOTO)
Long walk to freedom
As the name of the exhibition, Emotions, indicates, Woldu Afewerki's work is indicative of his inner unbeatable convictions. After visiting the exhibition, the majority of the audience shares the feeling of closeness to the artist. "His paintings are like a window into his own rugged history drawn vividly on that of his country," commented Chinese viewer Chen Ning.
In fact, his path as an artist is well marked by his struggle for his country's independence with his fellow artists. Born in 1955 in Asmara, Eritrea, he attended elementary and secondary school in Addis Ababa, Ethiopia, before enrolling in the Addis Ababa School of Fine Arts in 1974. Later, out of a desire for freedom, he joined the Eritrean People's Liberation Front. Far from renouncing art, he used it as an effective weapon to convey powerful messages and trained many artists in the resistance, including his wife Terhas Iyassu.
After Eritrea's independence, he moved to Asmara and worked as a professional art teacher at the Asmara School of Fine Arts. Considered national treasures, 50 of his paintings are now housed in the National Museum of Eritrea.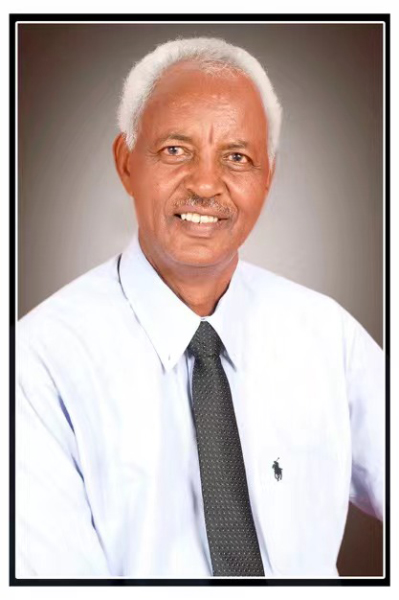 Woldu Afewerki (COURTESY PHOTO)
Intergenerational transmission
This is not the artist's first presentation of his work to Chinese audiences. In fact, the Between Friends exhibition he shared with his daughter Martha Woldu Afewerki was held at the 798 Art District in Beijing in 2017. This artistic experience allowed viewers to perceive his influence on the training and development of young artists like his daughter.
In fact, Woldu Afewerki was absent during his two exhibitions in China. It was his daughter who played a key role in the organizational process. It is also thanks to her that he was able to establish links with this distant Asian country.
Growing up under the influence of two artist parents, Martha Woldu Afewerki developed a taste for art from the age of three. She often watched them work with resistance artists in their basement studio. "Art was in every corner of our home. This is all my brother and I knew as we were growing up, so we decided to embark on this path ourselves," she told ChinAfrica.
A Chinese diplomat's visit to her home to admire her mother's paintings in 2000 left a lasting impression on her. Impressed by her talent when he saw her paintings, the politician advised her to study fine arts in China. Dreaming of going there since her childhood, she seized the opportunity without hesitation. At the end of 2004, she started her oil painting apprenticeship at China's Central Academy of Fine Arts with a scholarship from the Chinese Government.
Since then, she has participated in many solo and group exhibitions, including one with her father. At the same time, she runs her own painting workshop in Beijing.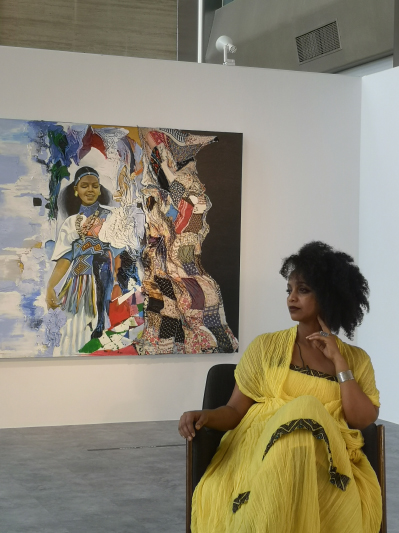 Martha Moldu Afewerki (COURTESY PHOTO)
Exchanges with China
Woldu Afewerki still recalls the deep impression his first visit to Beijing in 2012 left on him about the country. "As soon as I arrived, I was shocked. I told my daughter that I would only walk, because I wanted to talk to people on the way," he said. "I was able to meet many interesting people and see different kinds of art in the streets and shops. For me, China is a big museum of art!"
Despite his absence this time, he is grateful for the chance to present his own culture and tradition to the Chinese public. He hopes to be present for his next exhibition in Beijing, which he says will be bigger than the two previous ones.
For her part, Martha Woldu Afewerki hopes that more and more African artists will be able to come to China and exhibit their works. "Until now, there are very few who got this opportunity," she said.
It is also in this spirit that Kente & Silk wanted to take advantage of the BAW to introduce more African artists to the Chinese market, "share new African narratives and showcase the heart-warming things that are often missing in cultural exchanges," as Momoh said.
(Print Edition Title: A Good Brush Stroke)
Comments to lixiaoyu@chinafrica.cn