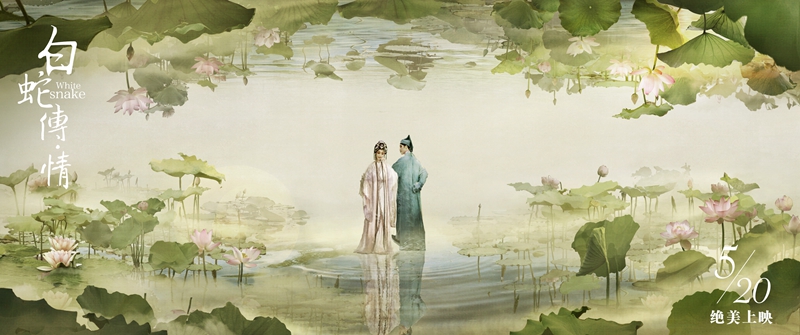 A poster of White Snake, a movie featuring Cantonese Opera released on May 20 (FILE)
Jiang Li's fondest childhood memory brims with images of The Legend of the White Snake. The classic TV series based on a Chinese folktale is in fact the same age as Jiang, having premiered in 1992.
The traditional tale tells the story of a female white snake spirit who dreams of transforming into a goddess by doing good deeds and ends up falling in love with a human. Nevertheless, demons and humans are not supposed to develop such relationships, so their connection from the start faces many a challenge.
Raised by her grandmother, a fan of the drama, in Yangzhou in Jiangsu Province, this 29-year-old accountant, has watched the series so many times that she can recall almost every single detail of every single episode.
Recently, Jiang watched a movie based on the very same storyline called White Snake, released on May 20. This time around, the all too familiar legend came to her from a new and fresh perspective. Aside from the multiple scenes starring traditional Chinese ink painting and stunning special effects, what stood out the most to this mega fan was the incorporation of Yueju Opera, more commonly known as Cantonese Opera, a popular local opera in south China with a history of about 500 years.
Cultural heritage
Originating in Guangdong Province, Yueju Opera combines elements of martial arts, acrobatics, singing and dancing, and was included on the World Intangible Cultural Heritage List back in 2009. The adapted love legend is China's first traditional opera movie supported by 4K technology.
"I never thought Cantonese Opera could be so emotive. The music and opera singing are so elegant, quite different from my imagination. It makes the storyline with its pursuit of love, kindness and beauty even more touching," Jiang, who was exposed to the genre for the first time, told Beijing Review. It sounds like a Chinese-style musical, she added.
Some opera fans have voiced their criticisms regarding the fact that the movie changed the traditional singing of the opera and integrated orchestral music to lower the threshold of appreciation and cater to the palates of younger generations. Yet the experiment seems to be doing pretty well on the market. It was rated 9.3 out of 10 on Maoyan, a movie ticketing and film data platform, while Fast & Furious 9, the latest installment of the action film franchise ruling the global industry, received a rather mediocre 7.5.
Jiang has recommended the movie to her friends, who were also amazed by the body of artwork. It is not surprising for our generation to have our interest in traditional operas piqued, she said, adding that all they need is a chance to actually grasp their deeper meanings.
"I used to watch my grandfather watching programs on traditional opera. As I had no idea as to what those performers were singing about, it seemed to be rather boring and difficult to understand," Jiang elaborated. But knowing the story and watching it be vividly communicated by artists and advanced technology bearing Chinese classic aesthetics, one can appreciate the charm of traditional drama, she said.
Path of development
Qian Guangren, who runs a private opera troupe in Haikou, Hainan Province, is not surprised to see more and more young people discovering the charm of traditional operas. In Hainan, it is a part of many people's childhood memories, he said. The most popular genre in Hainan is Qiongju Opera, or Hainan Opera, which originated from the tunes of Yiyang in Jiangxi Province.
"When I was young, Qiongju Opera was a major channel for people to learn more about the world," the 40-year-old tour guide told Beijing Review.
After absorbing different forms and themes from other operas and folk rhymes, Qiongju Opera emerged as a unique material constructed in the local dialect. Over the past 360 years, it has developed into a rich traditional repertoire highlighting local characteristics; each role showcasing its individual performance, mask, and melody.
"We have a tradition that villagers will invite troupes to their homes if they are celebrating or hosting a significant event. Also, it is an important way for people to entertain the public during temple fairs," Qian said.
Three years ago, the tour guide founded the troupe along with his friend, a Qiongju Opera performer, and started to learn it systematically. "I have worked with many excellent artists and directors and seize every opportunity to enhance my understanding of the genre," he said.
"Qiongju Opera has made remarkable progress in recent years thanks to our large audience base. Aside from Hainan, Southeast Asian countries with overseas Chinese with family origins in Hainan also embrace the art form," Qian said.
What makes the opera popular even today is attributable to innovation. The elderly usually like traditional repertoires, whereas younger audiences prefer those narratives related to their lives, he added. In recent years, he and his colleagues have spent much time and money on the creation of new works, for instance, plays mirroring medical staff fighting COVID-19.
Besides constantly borrowing the suitable features from other operas, we need to focus on expressions that young people can understand, which means producing plays with timely themes, such as social issues, he said.
However, producing new plays is not an easy task as the opera is played out in the Hainan dialect. That one fact significantly raised the requirements regarding financial support, directors and scriptwriters, who need to be well acquainted with the island, including its history, culture, and language.
The only secret for an opera is to be rooted in local culture, he said, adding that he hopes the local government can lend more financial support to those private troupes that have a vital part in the development of Qiongju Opera.
Integration produces innovation
Qian said the people working on traditional opera have started exploring the convergence of traditional Chinese opera and cinema many years ago, since 1905, when China's first Peking Opera movie, Dingjun Mountain, took to the big screen. In the past decades, advanced technology has provided a sound condition for further experimentation, but opera still belongs to the stage rather than the screen, he said.
"Sitting in the theater, people have a lot of space to give their imagination free rein. For instance, through the performers' graceful movements, we can figure out if they are riding a horse or visiting a garden. This is part of the beauty of traditional opera." He said it will not become a mainstream method to promote traditional operas as movies. Making every detail be seen works against the core principle of this stage art form.
However, Jiang holds the opposite opinion. "It is quite difficult for me to watch a traditional performance as I lack a deeper understanding of the genre. But it will be easier to enjoy if there is the participation of other elements," she said.
The Elegance of Traditional Opera, an innovative performance boasting traditional Chinese opera and modern dance is one excellent case in point. As one of the most acclaimed acts from the New Year's Eve Gala hosted by Bilibili, a video streaming website with over 190 million monthly active users, it introduced viewers to six schools of traditional opera such as Kunqu Opera and Peking Opera. The contemporary presentation of traditional aesthetics allows the audience to experience the power of cultural inheritance and its modern-day integration.
"There are some similarities among these traditional art forms, but we showcased the essence of each," Peking Opera artist Qiu Jirong told China Daily in light of the show.
The nine-minute performance led by Qiu received warm feedback from fans. "From the aspect of opera, the costumes, facial makeup, and movements are gorgeous, giving us a glimpse into Chinese civilization," Jiang said.
"As long as we let them see the beauty of the old art forms creatively, young audiences will be intrigued by the traditional operas," Qiu said.
(Printed Edition Title: Tradition for the Next Generation)
Copyedited by Elsbeth van Paridon
Comments to liqing@bjreview.com