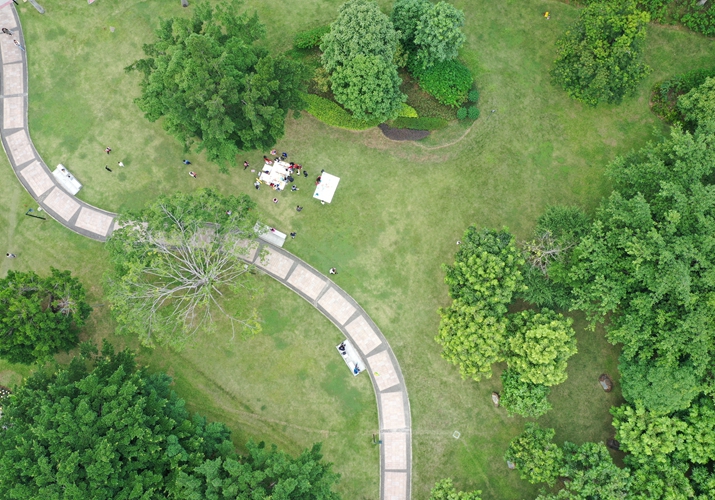 An aerial view of a corner of a park in Nanning City in Guangxi Zhuang Autonomous Region, south China (XINHUA)
I was born and raised in a city called Green City. It inherited this name owning to the large area of groves it covers and trees along its streets. We are proud of this name and the green spaces of our city. Before I moved to China, almost everything I imagined and dreamed it would be perhaps more or less what I anticipated. I knew I would be impressed by it and the thought of being far away from home on another continent was quite intriguing I must say. To be honest, other than being able to spot its location on the map and reading about it, I had very little knowledge about China.
Now back to my living experience in China. It all began with an arrival that felt like entering into a whole new world altogether. Throughout my stay there the reality and hands on experience has been unmatched by what I had read about China. First of all I would describe it as a country whose ancient past blends with its present and overall a land of opportunity. It is a modern country with a rich and diverse culture.
Walking in the busy streets amongst all the modern structured architecture, hi-tech buildings and modern way of life highly characteristic of China, I never expected to find it decked with patches of greenery in the form of gardens or groves commonly seen in and around parks and residential suburbs. Not too different from the Green City I was raised. I knew that China had the world's largest population, but it's still not obvious to many at first impression.
Actually before coming here I thought every place would literally be over crowded, but surprisingly that's not like that.
When I arrived in China, from the first sight, I was amazed and stimulated by the road landscaping system, with lots of green trees extending and lining the roads, which make people forget the travel fatigue by looking at those beautiful scenes. These green areas that cover the city made me remember the city I grew up. And I started to make a quick comparison between it and what I found here in China, a city where almost all of its streets are full of trees and green spaces.
I have become a frequent visitor to one of the parks near the university where I studied in Shanghai, the first Chinese city I visited, where its gardens and green spaces always remind me of my small city despite the differences between the two cities. I spent unforgettable moments enjoying the fresh air and occasionally reviewing my Chinese lessons in those gardens. Often as I walk along the streets of the city, I admire the landscaping in the parks and roadsides covered in well-manicured gardens and trees. This gives me the comfort I need when I miss home.
Throughout my stay in China I have noticed how fair portions of land are actually allocated for recreation and gardens and it's common to find people taking walks in parks or doing their favorite hobbies in the greenery and appreciating nature. A combination of my appreciation for greenery and actually finding it here has helped me connect with and adapt easily to China.
For me, the greenery from one city to another has become the "dots" connecting these cities but in the form of beautifully etched gardens and groves.
It's a wonder though and I'm still impressed at how China has managed to preserve its ancient history and blend it with modern living. As a foreigner living in China, traveling to and around several cities as well as paying attention to various architecture of its building structures has allowed me to travel through different eras - ancient and modern. In Shanghai for example, many of the old Chinese buildings have preserved the ancient Chinese style in architecture whilst retaining modern structure.
What impressed me in China is the endlessness, as China is a country from which we can learn a lot day after day. Not a day goes by without new discoveries. It is a land of miracles that changed many of my concepts about life and taught me how the fruitful result of hard work can be.
(Print Edition Title:

Green China

)
The author is a Sudanese who once worked as a teacher at Ningxia Normal University in China