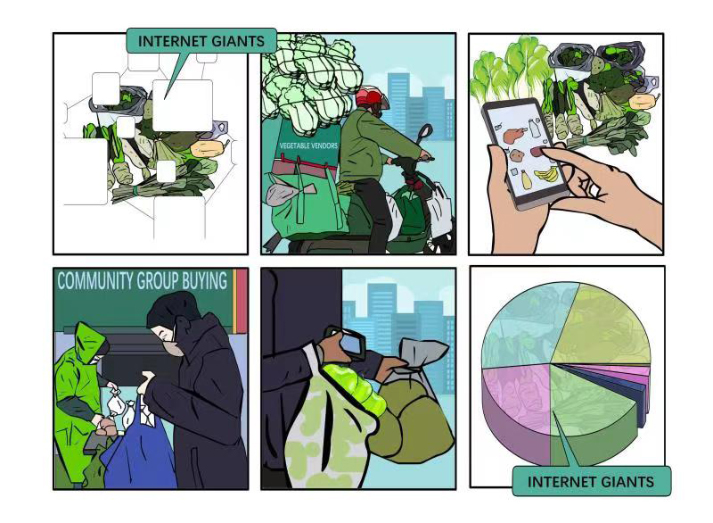 (LI SHIGONG)
Most recently, community-based group buying has made a big splash across Chinese society. In this business model, community leaders or enthusiastic individuals create WeChat groups to gather orders and negotiate lower prices. Local supermarkets and Internet companies in this case then ship the orders in bulk to that person in charge, subsequently resulting in lowered logistical costs and increased platform efficiency, allowing them to offer bigger discounts.
Internet titans like Alibaba, Pinduoduo, JD.com, DiDi, and Meituan, to name a few, have by now poured big bucks into this budding sector, in a bid to capture an additional growth engine.
Nevertheless, this sprouting model has already been met with some significant backlash. One main concern is that it will further squeeze the space for vegetable vendors. Meanwhile, the consumer's long-term interests might also be compromised when the vegetable market is monopolized by several Internet giants and the normal market order suffers disruptions.
Yu Gui (www.legalweekly.cn): In the early days of the big online shopping boom, there was a concern that this model would force brick-and-mortar shops to shut down and consequently leave a lot of people out of work. However, across almost two decades of rapid development, e-commerce keeps contributing ever more to the Chinese economy, while make people's grocery shopping more convenient and efficient.
As for employment, although some physical stores have been forced to close, online shopping, however, fills the gap by offering its share of job opportunities to people in both big cities and small villages, by selling their goods online. Meanwhile, the logistics sector also attracts an ever larger work force.
Community group buying, by gathering scattered individual vegetable orders, not only helps to save time for consumers, but provides a stable consumer base to vegetable farmers.
Simply put, community group buying makes vegetable-selling more professional, on a unified and large scale, and boosts efficiency.
Liang Yu (Economic Daily): Undeniably, community group buying is hammering vegetable vendors. Maybe their vegetable stalls are the major or only source of family income. They are too small to contend with Internet giants and big supermarkets.
The space for the development of this business model is huge, but obviously, the current model is not sustainable. Internet giants are now competing with small peddlers for market shares through big subsidies. While disrupting the market order, they may later raise vegetable prices sharply after eliminating all competition.
If the Internet bastions spend their time on developing technological innovation, instead of wrestling with hawkers over vegetable market shares, and explore new ways of upgrading human life and sustainable production, they are likely to obtain more profits and respect than they are by joining in the community group buying trend.
Qu Jin (Chu Tian Metropolis Daily): To receive vegetable order right on doorstep at exceptionally low prices should be something to celebrate for most people. However, not everyone is happy about it, including the beneficiaries—i.e., community residents. These business models attract them by dangling good services at low prices, and when enough of them are rounded up, the quality of service might decline, and prices soar.
Vegetables are more closely related to residents' ordinary life than bicycles and car hailing and thus by no means should the vegetable market be used as anther experimental field for capital. Whether community group buying is likely to elbow out vegetable sellers and then drive them to the brink of despair is not the only concern; the consumer's long-term interest should also be part of the equation. We do not want to see the buyer being served vegetables gone bad at high prices.
Copyedited by Elsbeth van Paridon
Comments to dingying@bjreview.com