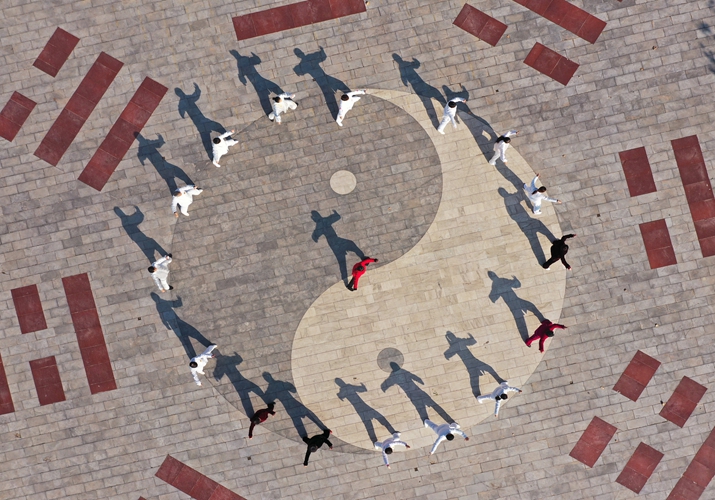 People practice Taijiquan in Handan City, Hebei Province in north China, on December 16, 2020(XINHUA)
Upon receiving the news that Taijiquan was decorated with a world intangible cultural heritage accolade on December 17, 2020, Chen Ziqiang was teaching a Taijiquan class in his hometown.
The 43-year-old Taijiquan coach's phone was soon buzzing with congratulatory messages from his students all over the world. A gala was held at Wenxian County, Henan Province in central China in celebration of the event. Chen's hometown, Chenjiagou Village in this county, is reputed as a birthplace of Taijiquan.
"China has made several attempts to list Taijiquan as a world intangible cultural heritage since 2008," Chen told Beijing Review. "We knew that we stood a good chance to make it this time."
A long history
"Taijiquan is a traditional physical practice characterized by relaxed, circular movements that works in concert with breath regulation and the cultivation of a righteous and neutral mind," thus reads the introduction of Taijiquan by the United Nations Educational, Scientific and Cultural Organization (UNESCO) on its website.
Also referred to as Tai Chi or Chinese boxing, Taijiquan has been a well-known physical practice worldwide. Literally, tai means "supreme," ji means "ultimate" and quan means "fist." For a long time, different stories regarding the birthplace of Taijiquan have made the rounds, focusing mainly on two places—Wudang Mountain in Hubei Province, central China, and Wenxian County.
The tale about its Wudang root is legendary, which tells how a man named Zhang Sanfeng created Taijiquan about 1,000 years ago after witnessing a fight between a sparrow and a snake, drawing inspiration from the animals' movements. The Wudang Mountain is known as one of China's major Taoist landmarks. This oldest philosophy of China has had a great impact on Taijiquan.
The story about its Chenjiagou origin has some more "hard proof." In the mid-17th century, a retired general and village head named Chen Wangting combined his kungfu training with elements of Chinese philosophy to create Chen style Tai Chi. Popular belief holds that many modern styles of Taijiquan have been derived from the Chen style. Wenxian is listed as Taijiquan's birthplace on the UNESCO website.
Chenjiagou is one and a half hours drive from Shaolin Temple in Henan Province, central China, another magnetic place drawing kungfu practitioners. Different from Shaolin Kungfu's powerful approach, Taijiquan looks softer and slower. This soft yet powerful ethos runs through the veins of Chenjiagou, which has some 300 years of Taijiquan history.
The Chen style Taijiquan was passed down the generations. Chen Ziqiang is a direct offspring of Chen Wangting. His uncle Chen Xiaowang is now a world-renowned Tai Chi master and his father Chen Xiaoxing, a protagonist in the video that China submitted to the UNESCO when applying for the accolade, also has gained international fame.
"In my generation of the family, seven out of eight are professional Tai Chi practitioners now," Chen Ziqiang said. If it had not been for the novel coronavirus disease (COVID-19) pandemic, he should have been teaching abroad right now, as he did in the past decade, when his schedule was almost packed year round with tours across Europe, Australia, and the U.S. as branches of Taijiquan schools were set up in more than 50 countries.
"Both my uncle and my father are retired now, and they spent most of time staying in the village. My generation took the baton to spread Taijiquan," he said.
In 2018 when China decided to apply for the inscription of Taijiquan on the UNESCO's intangible heritage list, he got involved in the application work. In China, Taijiquan was inscribed, among the first batch of items, as a national intangible cultural heritage in 2006.
Chenjiagou has evolved from a humble town to a famous Tai Chi center. Among the 3,000 plus residents, more than 100 are professional Taijiquan coaches active in both China and abroad. Taijiquan has become a compulsory class for elementary and secondary schools in Wenxian County.
Students practice Taijiquan in Chenjiagou Village of Wenxian County, Henan Province in central China, on June 29, 2018(XINHUA)
Heightened popularity
Taijiquan is not new to the world. This practice has spread to over 150 countries, with approximately more than 150 million practitioners worldwide, according to the organizing committee of the international Taijiquan tournaments held in Jiaozuo City of Henan.
At many major events, such as the opening ceremony of the 2008 Beijing Summer Olympics, Taijiquan has been staged to symbolize Chinese culture and fundamental features. Moreover, Taijiquan practitioners can be seen in almost every park across the country.
Shao Bingnian, a 99-year-old practitioner from Dalian, a coastal city in Liaoning Province in northeast China, has been practicing Taijiquan since he was a kid.
After retiring as a civil servant, he started to practice every day at the park and gradually set up a Taijiquan club, teaching and organizing activities for Taijiquan enthusiasts.
He attributes his longevity to the practice. "It looks simple and easy, but it combines movement with deeper philosophical meanings, an asset to both body and mind," Shao said. "It can be called meditation in motion."
Liu Chunhua, a 65-year-old woman in Beijing, goes to the park every morning together with her husband. She listed numerous benefits that Taijiquan has added to their lives. "Both of us had slipped discs 10 years ago, especially my husband, and the doctor suggested he undergo surgery," Liu said. "But even surgery couldn't guarantee a full recovery. Some friends then suggested we take up Taijiquan and so we decided to give it a try."
They started to feel the positive effects after practicing standing meditation for several months. "It doesn't involve any movement, you just stand there with fixed posture," Liu said. "After about three months, we felt getting stronger and the pain was subsiding."
Surprised by the effects, they went on to learn more sets of movements. For seven years now, they have not suffered any further discomfort. "It is a practice fitting people of all ages. Even people confined to a wheelchair can practice Taijiquan," Liu said.
David Ross, a practitioner for more 10 years from the U.S., has uncovered a deeper level of Taijiquan's attraction, that is, it is a beautiful art form not only exercising the body but also the soul; moreover, with a calming effect on mind, it enables people to enjoy the beauty of life.
"Getting caught between jobs and family issues, we always overlook the fact that life should be beautiful. Beauty lies in the eye of the beholder, it doesn't matter what it looks like to others, it only matters what it feels like to you," Ross said. BR
(Print Edition Title:

The Soft Strength

)
Copyedited by Elsbeth van Paridon
Comments to yuanyuan@bjreview.com