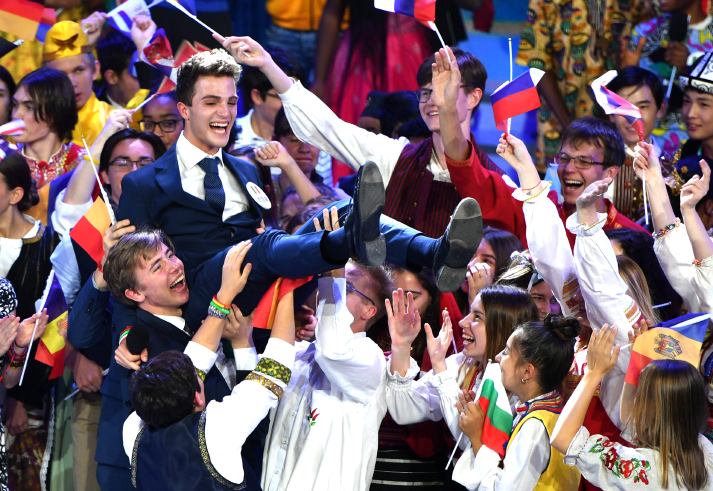 Contestants celebrate during the final of the 12th Chinese Bridge contest for non-Chinese secondary school students in Zhengzhou, Henan Province in central China, on November 1, 2019 (XINHUA)
My eyes witnessed the shining miracle,
And my ears heard the sound of time flying;
I met an old Chinese man,
His words had tea garden, Kungfu and Tai Chi;
I met a young Chinese man and he talked about
Lights, skyscrapers and high technology.
This is a poem Italian high school student Giovanni Stoppoloni wrote in Chinese, showing his perception of China as a country with both an ancient culture and impressive progress in modern science and technology. The 15-year-old studies at the Convitto Nazionale Vittorio Emanuele II in Rome, which hosts the biggest Confucius classroom in Italy. Learning Chinese provides foreign students like Stoppoloni opportunity to understand a real China today.
Max Horne, a 19-year-old American student at Harvard, who had taken part in the 11th Chinese Bridge Proficiency Competition in 2018, an annual international competition for foreign secondary school students hosted by the Confucius Institute headquarters, called the process of learning Chinese a transition of points of view.
"I walked into a Chinese language classroom eight years ago," he said at the Chinese Bridge Program Planning and Youth Exchange Forum held in Beijing on December 17, 2020. "From a
superficial to a real understanding about China, learning the language made me know more about modern China, not just the language, not just the Great Wall and the Silk Road."
The forum was hosted by the Center for Chinese Language and Cooperation (CLEC) with Chinese language learners, teachers and academics sitting together, discussing the future of the Chinese Bridge.
Since the Chinese Bridge was started in 2002 to strengthen young people's understanding of the Chinese language and culture, it has attracted more than 1.4 million young students from over 150 countries.
What does the Chinese Bridge mean to young people? What is the point of learning Chinese?
Jacob Jimmer, an Italian winner of the 12th edition of the competition said, it meant casting aside prejudice. "Learning Chinese has changed my perception of China and made me understand the world from different perspectives. I can tell my friends what is happening in today's China and widen their horizon," he said.
"People need to know the modern image of China," a Sudanese contestant said at the forum. He named himself in Chinese as Heilong, "They need to know that China has the fastest growing economy and strong technology besides the four great inventions made in ancient times. This is what Chinese Bridge can do; make more Chinese learners know more about the authentic China."
The four great inventions made in ancient China are the printing technology, papermaking, gunpowder and the compass.
Lack of perception about modern China is also frustrating for the teachers. Zhao Yezhu, Deputy Director of the Confucius Institute at Victoria University of Wellington, New Zealand, told Beijing Review some people have a stereotype image about China. "It involves the perspective to understand foreign cultures. The same applies to learning English. When we have never been to any English-speaking country, our understanding of those countries comes only from the textbooks and teachers," she said. "But when you have the chance to live in those countries for a period of time, it makes you feel differently."
The solution is to conduct more cross-cultural exchanges. Visits to China are the best way for foreign students to learn about China. It is a two-way communication between China and different countries, Zhao said.
Harford Michael Kenechukwu, a Nigerian studying at Nankai University that based in Tianjin, north China, got involved in a documentary, China's Poverty Alleviation Story, organized by the Chinese Language Club in 2020. "I've seen the real lives, local customs of people from different ethnic groups in China and the changes brought about by poverty alleviation," he said. "I'd like to introduce China's experiences on eradicating absolute poverty to my country and to the world."
Cultivating talents
More than 70 countries have incorporated Chinese into their national curriculum and over 4,000 overseas universities offer Chinese courses. There are about 25 million people learning Chinese outside China; nearly 200 million people have learned and speak Chinese.
With a growing number of young people wishing to learn Chinese, talent cultivation was a hot topic at the International Chinese Language Education Week 2020 in Beijing in December 2020. The participants said Chinese language teaching and the Chinese Bridge will take on a more important role in the future. Interdisciplinary Chinese teaching, Chinese plus other subjects, will wield a larger influence in the following years.
"To cultivate interest is the first step in cultivating talents," Ying Ning, a celebrated Chinese crosstalk actor and advisor of the Chinese Bridge, told Beijing Review. Ying said through watching Chinese crosstalk, foreigners acquire a keen interest in Chinese and find cultural commonality. "Humor is an amazing bridge that connects people," he said. "When we share funny stories with kids from different countries, we open a window into our lives, our cultures and our values for them."
"Cultivation is the central idea of international Chinese language teaching and the Chinese Bridge," Su Yingxia, Director of the College of Intensive Chinese Training of Beijing Language and Culture University (BLCU), told Beijing Review. "After visiting China and seeing more of it, you will discover the kindness and good qualities here."
Furthermore, international Chinese language teaching aims to help young people build up a sense of globalization, broaden multiculturalism and improve cross-cultural communication capacity. Instead of attracting people who are interested only in the language, the latest trend is to foster comprehensive academic abilities in young people who can use Chinese as a bond to integrate various disciplines.
Federico Masini, Director of the Language Center at Sapienza University of Rome, said at a sub-forum that learning about Chinese culture and understanding it can promote young Italians' ability to communicate with China. "This is very important for cultivating young people's global awareness and multicultural vision," Masini said.
On December 18, 2020, CLEC and the Vocational Education Committee of the Ministry of Education of Thailand signed an agreement to jointly build a language and vocational education college. It marks the in-depth cooperation between China and Thailand for the integrated development of Chinese + Technical and Vocational Education Training projects.
Online power
The masks that the participants wore and the online events served as a reminder that the week was held in the shadow of the novel coronavirus disease.
However, the virus didn't curb students' passion all over the world to show their talent in Chinese and communication between China and other countries was not interrupted. The travel restrictions nurtured a new trend of international Chinese language teaching using technology and artificial intelligence.
"The epidemic made it hard to have offline classes. But thanks to technology and online resources, those difficulties sped up innovation in teaching methods," Zhao said.
At the 2020 China International Fair for Trade in Services, CLEC released four online learning platforms: the Chinese Plus cloud service, the Chinese Bridge Club app, the Online Chinese Class project, and the Chinese Learning Test Center project. These online platforms provide teaching assistance for institutions, teachers and learners.
"In the post-epidemic age, online learning has a huge market demand, which will be an important opportunity for the development of international Chinese education," Wu Yinghui, a professor at the Research Institute of International Chinese Language Education of BLCU, told Beijing Review.
The cloud platform of the Chinese Plus has established more than 210 massive open online courses including Chinese learning, examination, Chinese culture and contemporary national conditions, and teachers' training. With more than 1,000 micro-video courses and 4,000 live-streaming courses, it provides services to 2 million teachers and students in more than 200 countries around the world.
(Print Edition Title: Bridging Cultural Gaps)
Copyedited by Sudeshna Sarkar
Comments to taozihui@bjreview.com