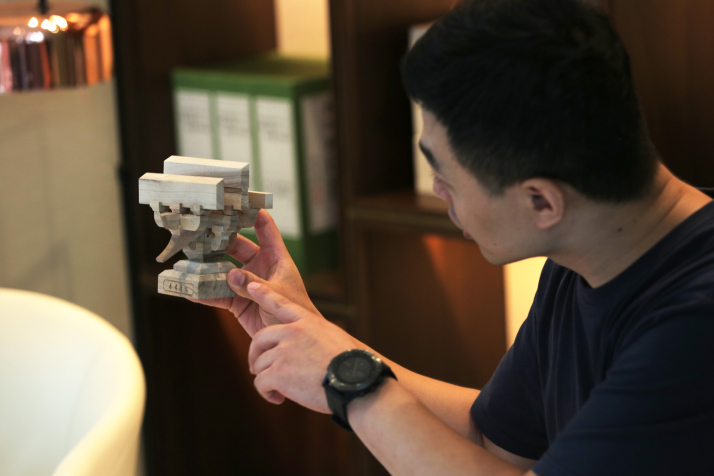 Liu Wenhui introduces a dougong block in Hangzhou, Zhejiang Province in east China on December 11, 2018 (COURTESY PHOTO)
Liu Wenhui, a 41-year-old entrepreneur, has beautiful memories of visiting hutongs, small alleys threading residences, with friends when he was a boy in his hometown Fenyang, Shanxi Province in north China. It is not only the playing and laughing while the elders chatted under trees that he remembers fondly, but also some of the courtyards, which were over 100 years old.
He recounted how he was most impressed by a rich family's wooden courtyard with a huge roof but without any nail. In the past, only wealthy people could build these types of yards due to the high costs of wood, labor, craft and design, he explained to Beijing Review.
He said he often wondered about the structure under the big roof and how it was supported. He didn't find the answer then, and the question lingered in his mind.
After eight years of working in Viet Nam, he came across a model of an ancient building made of wood when he visited a private museum on Chinese architecture in Shanghai in 2013, which brought back images of the old wooden structure in his hometown.
Later, he decided to devote himself to making wooden models of ancient buildings that can be taken apart and reassembled. "I hoped to unveil the secrets of these buildings to let people experience the fun of learning about ancient structures," Liu said.
His family and friends did not like the idea. They thought the business would be unsuccessful since few people knew about or had an interest in old architecture. Besides, Liu had no knowledge of the field. But he didn't listen to them since he felt a special connection from his childhood calling him.
After crash courses in architecture and construction, Liu started making dougong, a system of nailless wooden bracket sets, because of their extensive use and importance. The brackets can support roofs with interlocked wooden joints known as sunmao, or mortise and tenon, fitting to columns and pillars. "Dougong is the best application of sunmao, which is visually compelling and highly complex," he stressed.
Since then, Liu has launched nearly 40 products on Taobao, the e-commerce platform operated by Alibaba, gaining recognition from industry insiders and success with consumers. These toy blocks with Chinese cultural heritage are also a way for the public to develop an interest in traditional architecture.
The model of Nanchan Temple built in the Tang Dynasty (618-907) in Shanxi, which is the oldest surviving wooden building in China, is the bestseller in the shop. A consumer said it is easy to assemble the complex structure, which reveals the wisdom of ancient architects and workers. "The blocks made me realize there are many brackets in an ancient building that were overlooked by us. I am ready to buy more models of this kind to explore the charm of Chinese traditional architecture," she commented on Taobao.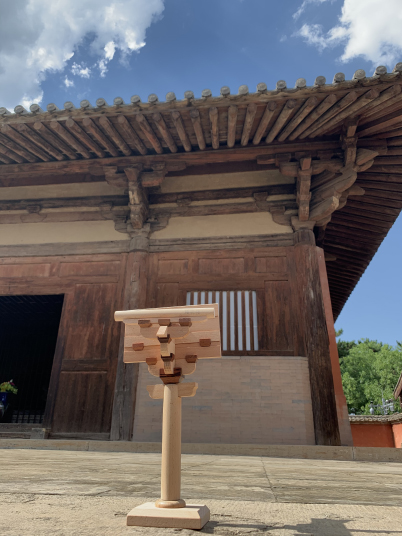 The Nanchan Temple in Shanxi Province, north China, built in the Tang Dynasty (618-907), is the oldest surviving wooden building in China
(COURTESY PHOTO)
Many secrets to uncover
As the most prominent wooden structure on Earth, the Forbidden City, home of emperors in the Ming and Qing dynasties (1368-1911) is an engineering marvel built before industrial technology. It is easy to find flower-shaped dougong brackets between the cross beams and underneath roofs dating back at least 2,000 years.
"Its application follows a hierarchy. In places of supreme power, we can see the most complicated dougong," Liu said.
Since August, Liu visited the Forbidden City, or the Palace Museum, twice in preparation for a new dougong design. While walking around the compound, he took photos and notes that he will use to inspect and upgrade his blocks.
In Secrets of China's Forbidden City, a BBC documentary, Jonathan Dugdale, an architecture historian, said that at first glance, the dougong looks like an elaborate decorative feature. However, the unique design is the structural key to every Forbidden City building.
The complicated dougong brackets extend to the exterior to support the eaves as well as the roof. They sit on large beams and attach to other parts and are supported by tall columns. But the columns are not dug into the earth; they are freestanding. "All these structural parts bear the roof's immense weight. For a large hall, it can weigh some 1,800 tons," Dugdale said in the documentary.
In the same documentary, Zhou Qian, a seismologist at the Palace Museum, and his colleagues conducted a test to see how the intricate Palace Museum buildings react to earthquakes and what magnitude of quake they can survive. They made a model to replicate the Palace of Longevity and Health (also known as Shoukang Palace) at a scale of one to five, using traditional tools and techniques.
The test showed that the wood frame can survive a quake of up to 10.1 magnitude. The structures with dougong can absorb the shock from the earthquake, much as a shock absorber in a car. Thanks to the brackets, the 600-year-old palace has already withstood nearly 200 earthquakes.
Zhou said that although quakes are unpredictable and a frequent occurrence, posing a great threat to the Forbidden City's cultural heritage, the designers and workers had a lot of experience with them, which helped shape the buildings.
"Our ancestors focused more on the practical value of houses, but today, we should pay more attention to aesthetics when we make the blocks. We hope they will have a cultural heritage function rather be just a scaled building," Liu said, adding that his products are not simple restorations.
Another reason for his field research is that many dougong design drawings have not been preserved, while the design of some brackets was changed. So Liu and his team have to survey and draw different sites as well as consult with local carpenters and experts. They also need to read a large number of documents to understand the political, economic and artistic development of the corresponding dynasty, as well as the local customs.
During his travels in recent years, Liu has found that along with increased local government support, people's understanding and awareness of the protection of ancient buildings has been enhanced, to his delight.
Chinese Legos?
In 2019, the model of a temple in Hangzhou in Zhejiang Province, east China, won Liu the top award at the Taobao Market Festival, which is an annual activity for young merchants to display newly designed goods. During the festival, Liu's exhibition attracted many visitors, especially children, who likened his building block designs to Lego blocks.
"Compared to Lego, which has developed a complete line of plastic toys, our blocks are just getting started. There are many problems we need to solve, such as how to teach young people more about traditional Chinese
buildings and culture through better products based on traditional architecture crafts and designs," he said.
Instead of plastic, Liu insists on using wood, which he believes Chinese have a special affinity to. He said wood is both strong enough to shoulder a considerable amount of weight and flexible enough to survive adversity.
But the most significant difference is that exquisite Chinese buildings and profound history are the backbone of his blocks, Liu said. For instance, Shanxi is famous for preserved ancient architecture. It has over 18,000 remnants from different periods, including the oldest wooden multistory structure in the world: the Wooden Pagoda in Yingxian County built in 1056, along with the East Main Hall of the Foguang Temple, the highest surviving wooden building of the Tang Dynasty.
There are still many skilled people who support their families by building traditional wooden houses. In 2015, Liu scoured Shanxi for excellent carpenters before opening a factory in Hangzhou, the city where he lives.
Among them, he found his block factory director, who has participated in the restoration of many ancient buildings, measuring components and picking up on errors by touch alone.
"When we turn brackets into toys, we have to redesign and change the production method for mass production and to meet industrial standards," Liu said. For example, brackets improperly polished or with bad wood grain are discarded and errors during production are limited to below 0.25 mm. Mass production is expected to lower costs and final prices so that more families can afford the toys for their children.
Although the blocks are currently more popular among those with higher education and income, Liu said his products target children across the country. "When children in third- or fourth-tier cities and rural areas learn what dougong is, then we can say that traditional Chinese architecture and its culture have been revived in the new era," he said.
(Printed Edition Title: Ancient Wisdom, Modern Fun)
Copyedited by Rebeca Toledo
Comments to liqing@bjreview.com