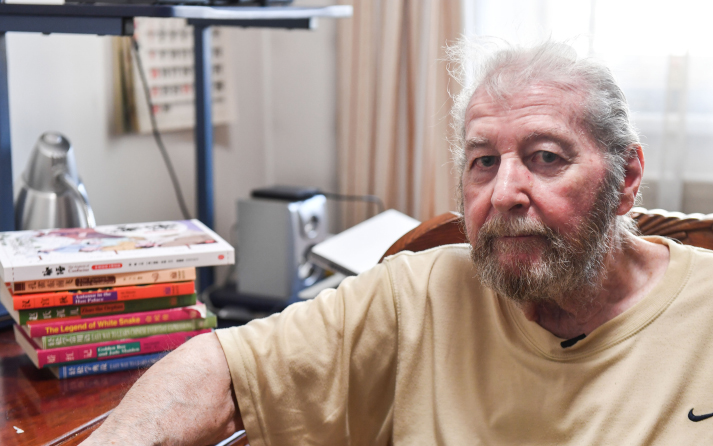 Paul White at his home in Beijing (WEI YAO)
When Paul White first came to Beijing, his plan was to stay for a year. That was in 1984. But now in 2019, "I'm still here," the 76-year-old said with a smile.
He arrived from Yorkshire, the UK, to work as a copyeditor for Xinhua News Agency, getting the job partly due to having studied Chinese as his major at the University of London. Decades later, he doesn't remember why he chose a language that was not so popular at that time. However, his relationship with China and Chinese culture has grown stronger and for many years, his work has been sharing Chinese thoughts with the outside world through translation.
His most recent translation is The Analects of Confucius, selected sayings of the Chinese philosopher, thought to have been compiled by his followers. It was jointly published by the Foreign Languages Press (FLP) and the New Channel International Education Group in June.
The earliest translations of the book were mostly done by foreign missionaries about 100 years ago. White's more modern translation is intended for ordinary people and the book also includes the original Chinese text and interpretations of it in Chinese and English. You can see how modern it is from the QR code on the back cover. Scan it and you will have the book read out to you in both Chinese and English.
"The language of the previous versions is old-fashioned. It needs to be updated to modern English, which is what I tried to do," White said, sitting in his apartment crammed with books. "In those days, the translation was done by scholars for other scholars, not for ordinary people."
He spent two months translating The Analects. He said it was not difficult because he had the help of other translators. Still, it was far from being an easy text as "old Chinese, especially in the time of Confucius, was written in a quite condensed style. Many words are missing."
He finds the sentiment and ideology of the ancient book surprisingly modern. "For instance, 'Do not do to others what you wouldn't want them to do to you.' That's a very modern concept."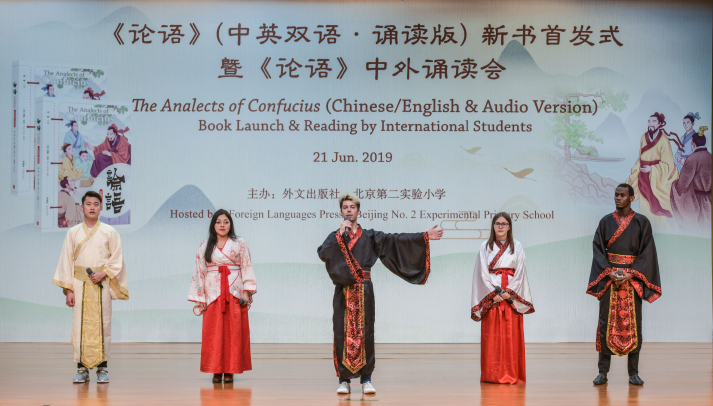 Foreign students studying in China recite from The Analects of Confucius at the launch of the Chinese-English and audio version of the book in Beijing in June (XINHUA)
A cultural ambassador
After his stint at Xinhua, White moved to the FLP and started to translate a little bit. But despite his Chinese major, he found his skills inadequate for Chinese-English translation in the beginning. So he continued to improve his Chinese and eventually got to the level where he could translate novels.
Over the years, he has translated a number of classics such as The Legend of White Snake, a novel based on a folk legend about a love story between a young man and a white snake written by Zhao Qingge in 1956 and made into a film and TV dramas. His portfolio also includes editing Compendium of Materia Medica, a Chinese encyclopedia of herbs compiled by Li Shizhen in the Ming Dynasty (1368-1644), and important government documents.
He was one of the copyeditors for Xi Jinping: The Governance of China, a collection of the speeches, letters and interviews of President Xi Jinping. He remembered the experience several years ago: "We stayed in a hotel for a month. It's quite a big book. There was no jargon in it. What impressed me the most is that it's a modern document and addresses the problems of today."
White said two things should be kept in mind while translating from a foreign language: the culture and the idiom of that language. "When you first start, the idiom of another language is quite puzzling. But when you get used to it, you realize there is some logic to these idioms," he said. "Some people translate word for word as if they are translating their own customs, their own background and their own history. In other people's words, it doesn't work."
In 2007, he was awarded the Friendship Award, China's highest honor given to a foreigner for contributing to the nation's development, and in 2017, he won the Special Book Award of China, China's top publication prize that honors foreigners for introducing Chinese culture abroad.
His own understanding of Chinese culture has improved in the course of his translations and editing. One of his discoveries is that a lot of modern Chinese words actually come from ancient books. For instance, the modern word for contradiction, maodun, comes from the ancient Chinese classic Hanfeizi, a collection of theories by legalist philosopher Han Fei.
He told a delightful anecdote from the treatise that gave birth to the word. A man selling spears (mao) and shields (dun) was exhorting people to buy his goods, saying, "Buy one of my shields; nothing can penetrate them. Buy one of my spears; they are so sharp they will penetrate anything."
And Han said, "Why don't you throw one of your spears at one of your shields?" The man was speechless.
A shield that nothing can penetrate and a spear that can penetrate anything cannot both exist at the same time. This is maodun, a contradiction.
"It is over 2,000 years old but still used today. No other country in the world as far as I know has that kind of continuity," White said.
Sending root in China
White has stayed on in China after retiring from the FLP. He goes to the UK once a year but it is the changes taking place in China every day that he said fascinate him.
When he first came to China, he found China "very poor"—things were very dusty, dust would come in anywhere through the windows and there were hardly any restaurants or supermarkets or anything like that. "Now they are all over the place, 24 hours. It's interesting to watch these changes taking place," he said.
A lot of things were rationed in those days. If you didn't have a ration coupon, you couldn't buy a winter coat or television set. "You wouldn't believe that this was China more than a few years ago," he said.
However, he said when he goes back to England, the only thing that changes over there is the price. Everything else is the same.
White said he will continue to improve his Chinese and translate. "I'll probably do it forever and improve, I hope, every day. There's only one way to learn Chinese characters. That's to see them every day. It's easy to learn the English alphabet. Two or three days, and you know it. But Chinese characters take a lifetime to learn."
He believes good translation is the way to transmit Chinese culture abroad. However, he is surprised to find that there are so few qualified translators in China. "A lot of Chinese can speak English very well but they cannot read their own language. They couldn't read Tao Te Ching (the Taoist philosophical text written by philosopher Lao Tzu) or The Book of Songs (the oldest collection of Chinese poetry, dating back to the 6th century B.C.)."
There is a large receptive audience for Chinese culture outside China, according to him. "Abroad, there are more people interested in ancient Chinese than you think, especially in the U.S.," he said.
Copyedited by Sudeshna Sarkar
Comments to jijing@bjreview.com