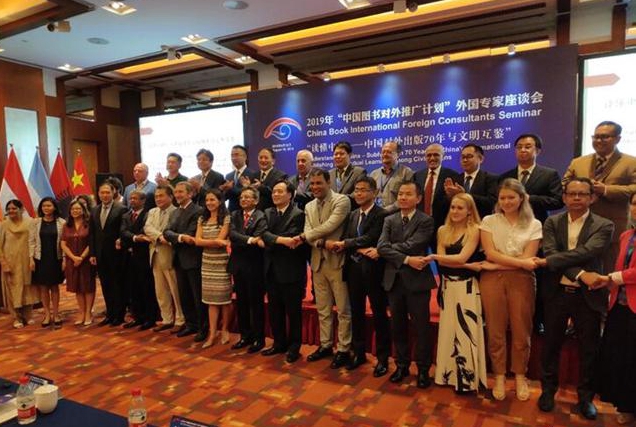 Participants take a group photo at a forum on international publishing cooperation in Beijing on August 19 (ZHOU LIN)
A forum organized by China International Publishing Group (CIPG) attracted the participation of some 200 Chinese and foreign experts in Beijing on August 19. The event, titled 70 Years of China's International Publishing and Mutual Learning Among Civilizations, covered discussions on topics such as international publication cooperation and mutual learning among Belt and Road participating countries.
CIPG, founded the same year as the People's Republic of China, has published over 80,000 titles in more than 40 languages, which have been distributed in over 180 countries and regions over the past seven decades.
CIPG Vice President Lu Cairong said at the forum that the publishing group has been committed to publishing Chinese books for overseas readers and has played an important role in promoting Chinese culture worldwide.
Ahmed Mohamed Elsaid Soliman, President of Wisdom House Cultural Investment Company in Egypt, said more and more books about China's history, culture and economy, along with Chinese TV dramas and films, are being introduced in countries participating in the Belt and Road Initiative, enabling them to better understand China.
As an important outcome of the forum, an international publishing cooperation mechanism was established by CIPG-affiliated publishing houses and China International Book Trading Corp. as well as publishing houses from over 20 countries. The mechanism aims to promote cultural exchanges by strengthening international publication cooperation.
Copyedited by Rebeca Toledo
Comments to jijing@bjreview.com