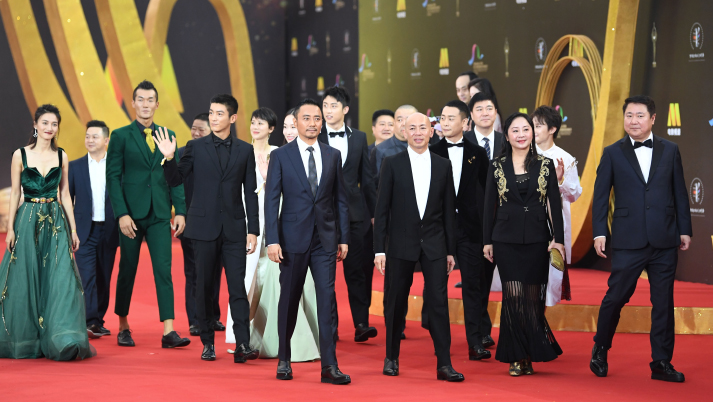 The cast of the 2016 Operation Mekong and Operation Red Sea, both directed by Dante Lam, at the 27th China Golden Rooster and Hundred Flowers Film Festival in Foshan City, south China's Guangdong Province, on November 10, 2018 (XINHUA)
In 2018, realistic films, which reflect contemporary Chinese lives and thinking, achieved immense success, as the popularity of Dying to Survive showed.
Directed by Wen Muye, the black comedy is based on the true story of Lu Yong, a leukemia patient from east China's Jiangsu Province. Lu sold affordable Indian anti-cancer drugs to fellow sufferers who were unable to buy the expensive medicines available in Chinese hospitals. However, though humane, it was also an illegal act since the Indian medicines were not authorized for sale in China. The moving film not only achieved commercial success, raking in 3.1 billion yuan ($456 million), but also prompted the government to extend medical insurance cover to more anti-cancer drugs.
In addition to Dying to Survive, a number of other realistic films performed well too. Director Dante Lam's military action film Operation Red Sea, based on a Chinese Navy special task force's mission to rescue Chinese citizens stranded in Yemen in 2015, earned 3.65 billion yuan ($530 million), becoming the top grosser in 2018.
In 2018, word of mouth showed growing influence on a film's box-office performance. More and more viewers began to watch movies following ratings on film-critiquing websites. Social media accelerated the spread of word of mouth. Films that enjoyed a good opening day were known to fall in revenue in the following days owing to poor reviews from audiences.
Social media also contributed to a film's success. Another black comedy, A Cool Fish, director Rao Xiaozhi's thriller about a security guard who pursues his sister's kidnapper, made only 9.19 million yuan ($1.35 million) on the first day of its release. However, it rose on the sixth day and remained among the top hits for 16 days, thanks to the word-of-mouth effect on social media.
"Unlike in the past, when A-list stars and aggressive marketing could lead to the success of a film, more and more films achieved high box office in 2018 because of the word-of-mouth effect and their quality," Rao Shuguang, General Secretary of the China Film Association, told the media. "This indicates the Chinese film industry has shifted from a focus on quantity to quality."
Another notable characteristic of the 2018 film market was the rise of new directors. Wen Muye, in his early 30s, debuted with Dying to Survive and won the Golden Horse Award for Best New Director in Taiwan. He also bagged the Director of the Year Award at the first Hainan International Film Festival in south China's island province of Hainan. Actor-turned-director Huang Bo's comedy The Island also performed well in the box office, earning 1.36 billion yuan ($200 million).
According to the China Theatrical Market Report by Maoyan, a Chinese film database and ticketing platform, new directors contributed 41 percent of the collection from the top 20 films in 2018.
Viewers queue up to buy tickets in a cinema in Taiyuan, north China's Shanxi Province, on February 16, 2018 (CNS PHOTO)
Home-grown advantage
The competitive edge of domestic films over Hollywood has increased. The revenue of domestic films reached 37.9 billion yuan ($5.58 billion), accounting for 62 percent of the total box-office revenue. The top four films in terms of box office were all domestic ones while Hollywood's superhero film Avengers: Infinity War came in fifth.
"Domestic films are now well-positioned to compete with their Hollywood counterparts in terms of diversity of genres, industrialization level as well as representation and social criticism," Liu Lu, a film scholar with Peking University, told Worker's Daily.
In addition to Hollywood films, there was a wider variety of imports, such as the Palme d'Or-winning Japanese film Shoplifters and hits from neighbor India's Bollywood, Dangal, The Secret Superstar and Hichki. China has a quota system for foreign films, with 34 films allowed to enter the Chinese market every year. However, foreign films can also enter China if domestic distribution companies purchase the rights to show the film or Chinese and foreign producers co-produce a film.
Film co-productions broke new ground in 2018, exemplified by The Meg, a science fiction action horror film. Co-produced by U.S. entertainment company Warner Bros. and China's Gravity Pictures, it was also partly shot in China and raked in 1.04 billion yuan ($153 million).
Slow but stable growth
China's box-office revenue set a new record of 60.98 billion yuan ($8.98 billion) in 2018, increasing 9 percent year on year, according to statistics from the State Film Administration (SFA). Over 9,000 new screens were added, bringing their total number to 60,079. According to the SFA, 1,082 films were produced in 2018 and 1.72 billion tickets sold, up 5.93 percent.
However, the growth rate of box-office revenue fell below 10 percent for the first time in three years as the Chinese film industry entered a period of stable growth after rapid expansion over the past decade. In 2012 China became the world's second largest film market with box-office earnings reaching 17.1 billion yuan ($2.5 billion).
The slower growth is partly attributable to the higher ticket prices. In October 2018, the film authorities introduced a new policy, scrapping subsidies for tickets sold online. Previously, audiences were able to buy tickets for as little as 9.9 yuan ($1.5) from cinema ticket-selling websites, thanks to subsidies from film producers, distributors and the websites. Film producers and distributors subsidized tickets as films with higher subsidies were given more screening slots by cinemas. Online ticket sales platforms offered low-priced tickets to grab a larger share of the market. However, the subsidies fostered unfair competition in recent years, resulting in mediocre films grossing high box-office takings.
Liu Fan, a researcher with the Chinese National Academy of Arts, told the media that canceling the ticket subsidies will hopefully prompt filmmakers to focus on creating high-quality content. Box-office takings of a film will now be decided increasingly by its quality, which will promote the healthy development of the film industry.
Copyedited by Sudeshna Sarkar
Comments to jijing@bjreview.com