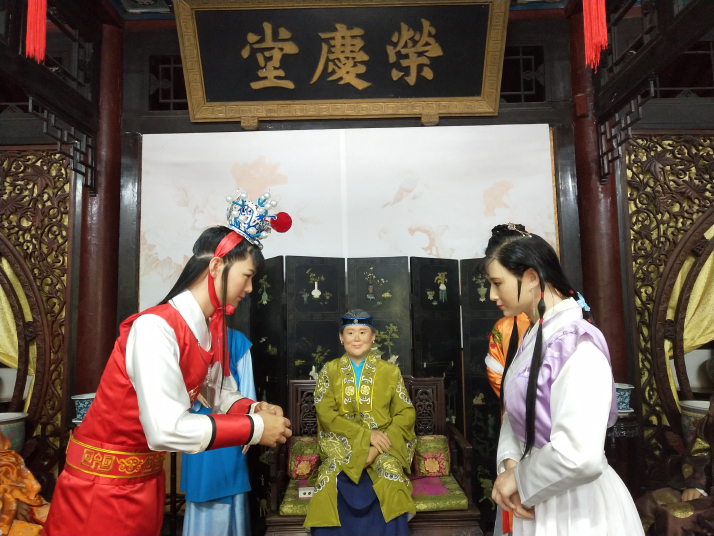 Wax statues in Rongguofu show the scene Jia Baoyu (left) being introduced to Lin Daiyu under Granny Jia's jovial gaze (COURTESY PHOTO)
As an ardent admirer of the Chinese novel Dream of the Red Chamber, I recently made a pilgrimage to Shijiazhuang City, capital of north China's Hebei Province, home to the Rongguofu, a complex of buildings built expressly for the filming of the famous Chinese TV series Dream of the Red Chamber. The series, based on the eponymous novel sometimes known as Dream of Red Mansions or Story of the Stone, was released in 1987. The novel, written by Cao Xueqin (1715-63) during the Qing Dynasty (1644-1911) in the mid-18th century, tells the story of the noble Jia family during its peak and its subsequent downfall.
It is one of China's four great classic novels and a household name for most seasoned expats in the country, along with Romance of the Three Kingdoms, Journey to the West and Water Margin. I love David Hawkes' masterful translation of Dream of the Red Chamber and have watched the 1987 TV series.
The plot revolves around a love triangle between Jia Baoyu, the Jia family's adolescent son who was born with a piece of jade in his mouth, and his two cousins. He forms a special bond with Lin Daiyu, who is physically frail but with whom he shares a lot of interests. But he is fated to marry another cousin named Xue Baochai, a well-tempered and sensible "Ms. Right" of the times and a foil to Lin Daiyu. The family's declining fortunes form the backdrop of this love triangle.
The TV series revived interest in the classic, and many visitors flocked to Rongguofu after the TV series debuted 31 years ago. In the visitors' center I saw an introductory film featuring some of the actors reminiscing about their experiences on set. One actress recalled how a scene had to be shot multiple times because the oil lamps attracted bugs which flew across the screen. The whole filming process took several months, but the actors had to undergo extensive prior training to adjust themselves to the mannerisms of the characters.
Rongguofu is similar to Beijing's Grand View Garden, where in the past I have had photos taken with actors portraying matriarch Granny Jia and Baoyu (true to character, the actor was playing on his cell phone in his spare time) during a Spring Festival pageant.
Rongguofu features stone landscapes, heavy wooden furniture and canopy beds. There are wax dolls of the novel's characters reenacting some of the scenes from the book. You can see Baoyu being disciplined by his father for not studying hard and playing around, or being introduced to Lin Daiyu under Granny Jia's jovial gaze. Another wax figure of Lin Daiyu has moving eyes, which startled me.
In particular, the character of Lin Daiyu in the TV series left a deep impression on me with her graceful, measured steps and tragic flair. I couldn't believe she managed to look so elegant even when flushing her mouth after a meal with tea (antiquity's equivalent to mouthwash). I was once told by someone in China that I look like her because of my willowy figure, although I would prefer to be compared to Xue Baochai since she has a luckier fate! I also recently "encountered" Lin Daiyu in famous Chinese writer Lin Yutang (1895-1976)'s Moment in Peking, where one of the characters, Hongyu, is an admirer of hers.
At Rongguofu there was also an exhibit honoring "redologists," scholars who specialize in the study of the novel, and a bust with background information on Cao Xueqin, the book's author whose noble family enjoyed close ties to the imperial household.
Although the 1987 TV series was made less than a decade after the start of China's reform and opening up, its advanced techniques, credibility and the way it conveys atmosphere are a triumph of Chinese TV programs and it is a true classic that has left its mark on Chinese culture.
I was amazed at the sheer amount of clothes, food, props and people used in the TV series that were combined into a harmonious whole. After all, the novel itself features a large cast of characters with 30 protagonists and over 400 minor roles. One could say that Dream of the Red Chamber provides a panorama of Qing Dynasty life. Although the story is not easily accessible to foreigners because of the remote cultural references and complex cast of characters, it conveys emotions that are universal and timeless: happiness, sorrow, unrequited love and, ultimately, submission to forces beyond one's control.
The author is an American living in Beijing
Copyedited by Laurence Coulton
Comments to dingying@bjreview.com