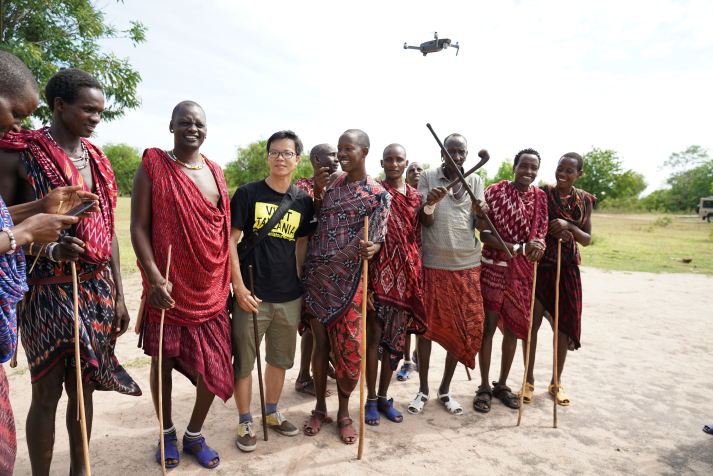 Film producer Zhang Yong takes a photo with some of the Massais he interviewed for his documentary in Tanzania on January 4 (COURTESY PHOTO)
An enthusiastic young man from Cameroon launches into a Chinese song in a local park, drawing admiring glances from fellow karaoke fans.
"Welcome to Beijing, where everyone has an extraordinary dream, where we dare to try to make miracles," he sings.
The performance was filmed for the big screen as part of the documentary Africans in Yiwu. The singer is Serge Hervea, a Cameroonian student at the College of Culture and International Education of Zhejiang Normal University, located in east China's Zhejiang Province.
"I really like singing and listening to music. But singing Chinese songs is not just a hobby for me, it's also a way to show that I live well in China," he says.
Shot over a two-year period, Africans in Yiwu is the work of Chinese and African directors: Zhang Yong, Director of the African Television and Film Research Center (ATFRC) at Zhejiang Normal University and Hodan Osman Abdi, Deputy Director of the ATFRC from Somalia.
The documentary consists of six episodes featuring 19 Africans living in China, including Hervea. They recount the ups and downs of their lives in China, and more generally talk about multiculturalism through topics such as education, marriage, business, public welfare, food and art.
Reflecting reality
Abdi first arrived in China in 2005. Now, 13 years later, she holds a Ph.D. in communications from Zhejiang University and is a silver-award winner of the third edition of the Chinese Bridge Chinese Language Proficiency Competition for Foreign College Students. In addition to being a professor at the Institute of African Studies of Zhejiang Normal University, Abdi is now also a presidential advisor to the Somali Government.
"My dream is to become a cultural messenger to help Chinese better understand Africa and Africans better understand China," said Abdi.
The documentary serves precisely this purpose. Abdi and her team followed the protagonists for two years to present their lives in the most realistic way possible. "Through these stories, we hope to inspire public reflection, not just give personal opinions," explained Abdi, who hopes the film will allow the Chinese public to gain a more objective view of African people.
The documentary was screened at the 2017 Zanzibar International Film Festival and was featured as an opening film at the 2017 Lusaka International Film Festival. It also won the award for best online documentary film in China in 2017.
Convinced of the usefulness of cinema in exploring and showcasing this topic, Zhang did not wait long to get back behind the camera. "We told the life stories of Africans in China in Africans in Yiwu. This time, we wanted to tell the story of Chinese people living in Africa," he told Beijing Review.
Thus, he took the same approach, but in a different location. His second documentary, TAZARA: A Journey Without an End, shows the impact of the Tanzania-Zambia Railway, a flagship project in Sino-African cooperation. For 38 days, the film crew—made up of filmmakers and researchers from Africa, China and Europe—traveled along the iconic railway.
Launched on December 30, 2017 at the Dar es Salaam Train Station—the starting point of the Tanzania-Zambia Railway—the documentary presents the testimony of more than 40 people who took part in the building of the railway.
"The construction of the Tanzania-Zambia Railway was the first time so many Chinese set foot in Africa. Overall, more than 50,000 Chinese engineers and technicians were dispatched to the continent at the time," said Zhang.
Open to traffic in July 1976 after six years of work, the railway starts in the Tanzanian capital Dar es Salaam and crosses through southern Tanzania up to Kapiri Mposhi, covering a distance of 1,860 km.
"The documentary TAZARA: A Journey Without an End aims to reflect how the railway has contributed to local development, as well as the problems that arose in an objective way. We hope to put forward solutions rather than partial criticisms," Zhang told Beijing Review. The documentary, which was coproduced by The Travel Channel, a TV channel of Hainan Broadcasting Group in south China's Hainan Province, also seeks to highlight the region's beautiful landscape, with the goal of promoting tourism along the railway. The first three episodes will be aired for the first time on television in early September, to coincide with the opening of the 2018 Forum on China-Africa Cooperation (FOCAC) Beijing Summit.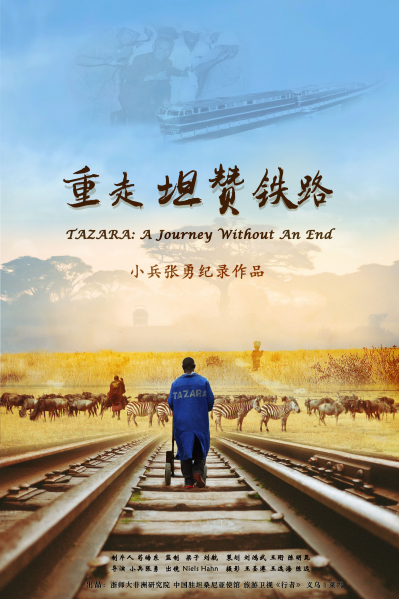 Promotional poster for the documentary film TAZARA: A Journey Without an End (COURTESY PHOTO)
Big project, small screen
At the 2015 FOCAC Johannesburg Summit, Chinese President Xi Jinping announced the launch of 10 major China-Africa cooperation plans for the following three years.
One of these projects dealt with people-to-people exchanges, with China building five cultural centers for Africa, facilitating access to satellite TV in 10,000 African villages and providing 30,000 scholarships to African students wishing to study in China. In addition, China made a commitment to sponsor visits by 200 African scholars and study trips by 500 young Africans to China every year, as well as to train 1,000 media workers annually. In order to improve connectivity and tourism cooperation, the project also planned to help open more direct flights between China and Africa.
Many of the projects are now underway. Chinese digital TV broadcasting company StarTimes was quick to set in motion the plan to help 10,000 African villages receive satellite TV access. After more than two years of preparation, the project was launched in a number of African countries in 2018 and is expected to be completed by the end of the year.
"It is a project that benefits African rural residents. It will not only enrich their cultural life, but will also deepen China-Africa cultural exchanges," said StarTimes President Pang Xinxi. The project was launched in Mozambique, providing satellite television to more than 500 villages. A month later, on June 7, the project expanded to Kenya, where more than 16,000 households in 800 villages benefited from free satellite television service.
According to Joe Mucheru, Kenyan Cabinet Secretary in the Ministry of Information, Communications and Techno-logy, the implementation of the project helped Kenyans, especially those in rural areas, "gain a window to the outside world."
Like Abdi, Zhang and StarTimes, thousands of Africans and Chinese people have contributed to Sino-African exchanges. Statistics show that since 2012, more than 300 activities and cooperation projects have been implemented in the field of people-to-people exchanges.
Copyedited by Francisco Little and Rebeca Toledo
Comments to yulintao@bjreview.com