Tony Mercer (left), producer and artistic director of the Imperial Ice Stars, Olga Sharutenko (center), who plays Odette, and Bogdan Berezenko, who plays Prince Siegfried, attend the launch ceremony of Swan Lake on Ice in Beijing on August 15 (COURTESY PHOTO)
Swan Lake on Ice, a show which integrates figure skating with ballet and is produced by the Imperial Ice Stars, the world's leading theatrical ice skating company, was staged at the Tianqiao Performing Arts Center in Beijing from August 15 to 19.
The Swan Lake ballet on which the show is based premiered in Moscow in 1877 and tells of a love story between Prince Siegfried and Odette. After coming under the spell of the evil sorcerer Von Rothbart, Odette appears as a swan during the day and a beautiful princess at night, and her unlikely romance with Siegfried develops into a tale of deceit, passion and sacrifice.
"Everybody knows Swan Lake through the ballet, I believe. I went to watch Marius Petipa's version in which the black swan and the white swan were performed by one person and thought this didn't make sense. I was enjoying the dance but I didn't understand the logic of the show," said Tony Mercer, producer and artistic director of the Imperial Ice Stars, at the launch ceremony of Swan Lake on Ice on August 15.
In having two different actresses perform the roles of the black and white swans, Mercer wants to enable the audience to feel for what is happening to each character and to understand why. "I just want to make this experience more enjoyable," he said.
The show uses the original musical score composed by Tchaikovsky, with new choreography by Mercer.
Based in Moscow and founded in 2004, the Imperial Ice Stars is made up of 26 Olympic, world, European and national championship-level skaters, who hold more than 250 competition medals altogether. In addition to Swan Lake on Ice, the theater company has produced other performances such as Sleeping Beauty on Ice, Cinderella on Ice and The Nutcracker on Ice. Since their debut 14 years ago, the Imperial Ice Stars have enthralled more than 4 million people in over 20 countries.
According to Mercer the goal of his company is to gather world leading figure skating athletes to present classical plays in the form of ice dance.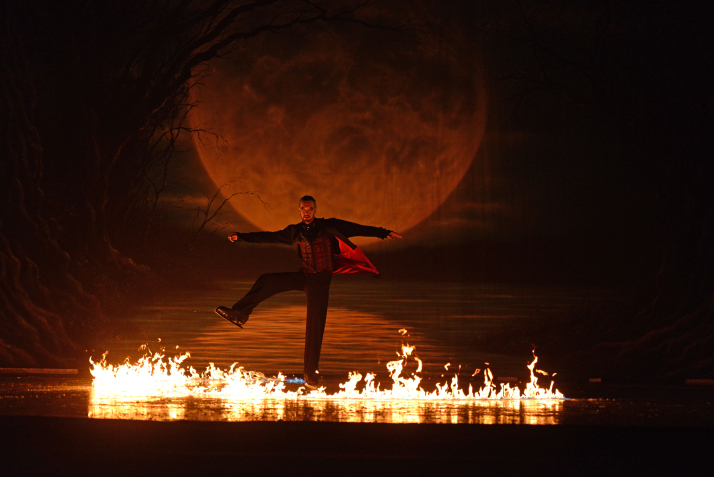 (COURTESY PHOTO)
Olga Sharutenko, a former Russian figure skater who plays the white swan Odette in the show, said that ice ballet is more difficult than ice sports and can be very dangerous.
The limited size of the stage, usually one eighth to one seventh that of a figure skating field, makes it more difficult to finish a move. Actors need to have total control over their speed and must be able to execute complicated moves such as spins, throws and lifts.
Having trained as a figure skater since the age of 6, 37-year-old Olga is as comfortable on the ice as she is on less slippery ground. She is also a trained ballet dancer, making her an ideal candidate for the Imperial Ice Stars.
"They make it look too easy. I, as the director, want them to fall sometimes, because then you understand just exactly how dangerous the show is," said Mercer.
When asked about how she manages to perform on ice without making any mistakes, Olga said: "We do training every day. When we have two shows, we will skate for one hour and 45 minutes and when we get one show, we skate for two hours."
"This guy is the craziest guy. If you allow him five hours, he will skate for five hours," said Mercer, referring to Bogdan Berezenko who plays Siegfried in the show.
Olga said that her team uses the language of figure skating to tell stories in addition to other techniques such as acrobatics. Some of their innovative moves are yet to even appear in international figure skating competitions, a testament to the level of skill possessed by her and her troupe.
Ice ballet also has special costume requirements, which must allow actors and actresses to move flexibly, as contact between the ice blade and the lower part of the costumes when actors are spinning may result in accidents.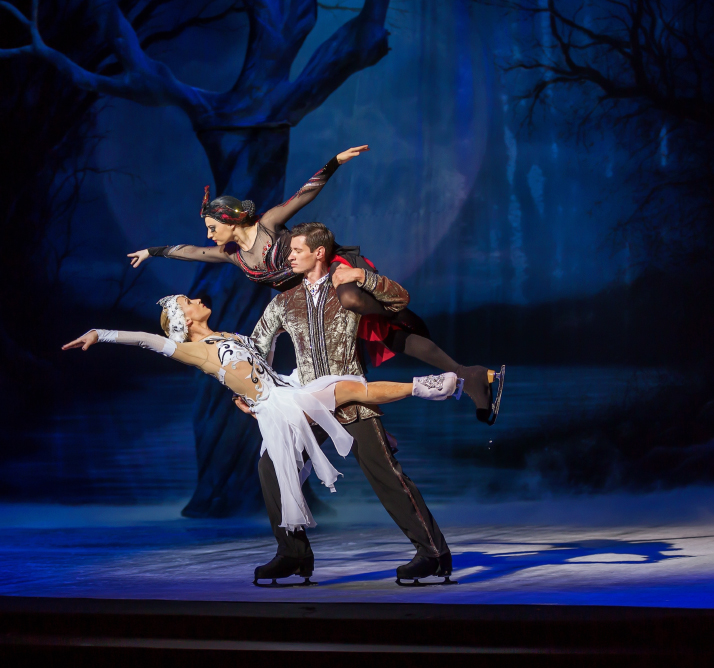 (COURTESY PHOTO)
The ice stage costs around £70,000 ($89,810) to £80,000 ($102,592), according to Mercer. To create the ice stage, 15-km ice making tubes and five tons of ice are laid beneath the site. Around 10 tons of water are then sprayed onto the ice continuously for 34 hours and frozen by the tubes, before finally an ice stage of 12-15 tons is formed. Chilling units are then required to keep the ice from melting.
As the stage is very thin in the first few days of the performance, the actors' blades sometimes cut through the ice making tubes, causing the liquid within to squirt out. When this happens, technicians are ready to rush on stage and can mend the damaged tube in 53 seconds.
"For me the most important thing is that the audience is going to enjoy it. They'll be amazed," Mercer said.
Copyedited by Laurence Coulton
Comments to jijing@bjreview.com