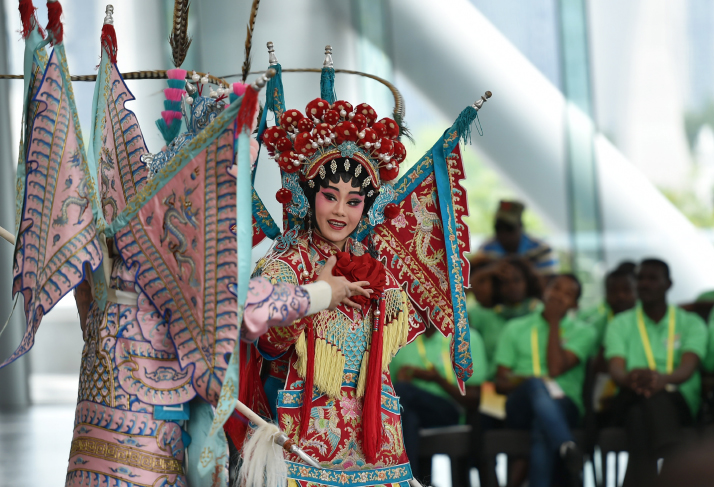 Two artists perform the Cantonese opera for a delegation from Africa in Guangzhou, capital city of south China's Guangdong Province, on August 4, 2016 (XINHUA)
Xie Cuilian is an amateur performer of Cantonese Opera. Following a lifelong passion for the traditional Chinese art form which involves acting, music, singing and martial arts, she has finally become a regular actress on the stage of the Guangzhou Cantonese Opera Art Museum.
Her love for Cantonese Opera began when she was just a girl, listening to the songs over the radio with her family. It wasn't long before she could recite the lyrics of the classic dramas and hum along to every tune.
The 68-year-old retiree most recently worked at a train station in Guangzhou, but once technological change allowed her to access videos online, she started to teach herself the carefully choreographed routines of the performers. She then joined an opera club and for the first time started to perform to an audience, even making her own intricately stitched costumes for different characters.
Enjoying the life of retirement, she performs once a week at the museum, in charity performances for nursing homes and at competitions of various levels, as well as attending parties with fans from Hong Kong and Macao.
"I never dreamed of getting on stage and having an audience before," Xie said. "There are many opera fans of my age in the club and at the museum. We don't have to be super professional to be here. We simply need to enjoy it."
The Guangzhou Cantonese Opera Art Museum was opened in June 2016 in order to preserve a traditional art form with a history of more than 500 years.
Opera revival
Located in the historical Liwan District, one of the city's oldest neighborhoods, the Guangzhou Cantonese Opera Art Museum is a major destination for Chinese opera aficionados. In addition to exhibitions, cultural activities and education services for the public, every Wednesday and Sunday see performers from private clubs give performances on the museum stage.
"Every time there is a performance here, the seats are fully occupied," Shao Hong, Deputy Director of the museum told Beijing Review on December 5, 2017. She went on to reveal that during weekends or festivals, it attracts an average of 2,000 tourists a day.
Liwan is sometimes regarded as the birthplace of Cantonese Opera and is hugely popular amongst enthusiasts, with over 3,000 living in the area and a total of 78 private opera clubs holding performances and activities across the district.
Every day a public performance is held on a stage in the center of the Liwan Lake Park, one of Guangzhou's most popular outdoor areas. "The performance is free for visitors," Wu Shaomin, an official of the publicity office in Liwan, told Beijing Review.
"The government sets up the stage and offers it for free to the performers, who are mostly from local opera clubs."
Wu revealed that the Liwan government provides 1 million yuan ($153,800) each year as a special fund for the inheritance and development of Cantonese Opera.
In March 2017, the local government also built a Cantonese Opera training center to encourage younger generations to get involved in this traditional cultural performance.
Strings of time
In May 2006, Cantonese Opera was listed as an article of national living cultural heritage, and later in September 2009, it was listed as intangible cultural heritage by UNESCO. UNESCO defines intangible cultural heritage as the practices, representations, expressions, as well as the knowledge and skills that communities, groups and, in some cases, individuals recognize as part of their cultural heritage.
However, Guangzhou's efforts in safeguarding the uniqueness of its local culture did not begin with Cantonese Opera.
The city established the Office of Intangible Cultural Heritage in March 2005 and the Center for the Protection of Intangible Cultural Heritage in February 2007 in order to manage and organize projects concerning the protection of cultural practices. For each article of cultural heritage, the center has nominated bearers and set up a special fund to help them promote and hand down their traditions.
Craftsman Chen Yimin is the nominated bearer for the making of the Lingnan (Guangdong)-style guqin, a traditional musical instrument with a history extending back around three millennia. Chen himself has dedicated himself to making the instrument for the past 30 years.
Before becoming acquainted with the guqin, Chen worked as a repairman in a textile factory, but in the early 1980s his life underwent a dramatic change. He was accompanying a friend from Hong Kong as he attempted to buy a guqin in Guangzhou when, despite their best efforts, they were unable to find any.
During their search, they learnt of a guqin master living in the city and decided their best bet was to pay him a visit. The master, who was 86 years old at the time, was amazed by Chen's skill and offered to teach him how to make the guqin in Lingnan style. From then on, crafting the instrument became Chen's new career.
"It is like a story from a martial arts novel where a hermit teaches a young man the secret of kungfu," Chen said. "Actually there are quite a few guqin masters that are also fans of martial arts, as guqin was an important symbol for the kungfu masters of ancient times."
Chen Jinzeng, 35, is Chen Yimin's apprentice. He came to his future master for the first time simply to ask his advice on where to buy a good quality guqin.
Chen Yimin replied, "Why don't you make one yourself?"
From that day Chen Jinzeng stayed with Chen Yimin and began making his own guqin, and now he even has apprentices of his own.
"Shortly after I learnt the skill with my master in 1980s, he passed away," Chen Yimin recalled. "Then I became the only one in Guangzhou at the time that could do this, a situation which lasted for a long time. I never felt lonely though because I love doing this."
The first step of making the instrument is to find a suitable piece of wood, before carving it into a smooth, svelte instrument. Once these steps are complete, the surface needs to be painted and the strings attached. The whole process takes more than a year to finish. The retail price is over 60,000 yuan ($9,230) for each guqin.
"Nowadays I have more than 30 apprentices and most of them are very young," Chen Yimin said. "I am happy to see so many young people interested in doing this."
Bright paintings
Su Xin is a pith painter who is taking more active steps in promoting the heritage she bears. Pith painting may be an art form that many people have never heard of, but it has been Su's primary pursuit for almost 10 years.
Pith, the material used to make the paper which is then painted on, comes from the spongy cellular tissue found in the central stem of a small tree indigenous to south China. In order to be processed for use in painting, it is cut by hand with a knife into thin sheets which are then dried, trimmed and used for painting without any further treatment.
Unlike other manufactured paper, the paint sits on the surface instead of sinking into the paper, and produces a bright effect that cannot be reproduced via other methods.
It is believed that pith was first used for painting in the early 19th century as a response to the growing demand for inexpensive, lightweight souvenirs following the massive growth in trade around that time. Guangzhou, an important port city then as it is now, was a bustling center for traders from all corners of the world.
To learn more about the history of pith painting, Su traveled to the places where the trees are grown and brought back samples of different types to study. She has also visited many scholars studying pith painting both in China and overseas.
"Most of the scholars focus on the historic role of the paintings, but I want to make it alive again now," Su told Beijing Review.
Su has spent years trying pith from different places and learning how to make the material in a more proficient and efficient way. Around 10 years ago after conducting a survey she discovered that only 3 to 8 percent of people had ever heard of pith painting, and it was then that she decided it was crucial to promote it to children.
In the first four years of this project, she focused on teaching the skill of making the pith itself.
"Pith paper is more vulnerable, and students need to learn the nature of it and how not to waste it. It is a way of talking with nature," Su said.
During the following six years she focused her teaching on the skill of applying paint to its surface.
Now, more than 70 kindergartens, primary schools and middle schools in Guangzhou have taken pith painting classes, involving more than 100,000 students.
Su has since turned her attention to compiling books on teaching children about pith painting, and finding new ways to promote the art form in more innovative ways.
"Pith painting is a part of the memory of Guangzhou," Su said. "With further promotion, it will also be a vivid way to record the present and future of the city as well."
(Reporting from Guangzhou, Guangdong Province)
Copyedited by Chris Surtees
Comments to yuanyuan@bjreview.com