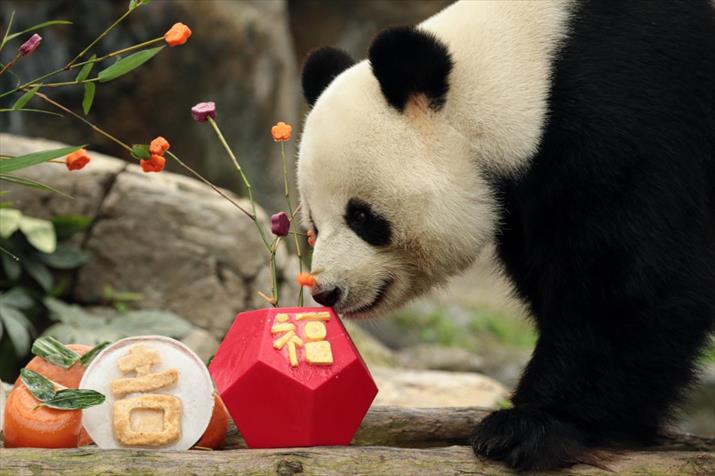 Le Le enjoys a feast at Ocean Park Hong Kong on January 16 (XINHUA)
When celebrations started in 1999 to mark the second anniversary of Hong Kong's return to China, the special administrative region (SAR) received a gift from the Central Government—a pair of giant pandas, An An and Jia Jia. And that was the start of a closer relationship between the coastal city and the home of the rare animals—Sichuan Province—in southwest China.
The new arrivals were settled in Ocean Park Hong Kong, a popular amusement park, marine mammal park and animal-themed park as well as oceanarium rolled into one, where the authorities built a suitable habitat for them, simulating their home environment in Sichuan. A special team was entrusted with looking after the pair. They not only provide regular medical checkups for them but also speak to them in Mandarin, Cantonese and English to help them adapt to life in Hong Kong.
The arrival of An An and Jia Jia has brought more smiles to the residents of this metropolis. Every year, more than 1 million people flock to Ocean Park to watch their antics. Their arrival has also helped increase local awareness of the need for panda protection. Along with An An and Jia Jia's taking up residence in Hong Kong, the Hong Kong Society for Panda Conservation was established. Later, when there were plans to build a panda hospital in Wolong, Sichuan, the society donated 1 million HK dollars ($128,051) to the project. The hospital started operating in 2003.
The pandas have become a new channel for people-to-people exchange between Hong Kong and Sichuan, promoting scientific and business cooperation as well as cultural exchange. Many researchers travel between the two places for studies and more and more Hong Kong residents have begun visiting Sichuan to see the home of the panda.
In 2007, the Ocean Park duo welcomed two more companions, Ying Ying and Le Le, when the Central Government gifted the new pair to Hong Kong to mark the 10th anniversary of the city's return. The quartet became perhaps the brightest stars of Ocean Park.
Less than a year after that, Sichuan was hit by a devastating earthquake. The 8-magnitude temblor on May 12, 2008 caused huge casualties and damage, affecting nearly 83 percent of panda habitats. The panda breeding center in Wolong and some field stations were destroyed, hampering patrols and research.
Once again Hong Kong reached out. The Hong Kong SAR Government donated 1.422 billion yuan ($209 million) for 23 reconstruction projects, including restoring panda habitats, upgrading research and protection and improving infrastructure.
With Hong Kong's assistance, the reconstruction of the Wolong Shenshuping Panda Base and Dujiangyan Panda Base as well as a field observation station have been completed.
On May 11, 2016, on the eighth anniversary of the earthquake, then Hong Kong SAR Chief Secretary for Administration Lam Cheng Yuet-ngor visited the newly opened panda garden at the Shenshuping base, attending the opening ceremony with 80 delegates from Hong Kong. The garden, sprawling over nearly 19,844 square meters, is another milestone project in Sichuan's post-earthquake reconstruction effort with Hong Kong's support.
The garden has been serving as a multi-functional panda rescue and disease control center, equipped with laboratories, a veterinary hospital, monitoring and isolation facilities and giant panda enclosures. It also has an education and a tourist center. The Hong Kong SAR Government donated more than 221.7 million yuan ($34 million) toward this project and in appreciation of Hong Kong's support for post-earthquake reconstruction, the garden is open to Hong Kong residents for free.
On May 13, the City University of Hong Kong opened its Chengdu Research Institute. The university, Ocean Park and the China Conservation and Research Center for the Giant Panda have signed a trilateral memorandum to strengthen cooperation and exchange in the field of panda-related veterinary research.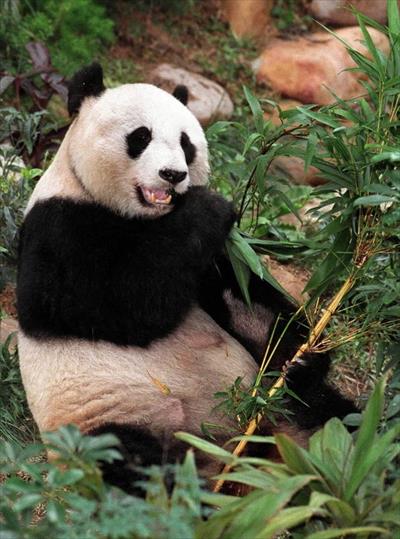 Panda An An has a big meal at his new habitat in Hong Kong Ocean Park on May 17 (XINHUA)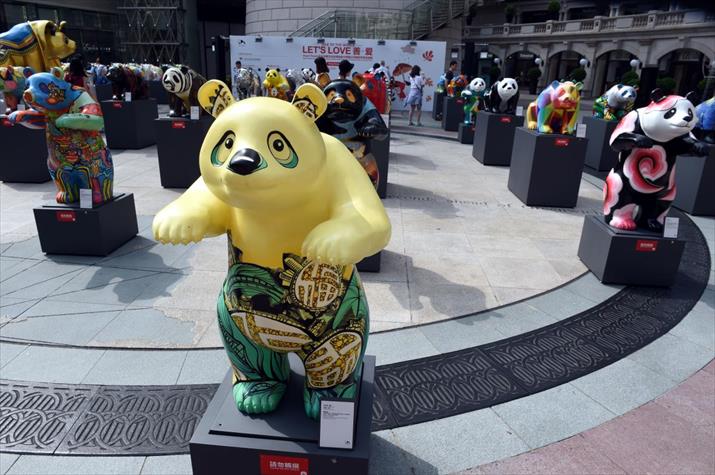 A public art show on the giant panda in Hong Kong on October 29, 2015 (XINHUA)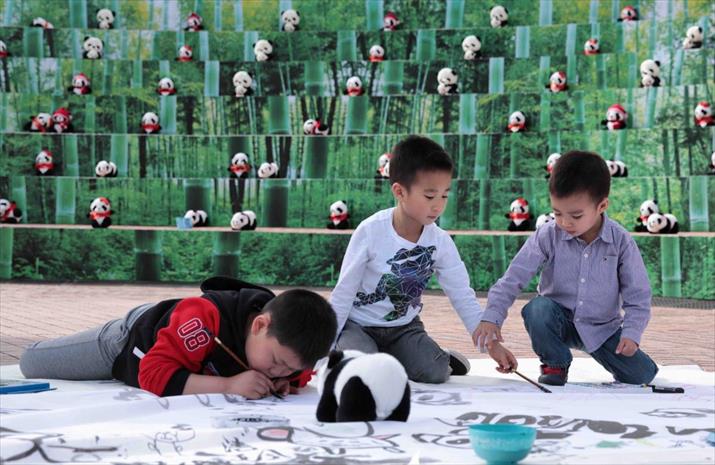 Children paint pandas as part of a 100-meter painting during the 2017 Spring Festival temple fair in Hong Kong on February 4 (XINHUA)
(Photos by Xinhua)
Copyedited by Sudeshna Sarkar
Comments to yulintao@bjreview.com