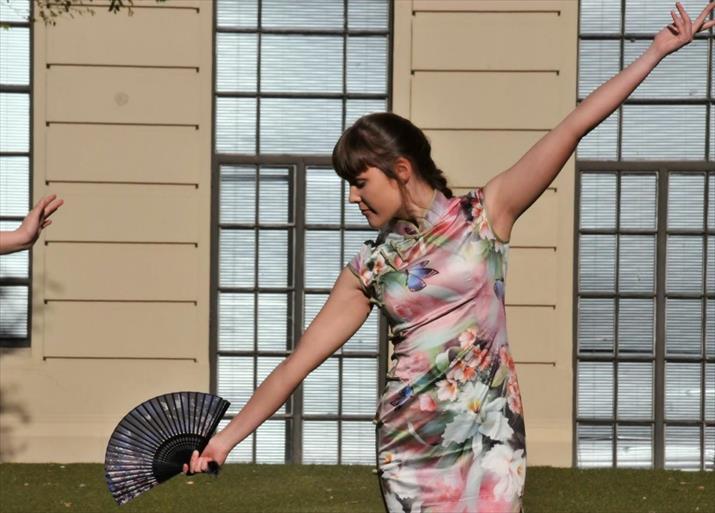 A local student showcases qipao, a traditional Chinese dress, in Wellington, New Zealand, on May 6 during the 2017 China Culture Week (XINHUA)
No phone battery, two kuai, and lost in Chaoyang amidst a sea of words and sounds that slipped one after another through my fingers. How was I going to get home?
I graduated with a neuroscience degree in the South Island of New Zealand in 2012, and have been working toward my medical degree ever since. After five years of science, though, I was craving something different.
Despite being born in Singapore, I never picked up much Chinese, and had struggled in New Zealand to find the time to learn the language around the madness of working and studying. Although it was mostly a hobby, I've loved learning it and stuck with it. The characters are pictographic, yet as abstract as an inkblot test—the rigid tones clash marvelously with an English speaker's attempts to convey emotion through pitch, and the task that faces you is totally removed from the Latin roots you have spent your life cultivating.
For some, that may understandably seem daunting, but the sheer challenge only pushes you on and hints at the rich history and wealth of knowledge on the other side. Chinese teaches you to adapt.
Throughout 2016, I increasingly realized just how important an understanding of Chinese culture is in my life. Chinese people are the largest minority demographic in New Zealand, and will undoubtedly be among my future patients. Furthermore, they are the force behind a country which has risen to become one of the most influential in the world.
Seemingly by fate, I found myself browsing article after article on China-New Zealand partnerships in agriculture, healthcare and much more. I was intrigued. Surely there was ample cutting-edge research on both sides? With so much scientific talent in New Zealand and China, what powerful new breakthroughs could we make through working together?
I am passionate about communication, and have spoken publicly and on the radio about the importance of scientists finding the right words to share their insider knowledge. Cogs turning in my brain, I began churning out ideas to foster new collaborations.
There was a crucial first step that I needed to take though. It started with signing mandatory papers for a gap year from medical school and gambling with my career—there was no guaranteed re-entry. To progress, I had to relinquish my former communication skills and start over. I needed to find my own words—in Chinese. I wrote an application for Tsinghua University, applied for scholarships, and stared at the ceiling all night.
Stepping into China is an Alice in Wonderland-like experience that shrinks you back into your long-forgotten childhood. Although I knew some Chinese, it didn't prepare me for the speaking velocity, accents, and sheer verbosity of the language, drowning me in it.
When one is a child, before you know language, you are simply surrounded by things you don't know. You had questions you couldn't ask, you fixated obstinately on things you couldn't read, and you listened to gibberish while analyzing expressions frantically for meaning. In China, I discovered the feeling of being totally foreign in a world that was totally foreign to me.
In New Zealand we thrive without ever needing to learn a language beyond our first. Though I understood factually what it meant to be essentially illiterate and unintelligible, the experience in reality is far removed from imagination. Everybody, everywhere, should at some point try to place themselves in such a situation, so that we might find some real empathy with others paddling in the same canoe.
Unbelievably, I found out recently that my great grandfather was a Chinese New Zealander, and his father had emigrated from the province of Guangdong. What was life like for him, stepping into a foreign country that he and other early Chinese settlers ultimately helped to build?
Thanks to the support of scholarships from Education New Zealand and the Confucius Institute, I have been able to chase incredible opportunities and experiences, such as acting as liaison officer at the New Zealand Center at Peking University, joining a think-tank event for a charity for hearing-impaired children, and much more.
I did finally find my bearings with the help of friendly locals, and even had some great chatter on the train home. One by one, I am finding those words.
The author is a New Zealander living in Beijing
Copyedited by Dominic James Madar
Comments to yanwei@bjreview.com