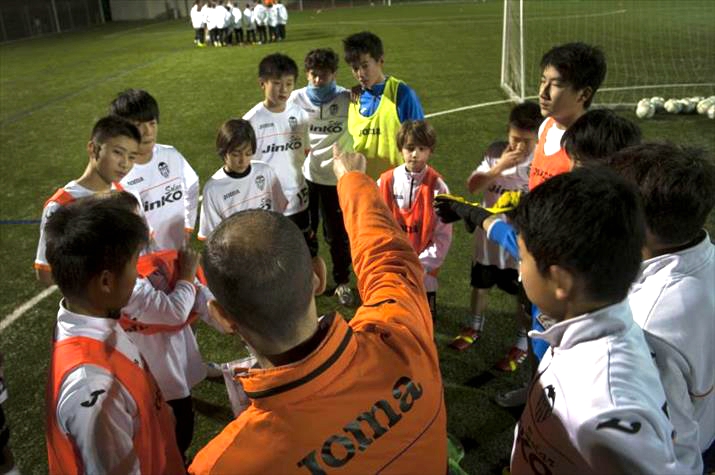 Chinese young soccer players receive trainings in Spain in 2014 (XINHUA)
When Zhu Hui sat down to watch the match between China and Iran on the night of March 28, there was little optimism about the chances of the Chinese national team. They had lost almost all their group matches, and only a surprise victory over South Korea a week earlier had kept their hopes alive of surviving the qualifying rounds to reach the 2018 FIFA World Cup.
"China's fledgling revival under Marcello Lippi will be tested by the strong Iranian team in the World Cup qualifying match on March 28," the headlines screamed, and the fears were proved to be well-founded when Iran won 1-0.
But Zhu, a professional football coach, finds a silver lining in the defeat. "I am actually satisfied," said the 35-year-old, who coaches at Lehuo, a private football club in Beijing. "We did lose the match, but I could see the morale of the team, and the players' technique has improved greatly. The China Football Association (CFA) has made great efforts, starting with inviting Lippi to coach the national team. Developing football takes a long time. We must be patient."
In the past, the men's national team qualified for the World Cup as early as 2002, but since then, there has been little progress.
The failure is prompting the football authorities to look for different measures. In 2016, Lippi, who coached the Italian team to victory in the 2006 World Cup and was named one of the best 50 coaches by Time, was appointed to guide the Chinese team.
Now the focus is on grooming talent in campuses, starting from primary schools.
In January, the CFA released a strategy, the 165 Action Plan, to promote youth football Under the plan, youth training institutions will be developed as well as a home-and-away football league and a training platform for young footballers in foreign countries.
As part of the plan, a "Legend Guidance Group" has been formed. It consists of domestic soccer veterans, ranging from former professional players and coaches to referees and other officials. Their task is to mentor campus soccer teams.
In March, the Ministry of Education (MOE) and the CFA launched a new national super league comprising campus soccer teams, teams from professional football schools and sports schools, professional clubs and local sports bureaus. There are three categories of players: under-14s, U-15s and U-16s. The tournaments will continue till September as part of the national plan to discover young talent and develop China into a major football-playing country.
"This is in line with the government's resolution to cultivate young soccer players at the community level," said Tang Feng, Director of CFA's Department of Youth Soccer. The super league system, he added, will link campus soccer with the football training system for youngsters and create a smooth transfer of young football talent onto professional pitches.
Chen Baosheng, Minister of Education, said the super league will be an important platform linking campus soccer with the youth training system. "It will be an important opportunity for young players to become professional soccer athletes," he said.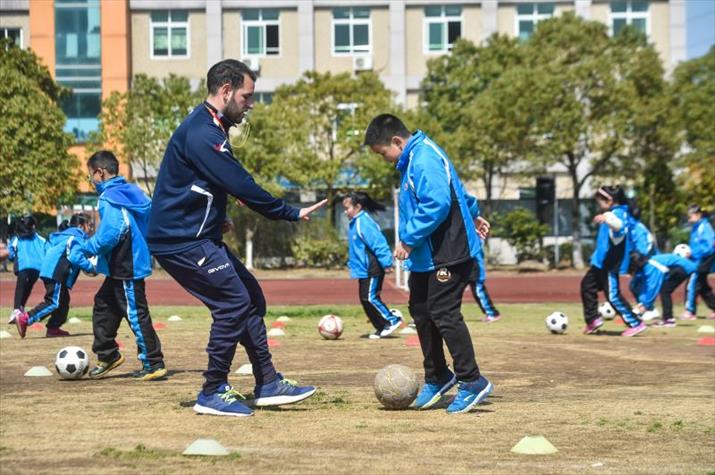 A soccer coach from Italy teaches students at a primary school in Changxing County, Zhejiang Province (XINHUA)
Catch 'em young
In April 2016, CFA unveiled a plan for soccer development, with an emphasis on schools. The goal is to get 50 million children and adults playing soccer regularly by 2020, have a top-notch national team by 2030, and make China a global soccer power by 2050.
This February, MOE said the government would help 20,000 primary and middle schools strengthen their soccer education by the end of the year. Another 30,000 will be added by 2025. Besides, pilot projects in developing campus soccer will be launched in around 30 districts or counties by this year.
Wang Dengfeng, CFA Vice President, explained the plan: "On average, each school can train 1,000 young players. With 50,000 soccer schools, we can have 50 million young soccer players in the future. This is a solid way to select soccer talent for our future reserves."
Zhu Hui's football club Lehuo, founded in 2009, takes in children as young as 3 years old. The upper age limit is 13. Zhu attributes the low growth of football in China to the lack of proper football education for teenagers. "We provide football education for teenagers and encourage them to play football so that their level can be improved," he said. "The new league match plan will have a game-changing influence."
Haidian District, where Lehuo is located, has been selected to be an experimental zone for youth soccer as some of the nation's top universities are located here, like Peking University and Tsinghua University. There are some top middle schools as well, such as the High School affiliated to Renmin University of China, and Beijing 101 Middle School.
According to the National Youth Campus Soccer Working Group, a governmental body managing campus soccer, in 2016, there were over 13,300 schools with soccer classes. Besides, 69 counties were piloting soccer programs.
However, despite the programs, the development of campus soccer faces several obstacles. A lack of professional coaches is a major barrier.
In 2014, a national training plan was drafted to train soccer coaches for soccer schools. Physical education teachers, soccer coaches, referees and management personnel received the training in 2015. Within the year, 6,000 soccer coaches were sent to local schools.
However, though 2016 saw 16,000 personnel trained, including campus coaches and referees, and another 115 foreign soccer coaches hired by schools, personnel scarcity still remains a major obstacle.
Deng Shijun, a soccer coach in Wuhan, central China's Hubei Province, told Beijing Review the scarcity was causing slow growth and low performance of community-level young players.
"One important reason is shortage of funds," Deng said, calling the current annual 56-million-yuan ($8.12 million) funding support insufficient and leading to low salaries for school coaches. "Many coaches and other personnel finally chose to leave," Deng said.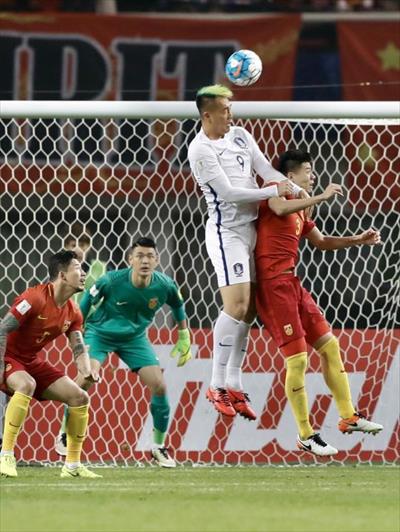 The Chinese ­national soccer team defeats the South Korean team by 1:0 at a World Cup qualifier on March 23 in Changsha, Hunan Province (XINHUA)
Degree vs training
Due to the scarcity of professional teachers and coaches in schools, young players looking to further develop their game have to join professional clubs. Though these clubs can provide professional coaches and training, they rarely offer quality education. Consequently, many students choose to quit soccer for mainstream education.
Wan Runxuan is a 6-year-old who scored the winning goal for his team at a match last month. His Sundays are dedicated to football where he receives training from his club for two hours and plays matches, if there are any. His parents pay 400-500 yuan ($58-72) a month for his club membership.
The remaining six days are packed with studies and non-football extracurricular activities. In the morning he goes to school and after school, there are piano lessons, extra coaching for English and science, taekwondo, swimming and more. All of this costs money. Bringing up a child is an expensive proposition as parents say the competition is fierce and children have to attain extra qualifications to do well in their career. And most parents insist on education first.
Would Wan's parents like him to be a professional football player? His father Wan Di, a fund manager, says if he proves to be talented in football, they are open to the idea but it doesn't mean his son can drop out of school. "To be a top football player or basketball player or for any other sophisticated sports, you need also to be very smart and well educated," Wan Di said.
However, he sees the importance of football in people's daily life: "Though most people do not make football their profession, it is important not only to stay healthy but for teamwork and developing strength to accept challenges."
Runxuan's mother Liu Yunyun, on the other hand, has distinct misgivings about a football career. "I have the impression that football is a violent game," she said. "There are often physical confrontations. I don't want my son to break his bones."
CFA's Wang said the authorities have noticed the dilemma and are designing policies to integrate professional soccer training with education. "The ultimate goal for the development of campus soccer is to combine soccer talent with academic success," he added.
Making changes
The campus soccer program was started after Beijing hosted the 2008 Olympic Games. However, it made little progress and in 2015, the Central Government unveiled the Overall Plan of Chinese Soccer Reform and Development, making MOE responsible for campus soccer. MOE set up a National Youth Campus Soccer Working Group and campus soccer grew.
In two years, a four-tier campus soccer competition system has been established in primary, secondary and high schools and colleges. Last year, 952 matches were held for the high school and college leagues. More than 7,500 high school and college students participated.
Another important step to develop national soccer is the directive to give opportunities to young Chinese players and limit the number of foreign players, who are being hired and paid astronomical salaries by domestic clubs.
The CFA has laid down that super league clubs must have at least one Chinese player under 23 playing in a match during the new competition season. Also, a team can have three foreign players at most. Before, the number was four.
Copyedited by Sudeshna Sarkar
Comments to yinpumin@bjreview.com