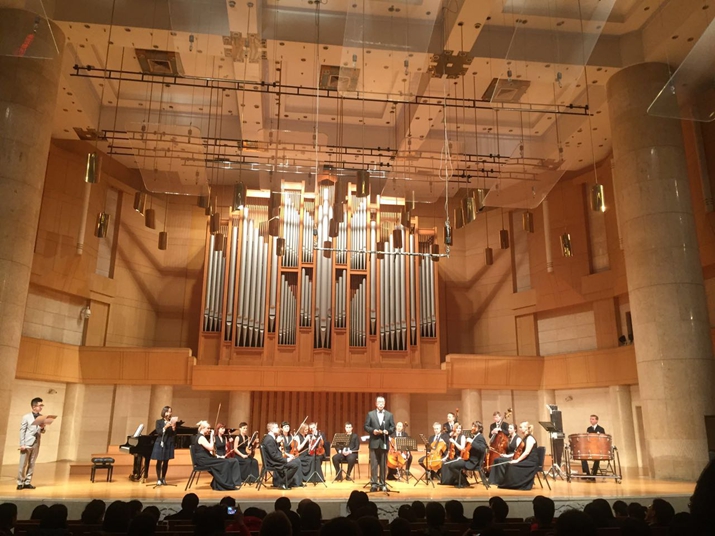 Wang Ning, Vice Mayor of Beijing, makes a remark before the concert starts (PAN XIAOQIAO)
A concert by the Tallinn Chamber Orchestra and Estonian Philharmonic Chamber Choir was held in the Forbidden City Concert Hall in Beijing on November 19. This will be followed by performances in central China's Wuhan and Changsha, as well as in Shanghai.
Recent years have witnessed a booming of cultural and artistic communication between Beijing and Tallinn, capital of Estonia. The two cities signed a cooperation agreement back in 2008 to pave the way forward. Since 2009, Beijing has sent art groups to Tallinn for Spring Festival celebrations every year. In 2014, the Tallinn orchestra made a successful performance tour in China.
Wang Ning, Vice Mayor of Beijing, said that cultural exchanges play an important role in promoting friendship between Beijing and Tallinn, and also between China and Estonia.
Marten Kokk, Estonian Ambassador to China who attended the concert, said that performances from Chinese artists always attracted huge audiences in Tallinn and locals highly appreciate Chinese culture and traditions.
To mark the 25th anniversary of the establishment of diplomatic relations between the two countries, the orchestra, along with the most well-known Estonian choir, presented the Chinese audience with works of famous Estonian composer Arvo Part, including the Grammy-winning piece Adam's Lament.
Copyedited by Dominic James Madar
Comments to panxiaoqiao@bjreview.com