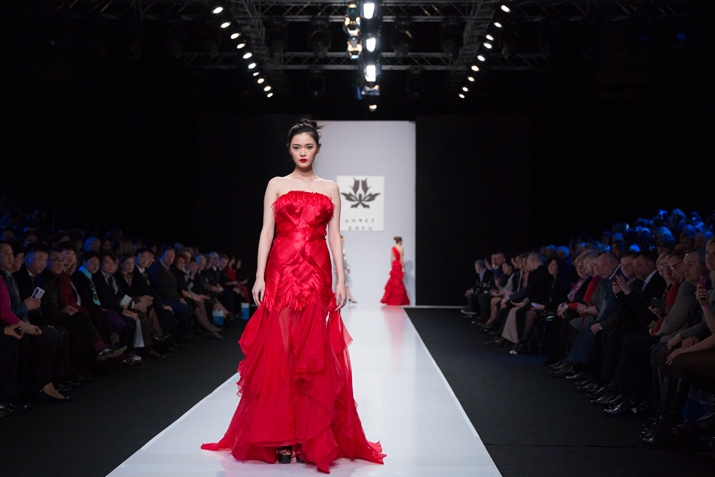 Grace Chen's red dress is displayed Moscow during a show in March (XINHUA)
If Grace Chen had not watched Vivien Leigh and Elizabeth Taylor in Hollywood films of the 1930s and '60s as a schoolgirl, her life could have turned out differently. But it was as if fate took a hand in propelling her to become a fashion designer, with her father, a college teacher who was deeply interested in art, encouraging his two daughters to explore all creative channels.
"I started doing calligraphy when I was 4," the 45-year-old said, keeping the conversation going while posing for photographers at an event in Beijing. "We explored a lot of art and movies, especially Hollywood, and I was mesmerized by the beautifully dressed leading ladies like Leigh and Taylor. So from a very early age, I decided I wanted to be someone who could create those sorts of women. I never changed in what I wanted to do."
Unorthodox step
As a schoolgirl Chen drew a lot, sketching wardrobes with fantastic outfits. After finishing school, she decided to study fashion designing and, despite the times when such career choices were regarded as unorthodox, her parents welcomed her decision. So after a stint in Beijing, she was off to the premier Fashion Institute of Technology in New York City, a long way from Anhui Province of east China, where she came from. "It was in the early '90s and I was the first student from the Chinese mainland," she recalled. "It was a groundbreaking experience."
After working and living in New York City and Los Angeles for 15 years, where she mostly created evening wear for international houses like Tadashi Shoji, the America-based Japanese designing house, she saw her outfits bought by celebrities like Hollywood diva Helen Mirren and Oprah Winfrey and she thought the time was ripe to return home and establish her own label.
"I wanted to design for Chinese women, to create a brand that is from China but successful internationally," she said. "I have lived and worked in Beijing, New York, Los Angeles and Shanghai. I can give all my unique perceptions to my clothes. I wanted to be the Chanel of China."
In 2009, she founded her own Grace Chen label. Despite the international financial crisis that had started the year before, it was still a good time for a China-centric venture since China's economy was growing by 8.7 percent and Chinese consumers still had the money and the inclination to splurge. In 2012, Chen opened her studio and a store at Beijing Yintai Center, a prime business location in the capital, and in July this year, her impressive headquarters in Shanghai, the House of Grace Chen in the business capital's former French Concession, was opened.
Chen calls her signature look a combination of elegance and strength. "Softness and strength, we have to have both," she explained her work. "All women should have sexiness and grace but the look has to be proper and reserved at the same time, not blatantly sexy."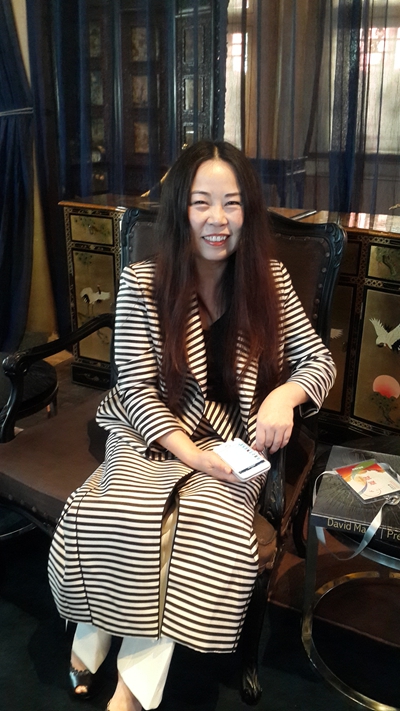 Grace Chen (COURTESY OF GRACE CHEN)
Red haute
In 2013, she did a show where she introduced the "little red dress," her variation of the "little black dress." "It was so well received," she said with a lot of satisfaction. "Red is the best color for Chinese women, complimenting their skin tone and figure. Red is also the color of the Chinese culture, and is present in major events like weddings, birthdays and celebrations. Red is the Chinese black."
Besides introducing the new evening wear concept, Chen focuses on dressing professional women. "The look is professional but very feminine at the same time," she said. "My style gives women confidence. I have a lot of celebrities and businesswomen as my clients. So I am often called the power dresser."
Though Chen doesn't like discussing her high-profile clients because of confidentiality, there have been media reports about her dressing Chinese First Lady Peng Liyuan, Premier Li Keqiang's wife Cheng Hong, former Vice Foreign Minister Fu Ying, as well as business leaders like Gina Qiao Jian, Lenovo's Human Resources Senior Vice President, and Qu Bing, Vice President of Qihoo 360 Technology.
Design diplomat
She has also been called a "design diplomat" for participating in international events where she combines the art of Chinese tailoring and embroidery with modern, international elements. At the Asia-Pacific Economic Cooperation meeting in Beijing in 2014, she dressed some of the attending leaders. This year, her "La Vie en Grace" show in Paris in March was part of the Chinese Culture Talks events hosted by the Chinese Ministry of Culture's Bureau for External Relations. In June, she added another feather in her couturier cap when she was invited by the British authorities to take part in Queen Elizabeth II's 90th birthday celebrations.
Despite the high profile, she focuses on keeping her clothes wearable. They are not meant for the ramp alone but can be worn to business meetings, evening parties and conferences. "Clothing has to be wearable, no matter what style it has," she said. "Making clothes only for catwalks makes no sense. If I ever design such clothes, they are solely for exhibitions, not for my collection."
To drive the point home, she invites people who are not professional models to wear and display her designs, like friends, relatives, officials of the organizations whose events she attends, and her daughter's friends. Her logic is that if she uses only professional models, people will feel far-removed from the clothes and not believe they can wear such elegant items. But once they see ordinary people wearing them in their daily lives, they will relate more to designer clothes.
Chen's daughter, 11-year-old Maxine, takes more after her mother than her heavy metal musician father. During her shows, Maxine is encouraged to design at least one dress, which is often modeled by Maxine herself or a friend of hers.
Has Chinese Designers' Time Come?
Grace Chen says the time has come for modern Chinese designers to make a mark internationally. "One of the challenges I faced was overcoming the stereotyped notions about Chinese designing—that they are flamboyant, over the top and not cosmopolitan," she said. "Though we still have a long way to go to dominate the global fashion scene, we have more influence now. In three to four years, with more young designers coming up, we will have greater influence."
Chris Chang, founder of the Poesia line of women's wear based in Shanghai, echoes her. Chang, whose line is ethnic ecclesiasticism, drawing on the cultures of ethnic minority tribes in China, says the quality and standard of Chinese designers' work have gone up. "The world is curious to know what China has to offer," she said. "The world is ready for anyone that is good. It can be from anywhere."
The Internet, she added, was a good incubator for young designers: "They are so much more connected to the world and enjoy so much more information."
In Chen's eyes, despite the ups and downs in the global economy, the fashion industry will continue to expand. "Luxury goods have always been among the top industries for centuries," Chen said. "As long as people have money, they will continue to buy. It's good for the economy, creating jobs."
While designer outfits often have astronomical price tags and yet do not fetch the same kind of money during resale like jewelry or paintings, Chen said the investment in haute couture is repaid by what it does to the possessor, and not from resale. "When you wear a designer outfit, it becomes a part of you, enhancing your attractiveness, and making you smarter and more confident," she said. "That's where the real value lies."
To support her statement, she opened her phone to show the message sent by an appreciative customer. "Dear Grace Chen," read the message, "Your dress brought me respect. That in turn created happiness and brought me good fortune."
Copyedited by Bryan Michael Galvan
Comments to yuanyuan@bjreview.com