Video: Wuzhen Theatre Festival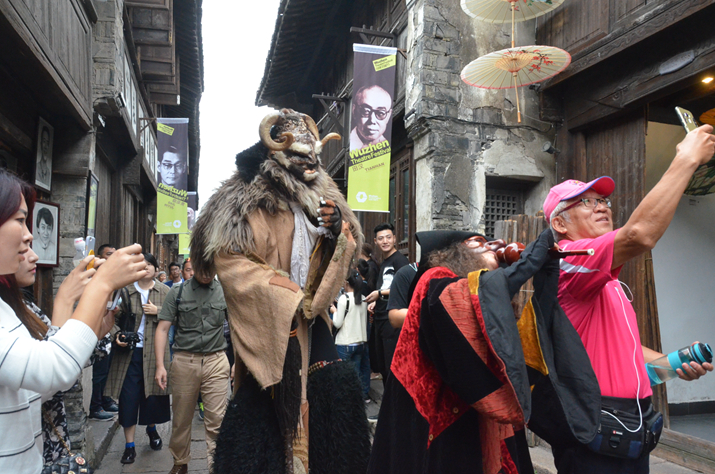 Visitors walk past a wall emblazoned with theater posters in Wuzhen (CHEN RAN)
Shao Yun was lifting his teacup to his lips when a piercing shriek rent the air, slicing the tranquility of the idyllic lakeside like a butcher's knife.
The 68-year-old did not turn a hair. Taking an appreciative sip of the fragrant flower tea, he said with perfect nonchalance, "You will find shrieks and wails common at this time. Residents have learned to live with such commotions since the Wuzhen Theater Festival began."
For 10 days from October 13, the heart of the ancient water town of Wuzhen, in east China's Zhejiang Province, became a stage, an enchanting little world where mythical beasts roamed the narrow cobbled lanes, magical figures jousted with beautiful damsels, musicians played at street corners, and an entire lane turned into a huge banquet site. All this was for the enjoyment of a carnival crowd that laughed, chattered and of course took umpteen selfies on wooden piers, stone bridges and by the side of limpid lakes, where huge red fish frolicked under admiring gazes.
Walls, hotels and other public places were plastered with theatre posters, while pennants bearing the images of Shakespeare, Chekhov, Eugene O'Neill and other theatre greats gazed thoughtfully on the crowds hurrying past on their way to the dozen or so playhouses concurrently staging an array of performances. In between the lanes, hotels, theaters and shops, meanwhile, streams, canals and rivulets flowed serenely, reflecting local scenes and bestowing the entire area with the luminosity of a rich oil painting by a master painter.
The Wuzhen Theater Festival began in 2013, one year before the other annual event that catapulted the town into the international limelight, the World Internet Conference. While the latter is government-organized, the theater festival is arranged by Culture Wuzhen Co. Ltd., an enterprise founded to expand and sustain Wuzhen's tourism industry on the basis of the town's own unique culture.
"Wuzhen has a rich cultural history," said Shao, a consultant with Wuzhen Tourism Co. Ltd., Culture Wuzhen's parent company. "It is the home of the Yue Opera and Mao Dun, the writer who was also the first culture minister of the People's Republic of China. It also has countless piers, which were the earliest stages where operas were performed for residents. The water connected the theaters and people, bringing in troupes from Shanghai and also Suzhou in Jiangsu Province. Wuzhen became known as the theater city."
In modern times, while Wuzhen's reputation as a holiday resort spread and visitors from China as well as abroad started flocking in—according to the authorities, over 5 million tourists visit the town annually—the town became aware of the need to create a more sustainable basis for tourism. Culture was the answer.
"Tourism cannot live without culture. Without culture there would be no heritage, and Wuzhen would leave no lasting impression on visitors," Shao expounded. "We wanted to showcase Wuzhen's theater culture but realized the local operas have limited appeal due to the language difference. So, we wanted to rejuvenate Wuzhen culture as well as create an event that would be a platform for China to interact with the outside world. This is the inclusiveness of Wuzhen culture. Now, we have an annual theater festival that combines international, local and grassroots cultures."
Shao said in the first year, many people were skeptical and thought it would have been better to focus on traditional arts, given Wuzhen's historical traditions. Only seven theater companies took part, and most of the tickets were left unsold.
"This year, all the tickets were sold out," Shao beamed. "Since last year, four outdoor performance venues have been added. There is a new theater this year, the N Theater, at the venue of the World Internet Conference."
The first festival saw the inauguration of the Wuzhen Grand Theater, one of the best theaters in Asia. A cultural landmark, the huge theater—whose three-tiered main auditorium was designed by Kris Yao, a famous architect from Taiwan—was built with the investment of 400 million yuan ($59 million). Subsequently, another 200 million yuan ($29.5 million) was put in to build the Muxin Art Museum, named after the locally-born abstract art painter and writer, which opened in November 2015.
"The investment is yet to be recouped, but in the long term, the benefit will be priceless," Shao said.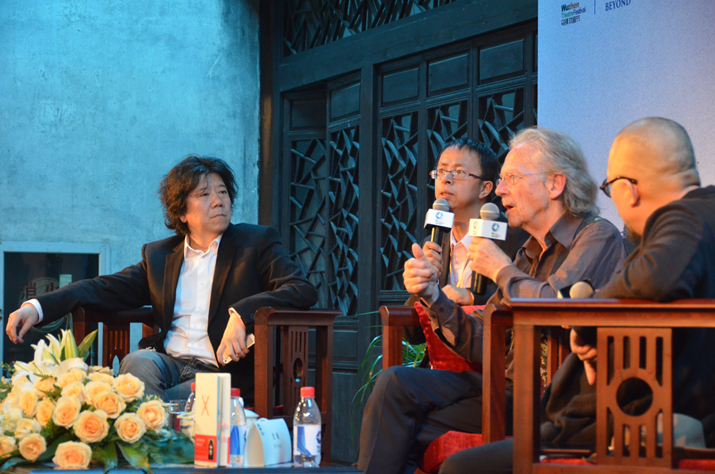 Austrian playwright Peter Handke (second right) and Meng Jinghui (left), co-founder and artistic director of the Wuzhen Theatre Festival, attend the Wuzhen Dialogue on October 18 (CHEN RAN)
The man with the whip hand
When Aristide, a French outdoor performance artiste, announced his plans to visit China, his friends were aghast. "Be careful of the people," they warned him, "and the food, and the pollution."
"But when I came here, everything was perfect," the 40-year-old, looking like a swashbuckling pirate with a glittering stud in one ear and a black eye patch, grinned. "The food is good, and the people are so kind and patient, which is good for a show."
Aristide, who uses just one name, is a member of the Sino-French association ArtBirds, which specializes in sending French artists to China for outdoor performances. Aristide is a whip master, who uses the weapon to draw caricatures during his shows. As he cracked it before an amazed crowd gathered at a cobbled square in Wuzhen, his fluid kangaroo leather whip made an arresting sound, starting with a swish and culminating in a shot-like crack that made people jump out of their skins.
"I love the whip because it is dangerous and because performing with it is like dancing with the wind," Aristide said. "It is all about precision. There are no more than 10 whip masters in the world."
His Spanish partner, who is a swordfighter, also uses an axe to duel during carnivals. "I carry a letter in all [the major] languages of the world whenever I travel," Aristide said with another grin. "It is for the benefit of airport officials, telling them that I'm not a terrorist. I'm a bona fide artist, and the seemingly dangerous stuff in my baggage is for performance only."
This year's festival showcased the gamut of outdoor performing art, from stilt performers dressed up as aliens and dinosaurs to puppeteers manipulating huge figures far removed from traditional marionettes as well as jugglers, magicians and many others, all of them looking like modern Pied Pipers of Hamlin, weaving through the narrow by-lanes followed by swarms of onlookers.
It was performance cum interaction. Little screams of surprise often erupted, as the dinosaurs and aliens swooped down on unwary passersby. Young children in perambulators burst into tears, to the merriment bystanders.
"The street performances are one of the four major elements of the theater festival," Shao said. "Every day, there are nearly 100 such performances." The other features are the Wuzhen Dialogues (interactive sessions for festival-goers and performers), international participation, and a competition for young theater talent.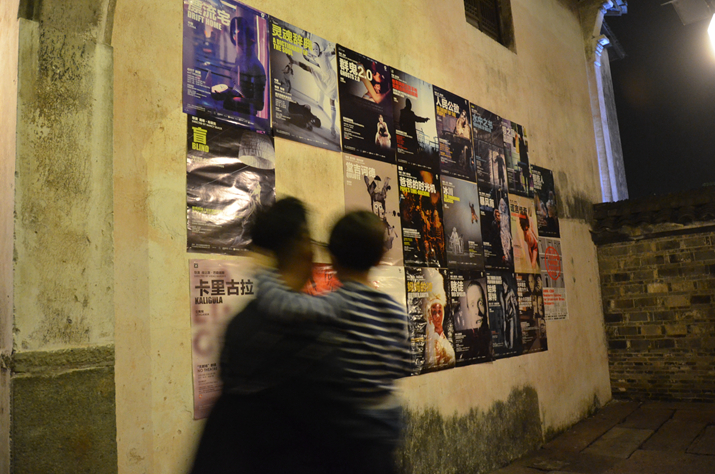 Visitors walk past a wall full of theatre posters in Wuzhen (CHEN RAN)
Finding a miracle
Lissa Tyler Renaud is a veteran of the Wuzhen Theater Festival. Having been at college together with director and playwright Stan Lai, one of the event's four co-founders, she has been a regular attendee since its inception. A theater director, critic and teacher at InterArts Training in Oakland, California, she flits between the United States and China, where her son is studying, to experience the local arts scene.
"Nobody expected the festival to grow so fast," she said after watching an adaptation of King Lear. "In four years, it has reached the level anticipated in 10 years. I would call it a miracle. Clearly, the world needed this festival."
Renaud says the festival's uniqueness lies in the way it has "created a bridge of communication, demolishing the stereotypes about us because we are presented to each other so wrongly, especially by the media."
Since governments cannot do everything themselves, such initiatives help create international understanding. "No other festival has tried to do specifically what this one does," she said, "and that is, to integrate. International theater festivals in other countries have their own parallel worlds. The actors don't even see the works of other actors. But here, there is an effort to bring people together, over a cup of tea or food."
Renaud's favorite aspect is the dialogues, in which theater personalities from all over the world talk about their work, thoughts and philosophy and field questions from the audience, which typically include large numbers of young people.
The traditional storytelling hall, for instance, saw a session with Austrian novelist and playwright Peter Handke. Interpreters were on hand to translate between German, Chinese, and other languages.
"It's amazing," said Renaud, who was listening in rapt attention. "People from different cultures are gathered on the stage around a specific theme. It's an incredible opportunity to learn what these people actually think. You can have people from the widest combination of countries. That's a real promotion of integration of artists."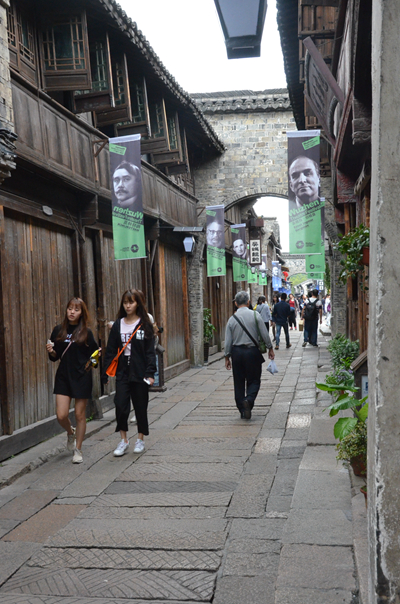 An old street in Wuzhen (CHEN RAN)
Showing China to the world
On his first trip to Asia, Austrian installation and video artist and director Thomas Kasebacher admired Wuzhen's traditional Chinese architecture. "It looks unreal," he said.
At the festival, the artist and his two partners staged Legends and Rumors, a performance about the moment of creation. "Suppose Paul McCartney was talking about one of his biggest hits. Suppose he said, 'I was sitting on the kitchen table, and the sun came in, and I wrote this,'" said Kasebacher, as he explained the work. "It's about the process of making something and also about the things around that clutter the actual moment but also make the legend bigger."
Such festivals, he feels, provide unparalleled opportunities. "It's important to show works from everywhere and [to] connect; for us to see things from China, and for China to see things from Europe and America. You spend time with people doing the same things. It's also about sharing thoughts. Such festivals foster a space to reflect on things."
The artistic director of Indian theater company Oxygen, Deepan Sivaraman, had also embarked on his maiden trip to China.
"I have been to American and European cities for many theater festivals," the 40-year-old said. "Shanghai is only five hours from New Delhi, and yet I never came here before. [Now] I am asking myself, why didn't I make an effort?"
Though China and India are neighbors, and Indian theater lovers know about modern European and British theater, modern Chinese theater remains an undiscovered world for them. Sivaraman remembers seeing only one Peking Opera performance in 2008 at the theater festival he curates in Kerala, the south Indian state famous for its beaches, traditional dances and medicinal treatments.
Sivaraman, who participated in one of the dialogue sessions, is planning to bring Chinese theater productions to his festival.
Way to the heart
Another unique aspect of the Wuzhen Theater Festival is the Long Street Banquet, which harks back to an old tradition according to which wealthy locals would host an outdoor banquet for the entire neighborhood to enhance community spirit. One evening during the festival, a 100-meter street transforms into a serpentine banquet venue lined with tables where performers and visitors alike tuck into Wuzhen hot pot and other local delicacies. Added spice comes courtesy of dining artists bursting into impromptu musical performances.
"It was a magical moment," said Simon Abbe, a dancer from Cameroon and founder of Abbe Dance Co., which performs in Cameroon, China, France and beyond.
Abbe himself is a model of integration. Following a cultural cooperation agreement between China and Cameroon, the Chinese Government sent instructors to Yaoundé, capital of Cameroon, to train members of the National Ballet of Cameroon. Jiang Keyu was one of the Chinese teachers.
Video: Linking China, Cameroon and France
She and Abbe fell in love, married in 2012 and have been performing together ever since. "The day of the banquet was also our wedding anniversary, and we celebrated it with all those wonderful people from around the world," Abbe said. "It was a moment we will always cherish."
(Reporting from Wuzhen)
Rewriting Shakespeare
Cui Ying made no bones about her disapproval of William Shakespeare. "He is full of negative emotions," the 39-year-old member of Hong Kong-based 80 Theater Co. said. "There are too many people dying, going crazy and suffering. People can find better lives than that."
So to teach the bard a lesson, the company attended the Wuzhen Theater Festival with their version of Romeo and Juliet, where the lovers live happily ever after.
Wing Mak, the director of the company, is grateful to the festival for giving his group a platform to take their experimental theater, which is without any dialogue at times, to the audience.
Like Mak, scores of other young aspirants have attended the festival regularly to make use of that platform. Liu Zheng, the 30-year-old founder of Me Theater, attended the first edition with Dark, a modern dance performance expressing the search for inner peace. This year, he was invited to stage Odyssey, a multi-media performance.
Liu's style draws on Butoh, the Japanese modern dance form. The festival also had an adaptation of Chekov's Cherry Orchard, directed by Shinsuke Sato, with a Japanese cast.
Art remains one of the staunchest bridges connecting China and Japan despite the turbulent past history between them. As Liu said, "Art is art, it transcends history."
This year, 18 young theater companies from the Chinese mainland, Hong Kong and Taiwan were invited to take part in the young theater artists' competition, with cash prizes awarded to the best play and actor or actress.
Copyedited by Chris Surtees
Comments to chenran@bjreview.com