National table tennis team player Li Xiaoxia (center) and training partner Ren Hao (right) at an Olympic warm-up competition in Chengdu on July 13 (SINA SPORTS)
The wall of the facility where China's national women's table tennis team has recently undergone intensive training has one focal point. A list of the 22 top players in the world serves as a motivation tool and daily reminder to the team of who they must conquer to once again be Olympic champions. The Chengdu base in southwest China's Sichuan Province has served its purpose and now the fierce competition in Rio beckons.
Ren Hao was one of the few male training partners who took part in the session. He simulated Yu Mengyu, a female Singaporean table tennis player ranking 15th among her peers worldwide.
"It's my fifth time here. I've been with the female team in closed training since 2014, and I'm kind of like a senior training partner," he said. The 21-year-old player was selected to represent the Henan provincial team in 2006 and the national team in 2013. He won a bronze medal in the men's singles at the National Youth Games in 2015. Now he has a different mission.
Ren recalled that he was a little depressed when he first became a training partner because all he had to do was imitate a foreign female player. "However, after several training sessions, I got used to it," he said.
Many athletes like Ren have taken the job as a training partner, seeing it as a way to make a contribution to the national team. Some of them have improved their skills by training with elite players. It's all about the bigger picture.
To simulate authentic match conditions, on July 13, the first day of the Olympic warm-up competition after the training program, Ren was assigned to play Li Xiaoxia, a World Cup, World Championships and Olympics title winner. The 28-year-old Li is ranked in the top five world's women's singles players and is considered most likely to win the title in Rio. Li defeated Ren 4:2.
After the closed training, Ren went back to Beijing and began his own training with the male squad for future big events like the National Championships and the National Games.
"I'll continue to be a training partner as long as the team needs me," he said.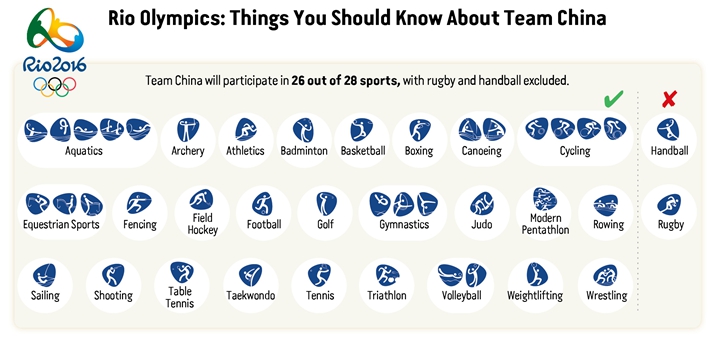 Training plan
The national table tennis team is known as China's Dream Team, based on past gold medal glory in men's singles, women's singles, and male and female team events at the previous two Olympics.
But despite their hallowed status, the team was required to take part in traditional closed training sessions before big tournaments. Its pre-Olympic program extended for 48 days from May 26 to July 11, including daily technique and body training routines. Of the 32 members of the national team, only four have qualified for Rio: 25-year-old Liu Shiwen, 26-year-old Ding Ning and 21-year-old Zhu Yuling (substitute), who have dominated the world's top three positions for female players, and Li Xiaoxia.
One of the youngest training partners used at the closed sessions was 17-year-old He Zhuojia. She was tasked with modeling her playing style on Japanese medalist Ai Fukuhara. To play more like Fukuhara, she had to change her attacking style, which posed a great challenge. After more than a year of training she eventually became proficient in imitating Fukuhara's style just before the closed training program in Chengdu began.
"After all, I hadn't played long pimples [rubber texture] in my career of almost 10 years before this. It took me 14 months to get used to it. I'm trying to accept this style and make it mine."
He Zhuojia said that despite imitating the style of another player to help the team simulate opponents, she improves her own play by pitting herself against the best in the business.
He Zhuojia will travel to China's training camp in Sao Paulo, Brazil, which she thinks is a rare opportunity because the trip will allow her to experience the Olympic environment for her own future development.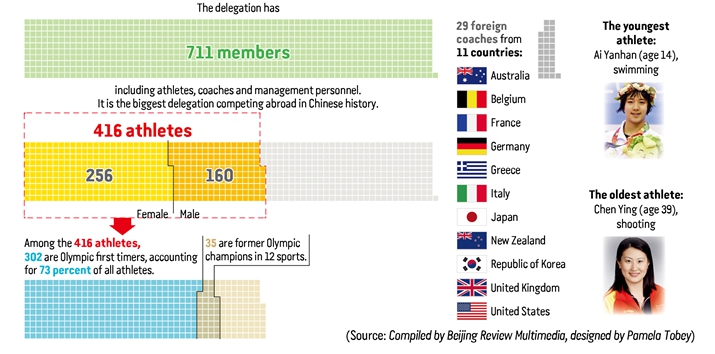 Positive move
Head coach of the women's table tennis team Kong Linghui, who was a world-leading player with numerous titles, said that the involvement of high-achieving players as training partners for the national squad is a positive move as it serves to improve the whole team's performance.
Kong said that coaches selected training partners by watching videos of previous games and considering the playing techniques of both the proposed training partner and the foreign player he or she is going to imitate.
"Over the past few decades, some players have made sacrifices. But changing the types of rubbers [equipment] they play with is not totally bad. It can be a new way of learning," Kong said. "He is a good example. She has made great progress. We all think she is more stable and makes fewer mistakes than before."
Where will the training partners go after the Rio Olympics? Kong said that it depends. "Coaches will not force our opinions on them. But players like He may continue in the role of training partner because she has grown a lot out of it."
As a matter of fact, there are many training partners who have gone on to become world champions: Guo Yuehua, a legendary player in the 1970s and 1980s, and Chen Qi, men's doubles gold medalist at the Athens Olympics in 2004, are such examples.
"Working here as a training partner doesn't mean giving up your career for the women's team. Some players actually made a huge step forward after this," Kong said.
The author is a senior reporter with Sina Sports
Copyedited by Francisco Little
Comments to yanwei@bjreview.com