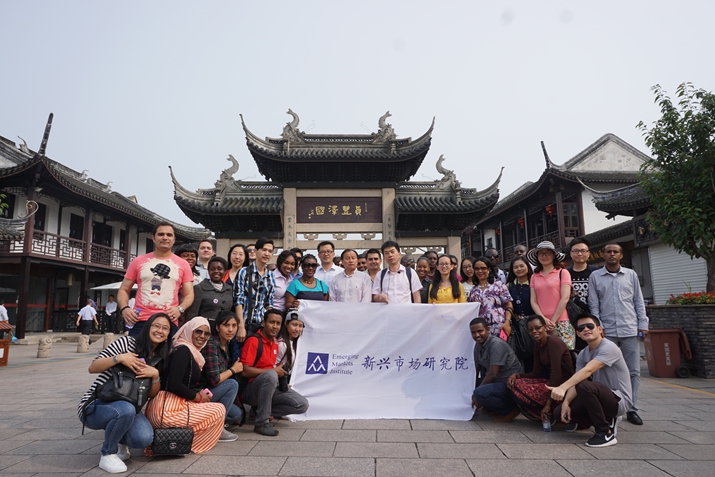 Students from the international MBA program of Peking Normal University visit Zhouzhuang Town, Jiangsu Province, on June 16 (XU TING)
Kimmy Cassandra Frederick, a native of Grenada, painstakingly tried to synchronize her jump with two middle-aged local women she had just met in the picturesque Zhouzhuang Town in Kunshan City, east China's Jiangsu Province, after she had toured the iconic waterfront town.
"One, two, three," she kept on saying. After numerous attempts, the exciting moment was finally captured in a photo. Many more such moments remain imprinted on her mind.
Frederick, who is enrolled in Peking Normal University's international MBA program, visited Nanjing and Kunshan cities in Jiangsu on June 13-16 to learn about local economic and social development as well as to get a taste of the local culture.
The 34 students in her class, from over 20 countries and regions, mostly worked in government departments in their respective countries before coming to China.
Sharing experience
During the visit, students met with local officials and toured hi-tech companies, research centers and places of cultural significance.
Nanjing, capital of Jiangsu Province, lies on the lower reaches of the Yangtze River. In recent times, the historic city has revitalized itself through reform, opening up and innovation.
The municipal government set improving development quality as the focus of its work in 2016. The city is geared toward developing innovative, service-oriented, open and environment-friendly economic activities.
The Nanjing Economic and Technological Development Zone spearheads the city's reform and opening-up initiatives. Among the stops on the students' tour was the Nanjing Institute of Advanced Laser Technology.
In the futuristic-looking Nanjing Laser Science and Technology Museum located in the institute, students were impressed with hi-tech products including unmanned aerial vehicles, 3D printers and a 3D-printed statue of famous table tennis player Wang Liqin.
Shen Yinlong, the development zone's deputy director, gave a briefing on Nanjing's policies to encourage innovation, upgrade conventional manufacturing to smart manufacturing, and attract talented people.
Shen also shared Nanjing's experience in operating its development zone. He said the planning of such zones should take into account local conditions—such as industry structure, human resources and market environment—keep in line with international practices, and attach importance to both "hardware" such as infrastructure and "software" such as services.
In Kunshan, students listened to a lecture by Zhang Yuelin, Deputy General Secretary of the local municipal committee of the Communist Party of China (CPC), who introduced the city's development path and experience.
Kunshan lies 55 km west of Shanghai and 35 km east of Suzhou City. With a population of 2.55 million and an area accounting for just 0.01 percent of China, the city contributed 2 percent of the nation's imports and exports in 2015.
Last year, its per-capita GDP and disposable income reached $29,957 and $8,148 respectively. For 11 consecutive years, its overall economic competitiveness has topped that of over 2,000 county-level cities in China.
With a highly open economy, the city has drawn investors from 56 countries and regions, and its business partners are scattered around the world, Zhang said.
Kunshan has competitive advantages in display technology, renewable energy and biotechnology, with emerging industries contributing one third of its industrial output. The city also focuses on developing modern services such as logistics and finance.
Home to a number of universities, including Duke Kunshan University, a joint venture between Duke University in the United States and Wuhan University in China, Kunshan has abundant, high-quality human capital. The Chinese Academy of Social Sciences has rated the city China's most innovative county-level city.
Kunshan has undergone five development stages. In Zhang's words, the city went "from farm to factory in the 1970s, from local to global after Deng Xiaoping's southern tour in 1992," and its industries have moved "from fragmentation to clustering after the Asian financial crisis in 1997, from low to high value after the 16th CPC National Congress, and from big to strong after the 17th CPC National Congress." Zhang neatly summarized the city's development experience in five phrases; quick response to opportunity, an open spirit, a learning culture, highly efficient services, and highly committed civil servants." Kunshan's five development stages are very typical, and its experience in dealing with the 'new normal' [by adjusting economic structure] is valuable," said Hu Biliang, Dean of the Emerging Market Institute of Peking Normal University.
After the visit, Alex Ampaire, a student from Uganda, told Beijing Review, "China's development has hinged mostly on innovation and technology development. The Chinese are people who make things happen rather than watching things happen!"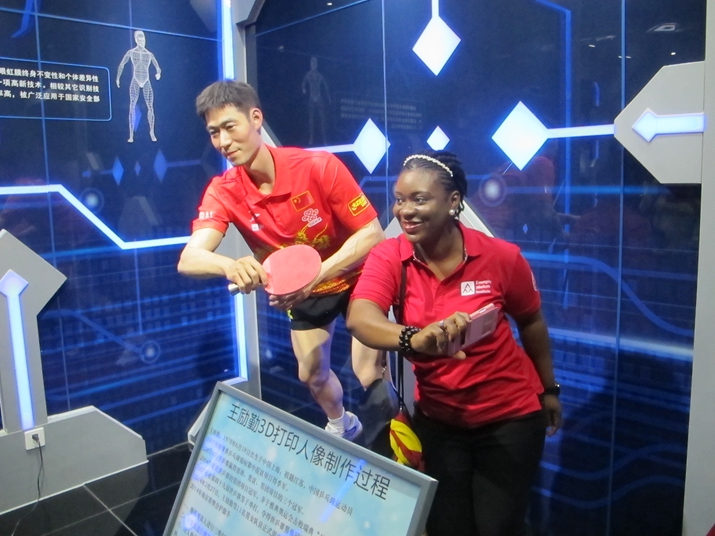 A student in the international MBA program of Peking Normal University poses with a 3D-printed statue of Chinese table tennis player Wang Liqin (WANG HAIRONG)
Exploring opportunities
When Chen Lei, a mid-career Chinese official, and Meer Hassan Kohan, a Pakistan professional on the international MBA program, met for the first time in Nanjing, they felt like old friends.
After some small talk and warm toasts at a welcoming dinner for the students, they exchanged contact information and decided to keep each other informed of cooperation opportunities.
Chen is the director of the Department of Outward Investment and Economic Cooperation of the Nanjing Municipal Bureau of Commerce. Before studying in China, Kohan was Assistant Director of Finance and Accounting, Pakistan Standards and Quality Control Authority in Pakistan's Ministry of Science and Technology.
Chen has visited many countries to solicit investment and promote Nanjing's companies in world markets.
Enterprises in Nanjing are either seeking to cooperate with foreign companies or have already done so, according to Liu Liya, Vice Director of the Nanjing Municipal Bureau of Commerce.
During the visit, Kohan sought technology and business cooperation opportunities. In addition, he also wanted to enhance his "general knowledge of China, including economic, political and social areas, which will be useful to my future career."
Other students also expressed the wish to promote cooperation between their countries and China.
"It is important for my country to focus on [attracting] investment, especially from China," said Jarrel, a student from the Bahamas, who worked for a resort development company before coming to China. He said that the Export-Import Bank of China had already made a large investment in the Bahamas. He hopes that the Bahamas will enhance cooperation with China, especially in the agricultural and manufacturing sectors.
A Peruvian student who used to work as an international buyer in his country said, "I'm happy to stay here because one of my suppliers is from Nantong City in Jiangsu." He also said he wishes his country's newly elected president would improve relations with China, especially commercial ties.
Alexis Benon, a student from Benin who is fluent in Mandarin Chinese, said that he would like to engage in bilateral trade.
Learning about culture
During their visit, students experienced aspects of local culture and enhanced their understanding of local people.
Wang Yun, General Manager of China Jiangsu International Namibia Ltd., who has worked in Africa for over 20 years, said that mutual understanding is very important.
Wang said that in Africa, he learned that African people are friendly and Africa has abundant business opportunities. He believes that during their stay, the iMBA students will find that "Chinese people are friendly, Chinese cities are safe, and Chinese goods are inexpensive."
The students visited the Memorial Hall of the Victims of the Nanjing Massacre (1937-1938).
Viphanith, a student from Laos who worked for the Lao National Committee for Special Economic Zones before enrolling in the international MBA program, said the images reminded her of the suffering that her country went through during World War II. At the Oriental Metropolitan Museum in Nanjing, Viphanith marveled at how ancient cultural artifacts such as ceramics and paintings made about 1,500 years ago had been preserved.
"Tradition and culture is vital for any society because people without culture are like a tree without roots and branches," said Ampaire. "In the case of China, the traditional values, customs, character and magic have taken root all over the world." He added that China's traditional culture attracts a large number of tourists to the country.
The students not only learned about local customs, but also participated in them. At Zhouzhuang Town, they sailed along the rivers that crisscross the town in boats rowed by local people and watched an outdoor performance depicting rural life during the four seasons.
The performance, with a blend of singing, dancing, acrobatics and comedy, climaxed in a matchmaking grandma searching the audience to find a boyfriend for a young woman. Armando Vasquez, a student from Panama, was the chosen one. After he joined his "bride-to-be" on stage, a Chinese-style pretend wedding ceremony took place. In the jubilant atmosphere, the students felt thrilled.
Copyedited by Chris Surtees
Comments to wanghairong@bjreview.com