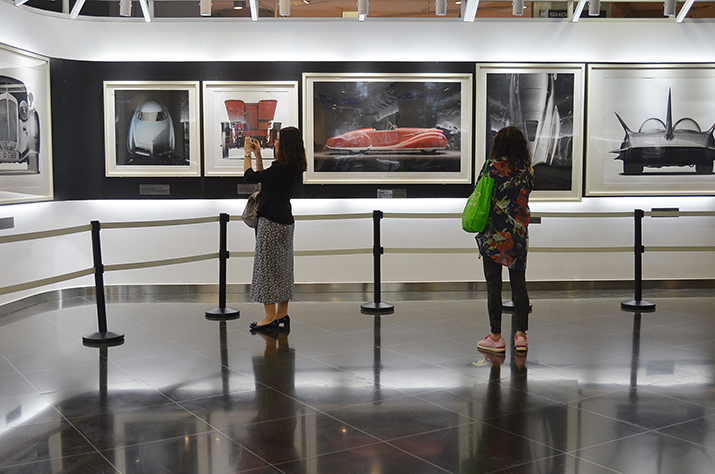 Visitors take pictures at the photo exhibition Life on Wheels at the Beijing Auto Museum on May 18 (CHEN RAN)
Bruce McInnes still remembers his very first trip to China in January 1988: On the map of Shanghai, the number of gas stations marked was three. The only sound the New York-based former military officer could hear while walking down the street of the Bund came from people on bicycles.
Similarly, Yang Xiaoli, a photography professor at the Beijing University of Technology, had to wait for more than half an hour to snap a photo of a single car passing a street in the Chinese capital in the mid-1980s. Nowadays, going for half a minute without seeing one would be a surprise.
Along with watches and sewing machines, in the 1970s the pushbike was regarded as a luxury item for ordinary families in China. "It became widely available in cities after the 1980s and that's why China was called 'The Kingdom of the Bicycle.' The car was still a dream for most of us at that time," Yang told Beijing Review.
Both McInnes and Yang have specialized in car photography for more than three decades. Their works, along with 200 other pieces from counterparts, are on display at Life on Wheels, a photo exhibition at the Beijing Auto Museum.
Co-hosted by J. Young Art USA, an American organization promoting cultural understanding by working with museums, the exhibition was opened on May 18, International Museum Day, and will run till September.
"Automobiles not only shortened the distance among people and countries, but also became a new language for international cross-cultural communication," said Yang Rui, Curator of the museum, at the opening ceremony.
According to Yang, besides celebrating the 130th anniversary of the invention of the automobile, the exhibition also coincides with the China-U.S. Tourism Year, announced last September after Chinese President Xi Jinping's state visit to the United States.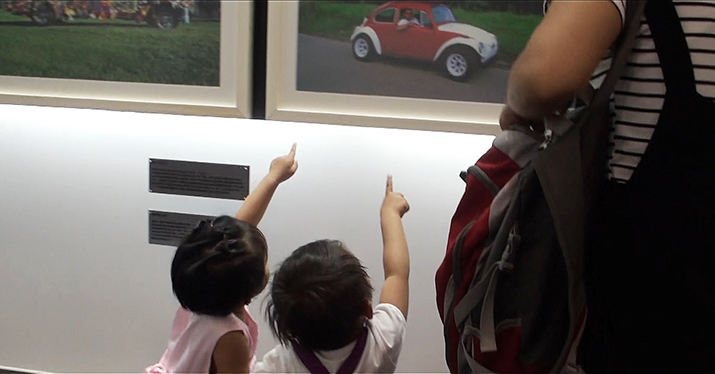 Children at the exhibition (CHEN RAN)
Willow Hai, Curator of J. Young Art USA, planned the event four years ago. She believed it could offer audiences fresh perspectives on cars. "Automobiles are made of iron and steel, but you can also feel their elegance and beauty through a photographer's lens," she said.
Data from the National Bureau of Statistics show that the average number of cars per 100 urban families in China was 0.5 in 2000. The figure jumped to 21.5 at the end of 2012. "As China has turned out to be a country on wheels, Chinese people are encouraged to create their own car and arts culture," Hai said.
"The lady in this picture is dusting her old Chevrolet. She said it reminds her of the same car that her father used and sweet childhood memories," McInnes told the audience.
"Vehicles allow us to travel to different places and to see different lifestyles and cultures. You will decide where to go. That is part of American culture—the freedom of the people to move about. In this exhibition, especially those old cars are our friends and a member of our family," he continued.
The 70-year-old "photo-travelist" has witnessed radical change in Chinese lifestyles. "This is my sixth or seventh trip [to China]," McInnes noted. "Today, Shanghai has more than 1,600 filling stations. That was unbelievable 28 years ago."
While car culture in the eyes of McInnes is about improving the quality of life, for Yang Xiaoli it is more about keeping history alive.
Professor Yang Xiaoli introduces his works on pagodas (CHEN RAN)
In 1986, Yang took a business trip to an ancient town that is over 2,000 years old in east China's Jiangsu Province. While taking shots in front of a pagoda, he overheard a senior local describing its history, and was fascinated by the architecture.
"I believe that every pagoda has its own story. I wished that I could see pagodas and record them in person," Yang recalled.
From that day, Yang hit the road to do just that. Currently, he has captured 3,000 pictures of ancient pagodas with first-hand information and published a series of albums.
"I've swapped my film camera for a digital one. But my passion for photography and heritage protection has remained constant," Yang told Beijing Review. He's grateful for the inner peace these pagodas provide.
Copyedited by Dominic James Madar
Comments to chenran@bjreview.com