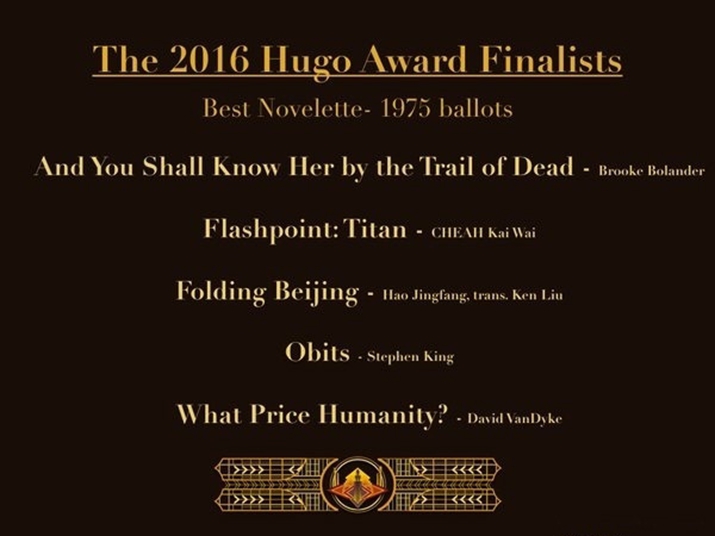 Folding Beijing, a science fiction written by Chinese writer Hao Jingfang, is nominated as one of the five "Best Novelettes" for the 2016 Hugo Award (MYDRIVERS.COM)
Chinese science fiction writer Hao Jingfang was shortlisted for the Hugo Award for her book Folding Beijing, according to Tsinghua University, where she is pursuing her doctorate.
The news was posted on the official website of the World Science Fiction Convention. Folding Beijing, one of five candidates, is listed under the "Best Novelette" category.
"So excited to be shortlisted," said Hao on her Sina Weibo microblog. "The story was first published in a new electronic magazine. Didn't expect to have this result."
Hao graduated from the department of physics at Tsinghua University in 2006.
The story follows the protagonist, Lao Dao, as he tries to navigate the complicated class barriers of a futuristic Beijing in order to send his daughter to school.
"I used to live in suburban Beijing. Near my apartment building there were noisy alleys, small restaurants and an open-air market," she said. The experience inspired her to write the story.
Hao said she regreted that the second volume of The Three-Body Problem, by Liu Cixin, who won the 2015 Hugo Award for Best Novel, was not shortlisted.
Established in 1953, the Hugo Awards are given annually to the best works of science fiction or fantasy and are seen as the "highest honor bestowed in science fiction and fantasy writing."
Liu, 53, was the first writer in Asia to win the honor.
(Xinhua News Agency April 27, 2016)