Hu Kaimin, Associate Editor in Chief, Foreign Languages Press
Once upon a time, there was a young boy who chanced upon a magic lamp. Children all over the world continue to be mesmerized by the adventures of Aladdin, who could have all his wishes come true, thanks to the genie in his lamp. In the retelling of the tale by a wide host of narrators—from the anonymous Syrian storyteller from Aleppo to 19th-century British explorer Richard Burton who translated it, to Walt Disney Productions, who made a cartoon film—listeners tend to forget that Aladdin was a Chinese youngster. The story was originally set in "one of the cities of China."
Therefore, there is something particularly apt about One Thousand and One Nights, the mosaic of magical stories containing Aladdin's tale, being one of the first non-religious Arabic books to be translated into Chinese. You could call it a kind of homecoming.
"An abridged version of One Thousand and One Nights, called Tian Fang Ye Tan, was the first storybook I ever read when I was learning Chinese in Libya as a child," wrote Wenchin Ouyang, an Arabic and comparative literature professor at the School of Oriental and African Studies at the University of London. "The One Thousand and One Nights found its way into Chinese as early as 1900..."
China's acquaintance with the Arabic language, however, goes back substantially further, with the arrival of Muslim fugitives from war and traders along the ancient Silk Road. The advent of Islam also triggered interest in Arabic, since it is the language the Koran is written in. In the 16th century, a Muslim scholar, Hu Dengzhou, is recorded as returning from a pilgrimage to Mecca with religious texts in Arabic, which were translated into Chinese. Scholars and teachers translated and expounded more Arabic religious texts for two more centuries and the body of work became a historical document, the Han Kitab. Han means Chinese while kitab is Arabic for book.
"Despite the small number of Arabic translations during this period, they indeed opened a door for Chinese readers to understand a different socio-cultural reality," said Chinese blogger Sha Min, who writes about Arabic literature that has been translated into Chinese. "After the founding of the [People's Republic of China (PRC) in 1949], along with the establishment of diplomatic relations between China and Arab countries, a number of Arabic works were translated into Chinese."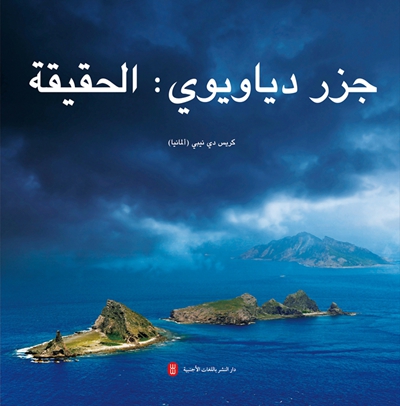 An Arabic book published by Foreign Languages Press
Explaining the new China
After 1949, there was an institutional approach to translations. This time, the thrust was on Sino-Arabic translations.
"After the PRC was founded, a lot of young intellectuals came back from abroad," said Hu Kaimin, Associate Editor in Chief of Foreign Languages Press (FLP), the publishing house under the China International Publishing Group that was formally established in July 1952. "They wanted to introduce New China to the outside world. The first translations were from Chinese into English, French and Russian, explaining the situation in the People's Republic and state policies. Gradually, Chinese literature and books on culture and the economy also began to be translated."
The year 1956 was a milestone in Sino-African relations with China and Egypt establishing diplomatic relations. With the first African-Arab country as a diplomatic friend, Arabic became even more important.
"Besides, Arabic is one of the official and working languages of the United Nations and is spoken in North Africa as well as the Middle East," Hu said. "We have a separate Arabic department now and a large part of our publications are in Arabic."
Since the 1960s, FLP has translated Mao Zedong's works into 43 languages, which include Arabic, Hausa and Swahili.
One Thousand and One Nights
From ni hao to marhaba
Wang Hao says he was first introduced to the Arabic world "accidentally." When he was 18, Wang sought admission at the prestigious Beijing Foreign Studies University. He decided to apply for Arabic studies since the subject had fewer takers and so, there was a greater chance of acceptance. Now at 34, Wang is director of FLP's Arabic Department.
The department is staffed by three Chinese and a foreign expert from Iraq. Wang, who has been to the Abu Dhabi Book Fair, finds the general Arabic-reading public greatly interested in books on traditional Chinese medicine and martial arts. Besides political documents, white papers and business books explaining the Chinese economy, the Arabic Department translates Chinese classics.
The four great Chinese literary classics have already been translated into Arabic. They are Outlaws of the Marsh (a 14th-century fictional account of a revolt two centuries earlier attributed to Shi Nai'an), Romance of the Three Kingdoms (also a 14th-century historical novel written by Luo Guanzhong), Journey to the West (a 16th-century novel by Wu Cheng'en about the adventures that befell a monk), and Dream of Red Mansions (the 18th-century saga by Cao Xueqin depicting his own family's vicissitudes as well as those of the ruling dynasty).
Classical Chinese philosophy, such as the essays of Mencius, the itinerant philosopher who is often called the most famous Confucian after Confucius himself, and Daoist philosopher Zhuang Zhou have also been translated into Arabic. While the world is observing the 400th death anniversary of William Shakespeare this year, it is also the 400th death anniversary of Tang Xianzu, reminded Wang. Chinese playwright Tang, who lived from 1550 to 1616, is celebrated for Mudan Ting (The Peony Pavilion), the story of a pair of lovers who are united despite adversity. It is regarded as the most popular play of the Ming Dynasty (1368-1644).
The interactions will, hopefully, one day make ni hao, the Chinese greeting meaning hello, a familiar phrase in Arabic-speaking countries, and marhaba, the Arabic salutation meaning welcome, known to the Chinese.
Homegrown Arabic link
Chinese-Arabic translations and vice versa have found synergy in Ningxia Hui Autonomous Region in northwest China, home to the Hui ethnic community who are mostly Muslim. Many Hui people speak Arabic and this year, FLP is going to publish a pictorial book on the Hui in Arabic.
Yinchuan, the capital of Ningxia, is also home to Ahmed AlSaeed and his Wisdom House Culture and Media Publishing Co. The 34-year-old Egyptian, who studied Chinese at Cairo's Al-Azhar University, came to Ningxia on a translation assignment in 2010, planning to stay for three months. The congenial ambience made him settle down in Yinchuan, marry a Chinese and start the publishing company. Wisdom House has translated nearly 20 Chinese books into Arabic and by 2018, the plan is to translate 200 Chinese and Arabic books.
Copyedited by Francisco Little
Comments to yanwei@bjreview.com